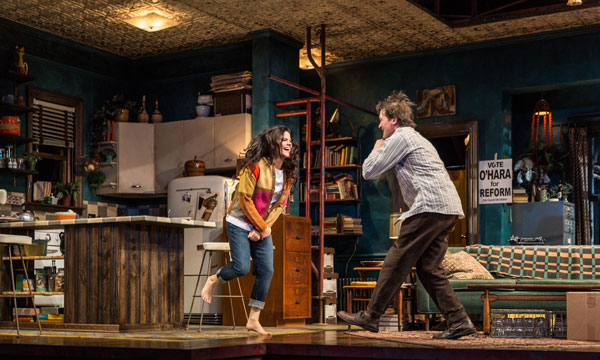 The Goodman Theatre presents THE SIGN IN SIDNEY BRUSTEIN'S WINDOW.
Playwright Lorraine Hansberry is best known for her play turned movie Raisin in the Sun. The lesser known, THE SIGN IN SIDNEY BRUSTEIN'S WINDOW was Hansberry's final work before her untimely death at age 35. THE SIGN is set in Greenwich Village in 1964.  In RAISIN, Hansberry focused on the controversy of a black family moving to the suburbs.  In THE SIGN, she tackles the hot issues of the day: race, religion, sexual orientation, political corruption, booze, drugs, free love, purchased sex, infidelity, poverty, materialism, commercialism and sexism.
Hansberry doesn't just tell a story.  She tells a lot of stories. Her characters are juicy with flavor. And Director Anne Kauffman skillfully squeezes out every pulpy drop. These bohemians are struggling to find their voice and their way in an era of change. Kauffman effectively transports us back to the sixties.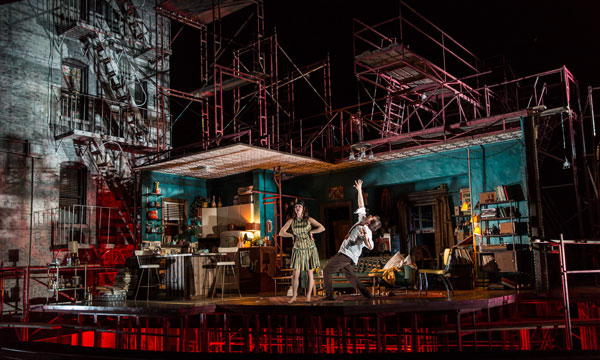 At the core of the story is the idealism of Sidney Brustein (played by Chris Stack). We meet Sidney on the day he closes his failed folk-music-playing-nightclub and buys a newspaper.  The big-talking Stack makes an animated first appearance.  He has big dreams of making change in the world. When Diane Davis (Iris) arrives home from her server job, their relational pattern is apparent. Stack and Davis have a genuine marital connection. We feel the love. We also feel the annoyance and the discouragement.  As Davis expresses excitement about an audition possibility, Stack squashes her aspiration with one thoughtless jab. The audience gasps a few times as Stack dismisses Davis' opinion to rant on about his idealistic pontifications.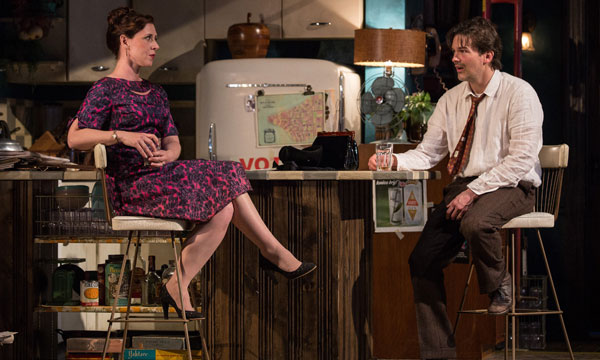 Although Hansberry has many complex interactions throughout the play, the sisterhood vortex anchors the show.  The heart and soul of this play is Stack's endearing relationships with Davis and her two sisters (played by Miriam Silverman and Kristin Magee). We experience with a stunned Stack the unexpected nuisances of each of these ladies.  Silverman is hilarious. Initially, she comes off as an uptight bigot. Later, she showcases a steely nonchalance as a realist. Her layered performance is terrific. Although Magee doesn't physically appear until the second half, we form impressions of her from conversations.  When she does arrive at the Brusteins, she is younger and more innocent-looking than expected. After given devastating news, she tries to escape into her pretend, not-feeling world. Her dancing to jazz records is heartbreaking. In between the resilient Silverman and the fragile Magee is Davis. She is actively pursuing attainable versions of her original dreams. Davis' versatile performance from start to finish is impressive.
Scenic Designer Kevin Depinet creates the perfect setting for the unraveling of unfinished lives. The Brustein's apartment is nestled within scaffolding. The visual, lit by Designer Justin Townsend, brings a surrealism that aids the storytelling. I really enjoyed this tangled web of idealism and realism.  It's a strong representation of the imperfect evolution of humans.  Although the lengthy discourse may give some folks pause, I appreciate that Hansberry had a lot to say and chose to say it all in what would be her final play.      
Running Time:  Two hours and forty-five minutes includes an intermission
At Goodman Theatre, 170 N. Dearborn
Written by Lorraine Hansberry
Directed by Anne Kauffman
Wednesdays, Thursdays at 7:30pm
Fridays, Saturdays at 8pm
Saturdays and Sundays at 2pm
Additional 2pm performances on May 19th, 26th and June 2nd
Additional 7:30 performances on May 22, 24 and June 5th
Thru June 5th   
Buy Tickets at www.goodmantheatre.org
For more information and reviews on Chicago theatre, visit Theater in Chicago.