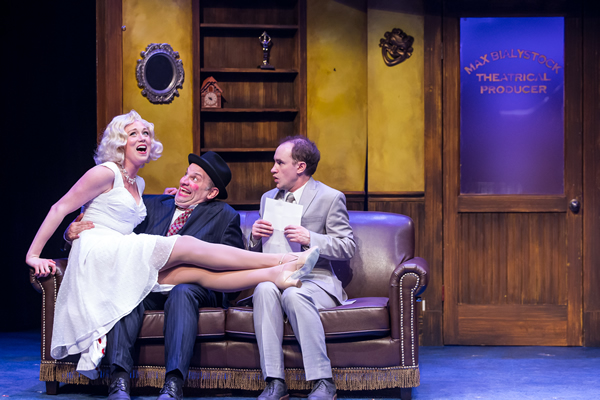 Mercury Theatre presents THE PRODUCERS, a Mel Brooks Musical Comedy.
Mel Brooks wrote and directed the movie THE PRODUCERS in 1967.  He won best original screenplay.  He then turned into a stage musical debuting in Chicago in 2000 and later debuting on Broadway in 2001.  It won 12 Tony Awards including Best Musical – a Broadway record. In 2005, he made it into a film again starring Nathan Lane and Matthew Broderick.  Why did Mel Brooks produce multiple versions of the same story?  Because he's the ultimate producer!  He knows a hilarious lampoon when he writes it.  THE PRODUCERS is a musical about making a musical.  It's an absurd insider's look at the unpredictable antics of showbiz.
Two producers, Bialystock and Bloom, plan to produce the worst musical ever.  After it immediately closes, they plan to skedaddle with the investors' money.  They choose for this full-proof scam a musical called "Springtime for Hitler."   
Director L. Walter Stearns casts this show superbly.  I last saw Matt Crowle (Leo) and Bill Larkin (Max) yucking it up in the musical "A Funny Thing Happened on the Way to the Forum." The comedy duo is back and whack as ever.  Crowle plays the straight guy to Larkin's slapstick buffoonery.  At first, I was worried that it was too much of a vaudeville shtick for my taste.  I quickly embraced Larkin's walloping the punch line to Crowle's more reserved delivery.  Their chemistry works in anchoring this bromance. 
At one point, Larkin says to Crowle, 'I didn't know you could sing.' It's even more funny to me because I didn't notice in FORUM how pitch perfect Crowle is.  His solo moments in I want to be a producer and That Face are unexpectedly breathtaking.  In fact, I think I did gasp a little when he initially hit a high note. His sidekick in That Face holds her own against him.  The sultry Allison Sill (Ulla) has the comedy chops and the pipes to create her own sensation.  She even effortlessly slides into splits at the end of the song. Pretty impressive!     
There is so much to laugh at in this musical deconstruction. The playwright (played by a solid Harter Clingman) is a Nazi enthusiast. He has this unique balance of bird cooing creepy and bat shit crazy. The director (played by the versatile Jason Richards) and his design team are over-the-top gay stereotypes.  A hilariously smug Sawyer Smith (Carmen Ghia) punctuates his 's' and prances across the stage. It's so not politically correct and that's what makes my giggling guilt-ridden.  The Keep it Gay number throws in The Village People icons to keep it even gayer.  Riotous!
The irreverence keeps on coming in big dazzling piles of moxie. The most outrageous spectacle is the showpiece showstopper from the musical within the musical, Springtime for Hitler. Choreographer Brigitte Ditmars combines Nazi marching and energetic dance moves for a fantastic Führer folly.  The costumes, playfully riddled withe pretzels, beer and sausages, visually clash with somber military garb. It all works together for this sparkling Hitler roast.
I saw THE PRODUCERS on a Friday night.  It was the ideal madcap for the workweek. I highly recommend seeing  THE PRODUCERS.  This "equal opportunity offender" makes fun.                   
Running Time:  Two hours and thirty minutes includes an intermission
At Mercury Theatre, 3745 N. Southport Avenue
Music and lyrics by Mel Brooks
Book by Mel Brooks and Thomas Meehan
Directed by L. Walter Stearns
Music direction by Eugene Dizon
Choreography by Brigitte Ditmars
Wednesdays, Thursdays, Fridays, Saturdays at 8pm
Thursdays, Saturdays, Sundays at 3pm
Thru June 26th
Buy Tickets at www.mercurytheaterchicago.com
Photo Credit-Brett A. Beiner
For more information and reviews on Chicago theatre, visit Theater in Chicago.