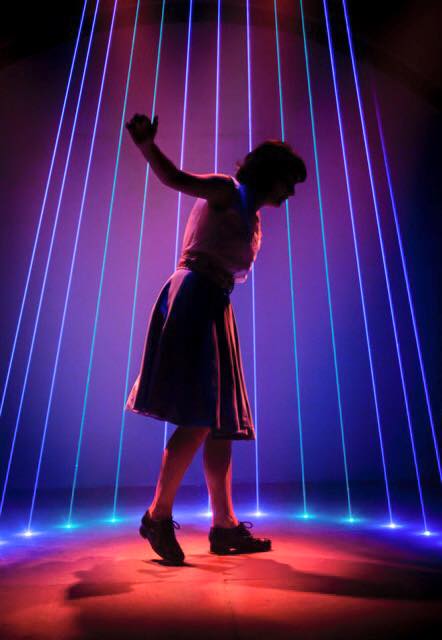 Chicago Tap Theatre presents TIME STEPS.
After a long week, I was jazzed for Chicago Tap Theatre's new show. I was ready for energetic toe tapping fun last night.  Instead of peppy stepping, TIME STEPS is listlessly dramatic. It's the opposite of a traditional tap dancing showcase. It's not uplifting, it's a bit of a downer. Whereas previous Chicago Tap Theatre shows have weaved a story through dance numbers, this show is more of a play first, dance second.  Scenes have dancers sometimes standing, sitting or walking. I'm usually exhausted watching the feats of physicality. Not in this show! Not only are the high energy antics missing, I'm not certain anyone even broke a sweat.
The show starts with promise.  Jennifer Pfaff Yonally is spotlighted in technicolor laser lights.  The screen on the back is projecting movement and clocks.  Pfaff Yonally is surrounded by the ensemble draped in flowing bohemian garments. She dances within the confines of her illuminated area. They tap in synchronicity around her. Along with Composer Kurt Schweitz's live music, this number immediately intrigues.  It looks and sounds like a composite of the past and future. This innovative mystique doesn't last. Following the opening number, the show goes pedestrian. Dance takes a backseat to the story.
The story, written and narrated by Marc Kelly Smith, takes centerstage.  Smith tells the tragic tale of doomed lovers that time travel to relive a significant moment.  Smith, a Chicago poet, has his own allure in his crusty, old-timer storytelling.  And it's not that the story isn't interesting, it's that I expected tap dancing. I was looking for eye candy not thought-provoking.
Certainly, Chicago Tap Theatre can redefine themselves in a more dramatic fashion.  They chose a more substantive project.  This play requires actors that can dance. The problem is it's cast with dancers. And some of these dancers can't act. If I'm not being dazzled by footwork, I'll be distracted by stilted performances.   
And SPOILER ALERT: No shim sham.
Running Time: Ninety minutes includes a late start and no intermission
Stage 773, 1225 W. Belmont
Written and narrated by Marc Kelly Smith
Directed by Billy Siegenfeld
Choreographed by Mark Yonally
Original music by Kurt Schweitz
Fridays and Saturdays at 7:30pm
Sundays at 3pm
Additional performance April 9th at 3pm
Thru April 10 
Buy Tickets at www.stage773.com
For more information and reviews on Chicago theatre, visit Theater in Chicago.