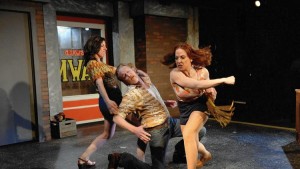 The Factory Theater presents the World Premiere of THE LAST BIG MISTAKE.
Factory christens its new Rogers Park theater with sweat, blood and chortling. Their first show is a high energy, combative comedy. Kim Boler (Lola) and Angela DeMarco (Roxie) play former lady wrestlers turned cocktail servers moonlighting as newbie crooks.  When they don't get paid for pulling a job, they get mad.  And Kevin Alves (Foswald) bears the brunt of their rage. Boler and DeMarco beat the shit out of him.
The new space makes the brutality uncomfortably close. Besides the bloody shoot outs, Anthony Tournis choreographs an epic girl fight.  Boler and Demarco take on Maureen Yasko (Big Alice) and Christy Arington (Bad Betty). The square stage with audience on three sides forms a boxing arena. The gals come at each other from every corner. They hilariously remove high-heels before the ferocious assault.  Then, they punch, kick and even bite in this anything-but-lady-like-smack-down.
Playwright Ernie Deak has penned a 70s lampoon with a cast of criminals.  He definitely establishes strong female leads.  And under the direction of Manny Tamayo, Yasko and Arington are straight-up-bat-shit-crazy bitches. Although all the broads are tough, Boler and DeMarco also display understandable angst and vulnerability. Their ongoing impulsive decisions force them further into the danger zone. As the bodies pile up, Boler freaks out and DeMarco revs up.  DeMarco schools the pervy Blake Dalzin (Jake) in her women-on-top philosophy. Disturbingly funny!  The absurdity of the personalities entertains. Eric Roach (Frank) is a riot as the mob boss. He aggressively attacks his pasta or his hit-women with equal zest. Roach delivers buffoonery with perfect comedic timing. In contrast to Roach, Timothy C. Amos (Cecil) is this steel-faced, creepy dude lingering quietly on the fringe.
THE LAST MISTAKE was not a mistake. The play showcases The Factory's new space and its legendary  bad ass shenanigans. Conveniently located off the Red Line's Howard Stop, The Factory is open for business.
Running Time:  Eighty minutes with no intermission
The Factory Theater, 1623 W Howard St
Written by Ernie Deak
Directed by Manny Tamayo
Fridays and Saturdays at 8pm
Sundays at 3pm
Thru April 30th
Tickets: $10-$25 available at www.thefactorytheater.com and by calling 866-811-4111
For more information and reviews on Chicago theatre, visit Theater in Chicago.