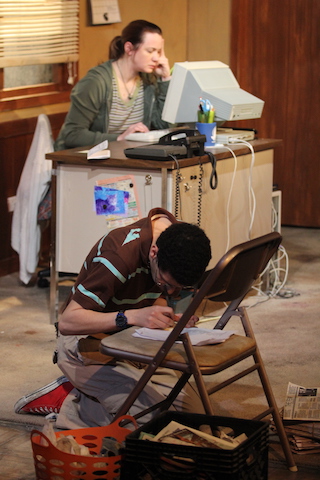 Steep Theatre presents the Midwest Premiere of THE FEW.
Playwright Samuel D. Hunter gives voice to the invisible and marginalized.  His plays are usually set in his home state of Idaho or other Midwest states. His characters are ordinary folks struggling with real life. I enjoy Hunter's work immensely. Besides THE FEW, I've seen The Whale, Rest, A Bright New Boise, and A Permanent Image. This time, Hunter focuses on truckers. Through his story, we view life from the road. We began to understand the long hours spent alone and the effects of isolation.  We get a glimpse at driving through life without seeing it. 
The story begins as Bryan (played by Peter Moore) returns to the trucker newspaper he founded. He has been gone for four years. He disappeared after the death of his friend and newspaper co-founder.  During his absence, his girlfriend QZ (played by Dana Black) has kept the newspaper viable by expanding the personal ads.  From lights up, Black is needling Moore for abandoning her and the paper.  As Moore sits silent in remorse, a tough-talking Black gives him sh#t. The humor is dark.  The dialogue is organic.  The situation is unknown. Hunter throws us into the middle of the story and forces us to figure out what happened to this couple.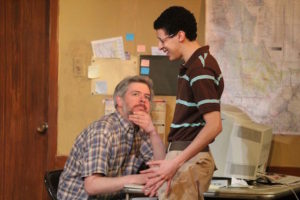 Set Designer Lauren Nigri helps the story by establishing time and place.  Nigri constructs a shabby office. It's cluttered with vintage computers, road maps, milk crates and piles of papers.  The low ceiling gives it a close, makeshift feeling. The cramped setting helps transform Moore into this awkward trucker.  Moore, who I've mostly seen playing white collar characters often with a British accent, slouches and looks too big for the space.  His uncomfortable appearance serves his character and contrasts the ever-moving Travis Coe (Matthew).  Coe plays a teenager that has been working on the paper since Moore's departure.
The story intrigues. The existential crisis bubbling under the surface is the approaching millennium. As the uncertainty of 2000 looms in the future, the reality of 'getting the paper out' is a current dilemma.  While Black and Moore deal and don't deal with their relationship, an answering machine plays desperate and hopeful ads from truckers. The lonely drivers are putting their faith in the paper to connect them to a happily-ever-after or at least a satisfying non-violent hook-up.      
Hunter creates  stories of connectable humanity. Even the ongoing voice messages become characters in this tale. Director Brad Akin doesn't rush it. He purposefully paces it with a natural cadence that is sometimes slow.  The interactions between Black and Moore are authentic.  A fierce Black is relentless in pursuit of an explanation. Moore fumbles around searching for the right words and ends up initiating awkward pauses. An outstanding Black continually nails the hilarious sarcasm in response to Moore's non-response.
A drunken Moore finally does disclose information to Coe, a confidante by happenstance.  After initially shunning him, Moore unburdens himself on Coe. His confession layers in unexpected complications. It ultimately adds to Coe's already overloaded sense of responsibilities and expectations. Coe plays caring employee with boundary issues.  His hung-strung delivery is funny at first and then becomes more distracting than endearing.        
Although THE FEW is a tribute to the lonely work of truckers, it is relatable in anyone's quest for life fulfillment.  When we unravel Hunter's story, we find unhappy reveals, uplifting moments and unknown outcomes.  That is life in a nutshell! THE FEW is an honest, thought-provoking examination of human existence.    
Running Time:  One hundred minutes with no intermission
At Steep Theatre, 1115 W. Berwyn
Written by Samuel D. Hunter
Directed by Brad Adkins
Thursdays, Fridays, Saturdays at 8pm
Sundays at 3pm
Thru May 21st
Buy Tickets at www.steeptheatre.com
Production photos by Gregg Gilman
For more information and reviews on Chicago theatre, visit Theater in Chicago.