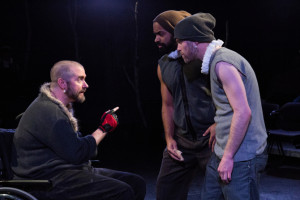 The Gift Theatre, in conjunction with Steppenwolf Theatre, presents RICHARD III.
Michael Patrick Thornton (Richard) stars in this Machiavellian rise to power.  Shakespeare describes his lead as a deformed man with a hunchback.  Under the innovative direction of Jessica Thebus, Thornton, an actor with a disability, performs the role from his wheelchair.  Thornton ruthlessly manipulates his way to the crown. He delivers the elegant prose with evil genius mockery. As he announces to the audience his intention to marry Lady Anne, Thornton unapologetically sneers about having killed her husband and father. Thornton jokes with gallows humor. His diabolical demeanor generates uncomfortable laughter and a few raised eyebrows.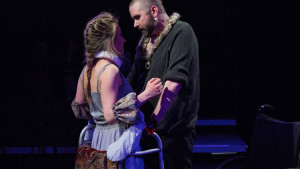 Thebus uses Thornton's disability in interesting ways.  During his seduction of Olivia Cygan (Anne), Thornton stands leaning on a walker.  He coerces Cygan into the space between the walker and his body.  Once she is in that very personal space, he traps her by moving the walker closer.  Her intimate confinement is sexy and threatening.  Thornton is always in command of this stage. When crowned king, he abandons his wheelchair and walks the stage with the aid of robotics and an assistant. His stroll creates this powerful majesty. The electronic contraption is almost like modern day armory. Right before going into battle, Thornton settles back on to his wheelchair. As he barks out commands, his armor is stripped from his body. The surreal moment hints at his demise. During the fight scene, Thornton falls from his chair. He lies on the ground and utters the famous line, "My kingdom for a horse."  His snarky delivery belies his truly helpless position. Thebus skillfully weaves in Thornton's disability into the visual storytelling.  And I was impressed by Thornton's willingness to be equally vulnerable and horrible for this role.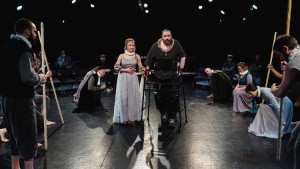 RICHARD III is a bursting who's who. Shakespeare relies on a familiarity with the titles and lineage of the time period.  In modern terms, it would be like starting to watch Game of Thrones in the middle of season 2. Thebus uses a variety of techniques to pull us into this RICHARD III.  She stages the action in the round and keeps it simple. The ensemble morph into different characters by taking off or putting on a hat or veil.  Sticks become scenery, swords, prison bars, and hatchets. They are also used to pound on the ground. The synchronized tapping builds tension. As the ensemble beats out this savagery soundtrack, Thornton stops and starts that action with one word. He is this cruel puppet master. At one point, Keith Neagle is begging for his life at the executioner's block. Thornton stops and starts the pounding and the beheading a few times. His wickedness is palpable as he emotionally tortures Neagle.
This RICHARD III is a fascinating spectacle.  Although the acting wasn't consistently on par with the innovative storytelling, I enjoyed the show.
Running Time:  Two hours and thirty-five minutes includes an intermission
At Steppenwolf's Garage Theatre, 1624 N. Halsted
Written by William Shakespeare
Directed by Jessica Thebus
Thursdays, Fridays, Saturdays at 8pm
Saturdays, Sundays at 3:30pm
Thru May 1st
Tickets at www.steppenwolf.org
Production photos by Claire Demos
For more information and reviews on Chicago theatre, visit Theater in Chicago.