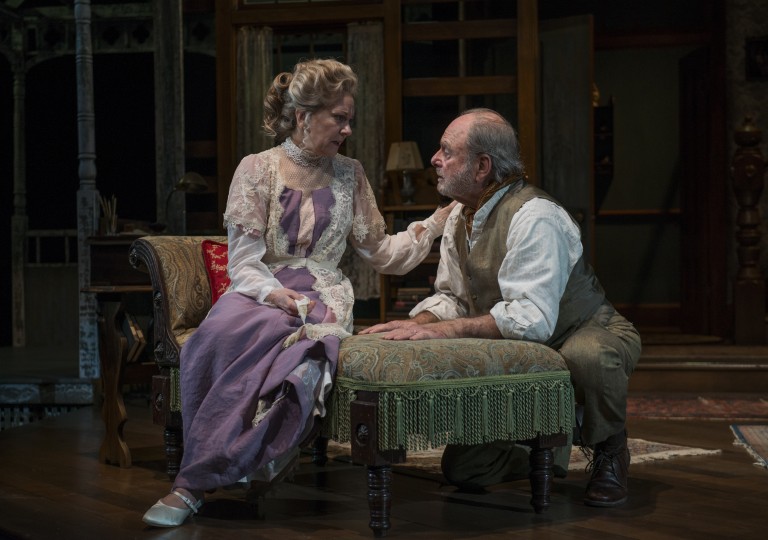 Court Theatre presents LONG DAY'S JOURNEY INTO NIGHT.
Playwright Eugene O'Neill was awarded a Pulitzer Prize posthumously for this autobiographical play.  O'Neill exposes his own family's dysfunction rooted in addiction.  Unlike a contemporary drama focused on the affects of an addict's behavior on a family, O'Neill's story is about an entire family of alcoholics and a junkie. Reading about O'Neill,   I was startled by how personal this story is. His play's characters even bear the real names of his mother Mary, his father James and his brother Jamie. He, himself, appears as the character of Edmund.  Although the play is about one summer day in the life of this family, O'Neill masterfully discloses four lifetimes in four hours. This isn't about a skeleton in the closet. It's a house full of skeletons and haunted by the past.
LONG DAY'S JOURNEY is a show to see. 
Under the adept direction of David Auburn, we experience O'Neill's family as the messy yet loving Tyrones. The superb ensemble become this family that we want to understand better.  From the beginning, we know mom (played by the formidable Mary Beth Fisher) has been sick. No one is addressing what her illness was. They are all just complimenting her healthy appearance. The menfolk (Michael Doonan, Dan Waller, Harris Yulin) keep the post-breakfast banter casual. We pick up nuggets of concern for both Fisher's fragility and Doonan's medical condition.  Although we learn Doonan likely has consumption, everyone allows Fisher to pretend he has a summer cold. Meanwhile, Waller and Yulin are sniping at each other.  Waller calls his dad cheap. Yulin accuses his son of being a lazy freeloader. This is the first scene. I'm hooked!  What's really going on in this family?  Auburn wades us into these rippling troubles that eventually turn into an all-consuming riptide.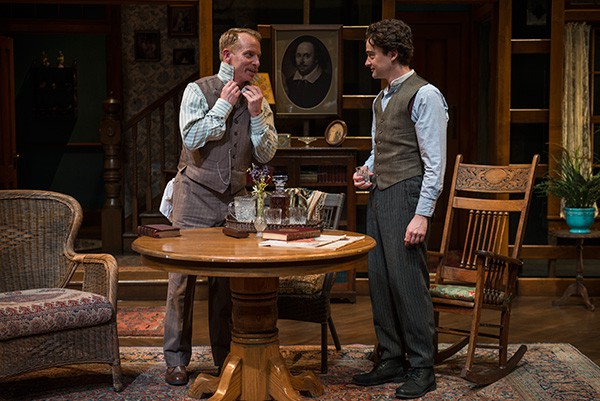 The play is set in early 1900's. The interactions have a formal, politeness especially in comparison to a contemporary family. They don't talk about their feelings.  They don't ask each other what's wrong.  They don't request help when they need it. Their lack of communication has allowed each person to splinter off into her/his own realm of reality. They each have spent decades in miserable isolation. It's through multiple conversations we piece together the choices that led to this day in this house at this level of unhappiness.
Fisher is amazing as the morphine addicted mother. Her behavior is erratic.  One moment, she expresses maternal concern for her husband or sons.  The next, she is spiraling out of control blaming, accusing and lying. In a powerfully bittersweet scene, Fisher coerces Alanna Rogers (maid) to keep her company.  Fisher is animately describing her past romantic courtship with Yulin. The delightful Rogers is enjoying a whiskey libation. Fisher passes out holding Roger's hand. Fisher's physical presence, yet mental absence, is the heart-wrenching anchor to this tale.                              
Since O'Neill is from a theatre family, it's not surprising that these roles showcase each actor.  The parts are meaty.  The backstories are complex. And the drama unfolding reeks of booze.  Doonan stumbles in the dark entry way.  He turns on a light. Yulin yells at him to turn it off.  Doonan refuses. This ordinary request escalates into a heated argument that becomes a pivotal moment in their relationship. They confide in each other over drinks. A teary-eyed Doonan discloses his present and past fears.  A resigned Yulin explains how his entire life he has been afraid of being poor.  Their shared revelations result in this new, mutual respect. Like the lull before the storm, the tender moment is interrupted by the arrival of the boisterous Waller. The outstanding Waller plays inebriated perfectly.  He rattles on about his whorehouse escapades and then abruptly shifts into brotherly devotion. His drunken rant is hilarious, sweet and offensive simultaneously.       
LONG DAY'S JOURNEY INTO NIGHT is an American classic. This is honest storytelling about family, addiction and regret. Knowing the personal parallels to O'Neill's life makes it that much more profound.  Court does an exceptional job making us care about this unhappy family.                
Running Time: Three hours and forty minutes includes a fifteen minute intermission and a 5 minute break
Court Theatre, 5535 S. Ellis
Written by Eugene O'Neill
Directed by David Auburn
Wednesdays and Thursdays at 7:30pm
Fridays at 8pm
Saturdays at 3pm and 8pm
Sundays at 2:30pm and 7:30pm
Thru April 10 
Buy Tickets at www.courttheatre.org
Production photos by Michael Brosilow
For more information and reviews on Chicago theatre, visit Theater in Chicago.