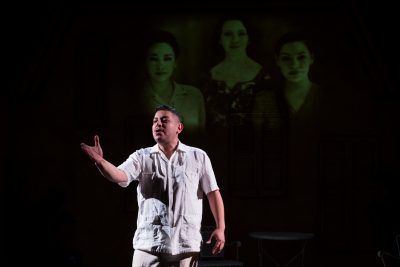 Teatro Vista presents the Chicago premiere of IN THE TIME OF THE BUTTERFLIES.
The Mirabel sisters of the Dominican Republic have become international symbols of courage.  During the dictatorial regime of General Rafael Leonidas Trujillo, the sisters joined the resistance to fight against oppression.  They were brutally punished for their convictions. And on November 25, 1960, three of the four sisters were assassinated. Playwright Caridad Svich takes the historical tragedy and spins an imaginative tale of sisterhood.  She has the surviving sister Dede (played by Charin Alvarez) reflect on the events leading up to the fatal day.  An older Alvarez muses to an American reporter that she doesn't know which memories are real and which have been fictionalized with whimsical nostalgia.  Based on the novel by Julia Alvarez, Svich focuses us on the aspirations and personalities of these 'butterflies' as a loving sister's tribute.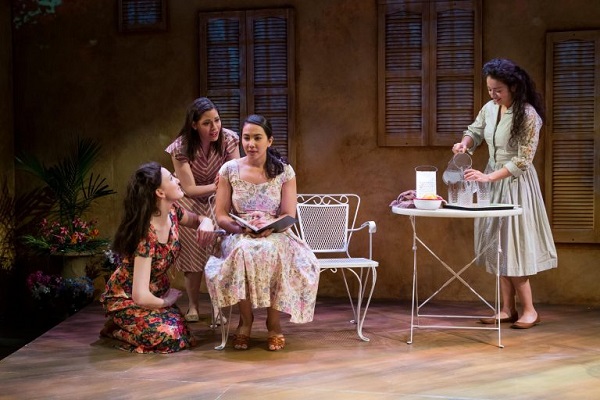 The play starts with the sisters in the garden of their family home.  They are playfully fighting about red shoes, dancing and boys. The initial scene is confusing for me because these sisters seem like sisters.  They look alike.  They have established relationships. Their jokes have an insider feel.  I'm a stranger that has walked into a family's life in progress.  Under the steady direction of Ricardo Gutierrez, I slowly start to sort out the sisters.
Alvarez's narratives help to distinguish one from another.  I realize the fierce Flavia Pallozzi (Minerva) plans on becoming an attorney.  The devote Sari Sanchez  (Patria) is convent bound. And the sassy Ayssette Munoz (Mate) dreams of beautiful gowns and shoes.  These three sisters are distinct in Alvarez's recollection. Svich cleverly makes Dede's memory of her own desires and interests more muted.  Rinska Carrasco (Dede) plays the younger version of Alvarez.  As a young girl, we don't know what Carrasco wants.  We only know what she doesn't want as she gets older. Carrasco's actions are tainted with emotional conflict over the fates of her revolutionary sisters.  She angrily blames Pallozzi for their family's troubles.  She pines for her sister's rebel lover.  She refuses to host an insurgent meeting.  Yet, she remembers babysitting and making cake.  Did she really or is she appeasing her survivor's guilt with loving memories of herself? Svich's tale is delicate, viscous interlaced threads of fact and fiction.
We get snippets of the ladies through flashback scenes and their own poetic direct address to the audience.  The sisters become real women that we care about, that we worry about.  Svich's intriguing tale unfolds with the benefit of a cracker-jack design team.  Sound Design Brandon Reed creates a jump-out-of-my-seat war zone.  The ongoing explosions are a little to real.  In a powerful prison scene between Pallozzi and Munoz, Lighting Designer Richard Norwood illuminates the parameters of their cells.  It's gut-wrenching.  Video Projection Designer Liviu Pasare enhances the storytelling with dynamic backdrops; portraits of the sisters, rainy cornfields and flying butterflies.  Costume Designer Uriel Gomez fills the space with 1950s frocks. Gomez dresses these gals in vibrant vintage clothing.  The slick audio-visual add color to Svich's historical innovation.
Although IN THE TIME OF BUTTERFLIES starts out slowly, once it sheds its cocoon, the sisterhood is unexpectedly beautiful.
Running Time:  Ninety minutes with no intermission
At Victory Gardens, 2433 N. Lincoln
Based on the novel by Julia Alvarez
Written by Caridad Svich
Directed by Ricardo Gutierrez
Thursdays, Fridays, Saturdays at 7:30pm
Sundays at 3pm
Buy Tickets at www.teatrovista.org
For more information and reviews on Chicago theatre, visit Theater in Chicago.