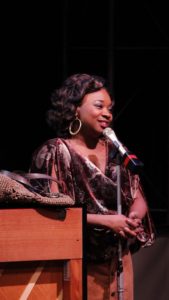 Porchlight Music Theatre presents DREAMGIRLS.
This is as real as it gets. Life is imitating art. And art is imitating life.  Donica Lynn (Effie) plays a singer becoming a star. In this production, Donica Lynn is a singer becoming a star.  Right before our eyes, we see Lynn transform from girl-group-reject to soulful diva. Her stunning rendition of And I'm telling you I'm not going is unforgettable. While she is singing with powerhouse pipes, she is visibly losing it.  Lynn is both begging and commanding Evan Tyrone Martin (Curtis) to love her. Her anguish is palpable. My skin prickles and my eyes water in response. Director and choreographer Brenda Didier captures the emotion perfectly. Martin is rigidly facing the audience. Lynn, a shorter gal, continues to try to put her arms around his neck. He wrestles to get her arms behind her back.  His face is stone-cold as he escapes. Lynn never stops singing. She is resilient. I'm a bit of a puddle. Her superb performance continues to amaze.
The Tony and Grammy award-winning musical by Tom Eyen (book and lyrics) and Henry Krieger (music) follows the rise of the Dreamettes from obscure trio to Deena Jones and the Dreams. The 'fictitious' tale mirrors the success and failures of Diane Ross and the Supremes. The music is mostly upbeat tunes except for the ballads sung by Lynn. The contrast works for the storyline. At one point, two different versions of One Night Only are sung. Lynn solos a steamy, slow rendition. The ensemble sing a fast, boogie down tune. Same words. Different rhythms. Both good. Yet, it's a competition and I'm on Lynn's side. Perched above the stage, Doug Peck skillfully conducts his musicians from the piano.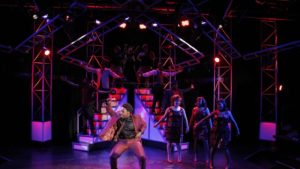 Under Didier's masterful orchestration, this musical has plenty of pizzazz but it also has unexpected tenderness. Since it's a play about showbiz, the musical numbers are Vegas gaudy. Designers Bill Morey (costumes) and Kevin Barthel (wigs) roll out the 60s and 70s finery. Shiny and flowing outfits with hair piled, curled, and permed. Special nod out to Morey for Lynn's smock to dress transition. Ooh-la-la! The vintage fashion show is both delightful and cringe-worthy. Although the extensive wardrobe changes are wonderful, I can't consider the 70s without personal regret. At one point, Didier has her male chorus in headbands doing animated synchronized moves. The disco flashback is a hoot.
The ensemble does a terrific job of dancing through the decades. In particular, Eric Lewis (Jimmy) brings his own special brand of whoop-ass on to the stage. The colorful Lewis kills it as a hilarious showbiz entertainer. He flirts, sings, cartwheels and shakes his booty.  And he does it all with tireless gusto.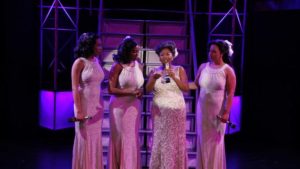 Within the razzle dazzle, the relational ties keep it grounded in humanity.  Lynn, Candace C. Edwards (Deena) and Katherine Thomas (Lorrell) have this solid chemistry. Their strong childhood ties are visible. They communicate nonverbally while singing. They squeal in unison. They grab hands instinctively. And when Martin inserts himself in to their trio, the ladies' bond weakens but doesn't disappear. There is an end scene featuring Lynn and Edwards talking about Deena's mama that is a tribute to friendship. These Dreamgirls are tight!
DREAMGIRLS is a hot ticket.  Before the show officially opened, it extended because of ticket demand. Don't wait.  Get your tickets!  And you, and you, you're going to love… DREAMGIRLS!
Running Time:  Two hours and forty-five minutes includes an intermission
Stage 773, 1225 W. Belmont
Book and lyrics by Tom Eyen
Music by Henry Krieger
Directed and choreographed by Brenda Didier
Thursdays at 7:30pm
Fridays at 8pm
Saturdays at 4pm and 8pm
Sundays at 2pm
Additional performances at 1:30pm on May 5, 12, 19 and 7pm on May 8th
Thru May 22nd
Buy Tickets at www.porchlightmusictheatre.org
Photo credits – Photos by Kelsey Jorissen
For more information and reviews on Chicago theatre, visit Theater in Chicago.