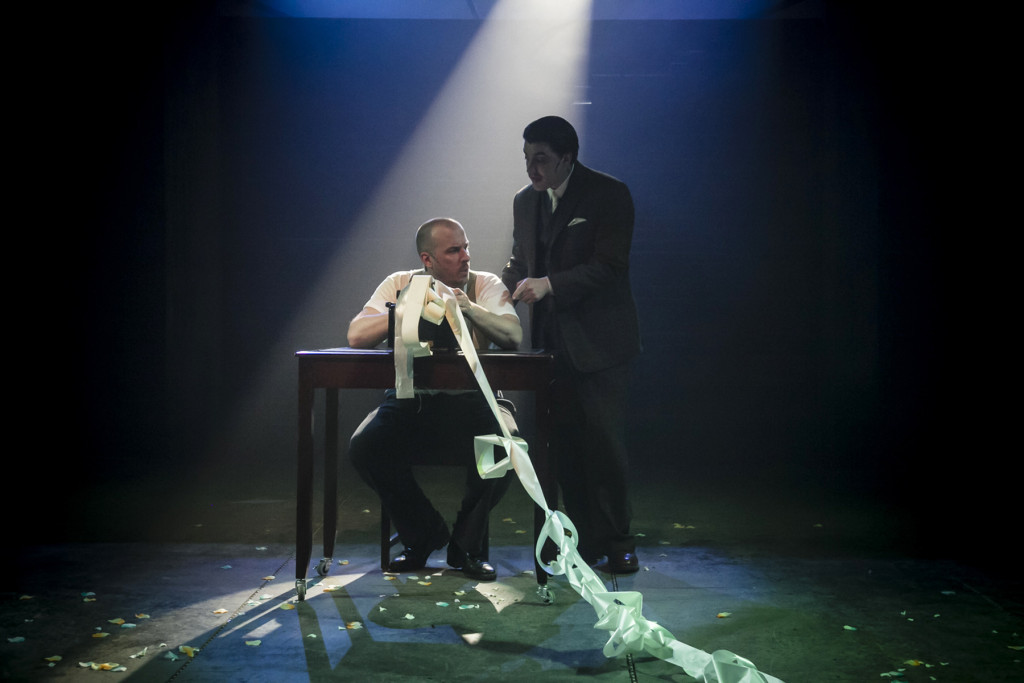 The Hypocrites present ADDING MACHINE: A MUSICAL.    
Ten minutes into this show I realized this sure wasn't a Gilbert & Sullivan opera.  I've enjoyed The Hypocrites peppy, playful "Pirates of Penzance" and "The Mikado." ADDING MACHINE: A MUSICAL was a surprising downer. It's one man's existentialist crisis sung with beautiful but somber intensity.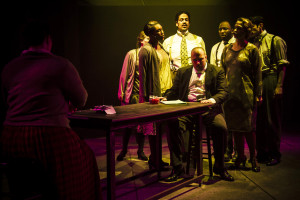 Jason Loewith and Joshua Schmidt debuted this melancholy musical at Next Theatre in 2007. The story is about a man (played by Patrick Du Laney) who hates his life.  He is in a loveless marriage and mundane job.  On his 25th work anniversary, he is replaced by an adding machine.  The termination plunges him into a bottomless pit of despair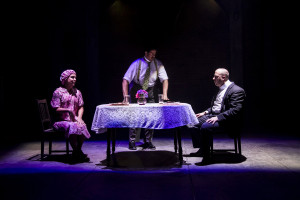 Director Geoff Button effectively orchestrates the unhappiness routine in Du Laney's existence. As he and Kelli Harrington (wife) sing, they continually reenact their dinner or sleeping rituals. The ensemble whirl in and out the dining table or bed as Du Laney and Harrington sing about their life rut. The sense of the humdrum flows in to the work place too.  Employees read numbers from receipts. Although the monotony is stifling, Neala Barron (Daisy) radiates hope and sweetness.  Du Laney is attracted to her as someone and something different from his familiar.    
The ensemble is superb.  The singing top notch. It's just a sad musical.  And on a Friday night, I was in the mood for vibrant and fun.  Instead, I got shades of dark work and relationship gloom.  ADDING MACHINE: A MUSICAL sounds like a cute little diddie.  It's not.  It's heavy-duty woe-is-me. Adjust your expectation accordingly.           
Running Time: Ninety minutes with no intermission.
The Den Theatre, 1329 N. Milwaukee
Book and lyrics by Jason Loewith and Joshua Schmidt
Music by Joshua Schmidt
Directed by Geoff Button
Music director Matt Deitchman
Choreographed by Katie Spellman
Fridays at 8PM
Saturdays at 3 PM and 8 PM
Sundays at 3 PM
Buy Tickets at www.the-hypocrites.com
Production photo by Matthew Gregory Hollis.
For more information and reviews on Chicago theatre, visit Theater in Chicago.