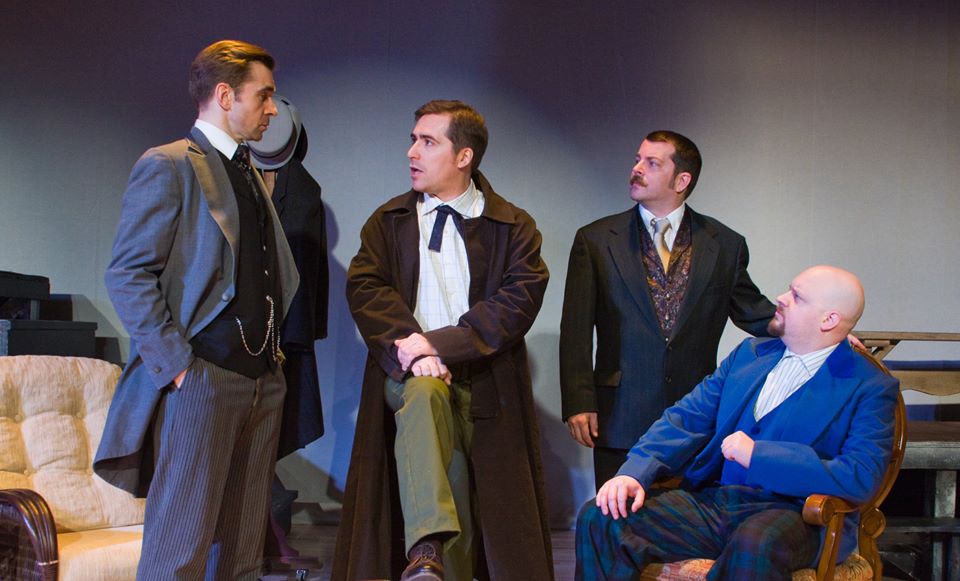 Idle Muse Theatre Company presents a World Premiere adaptation of THE HOUNDS OF THE BASKERVILLES.
Sherlock Holmes is perhaps the most famous detective in history.  Sir Arthur Conan Doyle created a persona whose superior intellect picked up on the smallest hint of a clue. Sherlock's sleuthing was aided by his trusted sidekick Dr. Watson.  The duo were the original bromance. They took pleasure in their mutual enjoyment of good cerebral repartee. Doyle's series of mysteries are ageless classics.
THE HOUNDS OF BASKERVILLES has been adapted for the stage by Althos Low.  The mystery is about the curse plaguing the Baskerville family.  Heirs are being murdered by a monstrous hound. Sir Henry Baskerville (played by Brendan Hutt) wants to stake claim to his estate.  It's up to Sherlock Holmes (played by Joel Thompson) and Dr. Watson (played by Nathan Pease) to keep Henry alive, solve the mystery and save the day.
The best part of this show is the chemistry between Thompson and Pease.  Thompson perfectly embodies Sherlock.  He delivers his deductions with unapologetic smugness. His singular focus is establishing the truth. Thompson has a steel facade.  The only glimpses of true feeling we see are his lips occasionally curled in delight over his own accuracy or his loyalty to his better half.  Pease brings the humanity and the humor to this partnership.  Whereas Thompson wants to solve the puzzle, a passionate Pease wants to protect Hutt. Their chemistry works. We sense these gents have history. Their genuine enjoyment of each other's company is apparent.  When Thompson barks an order, Pease often accepts the directive with a droll sidebar.  He continually exits the stage with my laughter trailing behind him. 
This is a talented crew!  And Director Evan Jackson keeps the mystery unfolding with sophistication and clever techniques. Fog billows along the ground. Actors become framed portraits. The appearance of the hound itself is a bit of a spectacle. Jackson does a fine job of giving us a few visual distractions in this otherwise heavy mystery talkie.
Over the last few years, there have been many Sherlock Holmes productions in Chicago. I've long thought that the page to stage is a difficult one. The very nature of these mysteries is intellect over drama. The whodunit tension is replaced by a what-happened instructional guide. I'm not so much on the edge of my seat as cosily nestled in it for the verbal storytelling. THE HOUNDS OF THE BASKERVILLES is an enjoyable evening of intellectual stimulation.                  
Running Time:  Two hours includes an intermission
At Edge Theatre, 5451 N. Broadway
Written by Sir Arthur Conan Doyle
Adapted by Althos Low
Directed by Evan Jackson
Thursdays, Fridays, Saturdays at 8pm
Sundays at 3pm
Additional performance March 23rd at 8pm
Thru April 3rd
Buy Tickets at www.IdleMuse.org
For more information and reviews on Chicago theatre, visit Theater in Chicago.