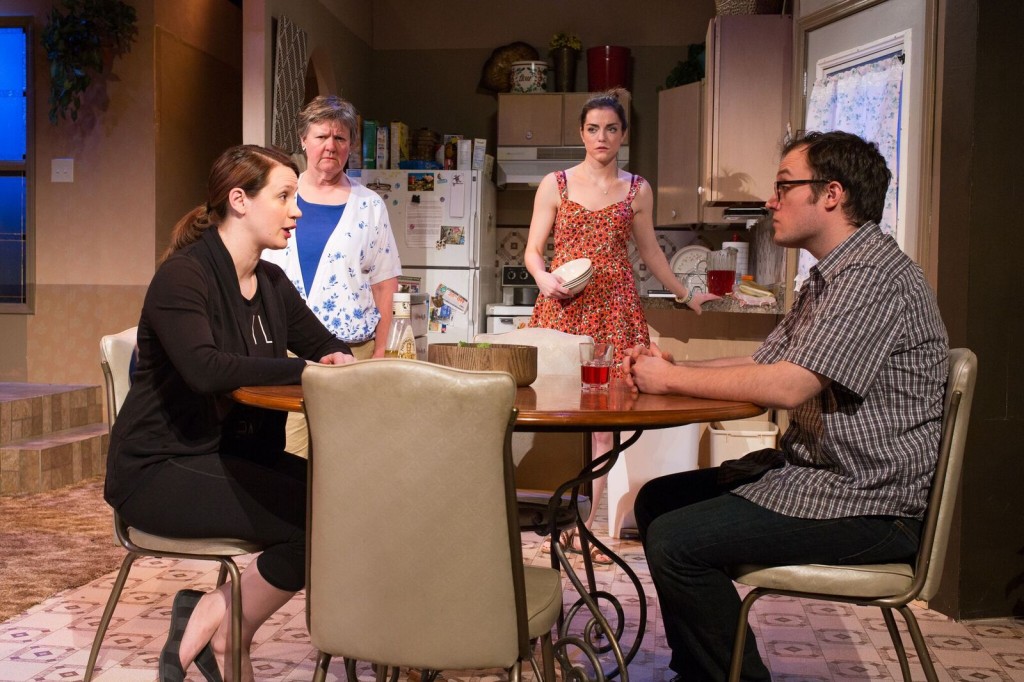 Jackalope Theatre presents the World Premiere of ROLLING.
The news is news! The hot media story of the day questions a sexual assault news story from the past.  The reporter is under attack.  She decides to go into hiding.  She runs home… much to her mother's chagrin.
Playwright Calamity West pens a dark comedy about the adult relationships between mother and daughters, sister and sister.  The play starts with Ann James (Janet) watching television. Although she is completely alone, James continues to sneak Cheetos from a stash hidden in the couch. An annoyed Dana Black (Valerie) stumbles through the kitchen door with oversized luggage.  James scolds her for not calling from the airport.  Black says she did but continually got a busy signal. A flustered James spies the phone off the hook and quickly returns the receiver to the cradle. I'm already intrigued by this mother's dismissal of her media celebrity daughter.
West lets the relationships unfold with a genuineness. James makes a declaration about a house rule.  A snarky Black retorts.  James excuses herself to go to bed. The struggle is subtle but significant. Black is interfering in James' routine. It doesn't matter that she is the media person-of-interest or famous.  For now, she is a daughter back under her mother's roof.  Black is stuck in a world she grew out of.
West's characters are distinct. The humor is clever.  The dialogue is crisp.  Abby Pierce (Molly) arrives home and starts throwing out junk food and replacing it with fruits and vegetables. Black immediately needles Pierce with something like, 'mom says you're trying to be sober again.' Pierce casually mentions their father had a heart attack.  The manicured claws are out! Sibling rivalry is in the house. I simultaneously gasped, laughed and rolled my eyes.  It's mean-spirited, hilarious and relatable all at the same time.
Director Nate Silver keeps this family real.  They assess each other with the cynicism of a lifetime of experience. The loving support is there.  It's just below layers of resentment and competition.We watch these women learn to coexist together again.  Pat Whalen (Danny) is the outside male influence.  His alliance continually shifts throwing the hen house balance off.  His presence delivers laughs and suspicion. Even after the curtain, I'm still questioning how deliberate some of his actions were.
ROLLING is an engaging dramedy.  It's the kind of play that I like to see twice to see if I can pick up on any foreshadowing of the ending.  I highly recommend it.
Running Time: Two hours and five minutes includes an intermission
At Jackalope Theatre at Broadway Armory, 5917 N. Broadway
Written by Calamity West
Directed by Nate Silver
Thursdays, Fridays, Saturdays at 8pm
Sundays at 3pm
Thru April 2nd
Buy tickets at www.jackalopetheatre.org
Production photo by Joel Maisonet
For more information and reviews on Chicago theatre, visit Theater in Chicago.