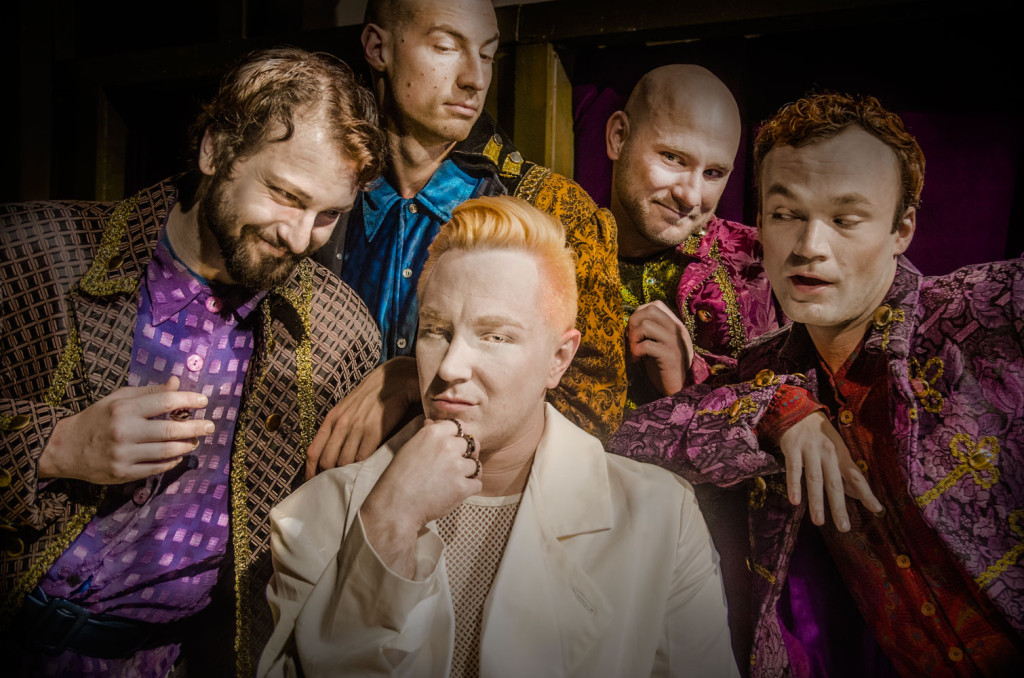 Reviewed by Tom Lawler
Set the scene: For more than 25 years, Trap Door Theatre has pursued its noble mission of "seeking out challenging yet obscure works and bringing them to life." With a theatergoing audience that seems to be in consistent decline and not necessarily getting any younger, combining this kind of longevity with such ambitious programming is surely a rare accomplishment. For The Duchess of Malfi, Trap Door is tackling John Webster's 1613 violent, macabre five-act tragedy based on real-life dark doings in the 16th-century royal court of Amalfi, Italy.
What's it all about: The recently widowed Duchess of Malfi (Lyndsay Rose Kane) returns to her royal family court to live with her evil brothers, Ferdinand (Casey Chapman) and The Cardinal (John Kahara). After her brothers learn that the Duchess has secretly remarried to a lowly steward, Antonio (Mike Steele), they imprison her and then plot even more gruesome actions so they can seize her family fortune for themselves. Full disclosure: I gathered most of these details through some online reading after seeing this play. Due to the density of the language and the abrupt and at times inexplicable behavior by some of the characters, by about 15 minutes into this play I could feel myself drifting away from the murky plot in growing confusion. Nearing the hour mark, I turned to my companion and instantly recognized in her eyes that we were both bobbing like corks in the open sea – unsure of our final destination but game for the journey. 
Stand-out performance: Casey Chapman's Ferdinand, clad in all white with bleached, slicked-back hair (think Thin White Duke-era Bowie), makes a stunning first impression as the evil aristocrat. Ferdinand's simmering anger and explosive rage are two of the primary fuel sources powering Duchess. It's to Chapman's credit that this doesn't get monotonous and the dark, mysterious mood he's able to project seems essential tonally for what director Christopher Marino is aiming for with this production.
Also, check out: As one of the sneering, sycophantic dandies on Ferdinand's royal court, Kevin Webb is a standout. Webb not only reminds us that villainy can exist in even in the most cherubic forms, but he also showcases a pleasing tenor singing voice in a brief musical selection.
More of this, please: I love it when the play experience begins the moment you walk into the theater. For Duchess, we're introduced to this ominous world of Malfi by three shirtless men pacing the stage and looking each other over. For the first of many times on this evening, I leaned forward and asked myself: What the hell is going on? Then, as The Cardinal (as in a Catholic Cardinal) and Ferdinand enter the theater from the lobby, you instantly deduce their high status by the way the men on stage lower their heads in deference. In my favorite moment of Duchess, as Ferdinand and the Cardinal began a slow pre-curtain procession down the row of seats at the foot of the stage, an unaware elderly couple returning to their seats from the restroom nudged Casey Chapman's Ferdinand and asked him to please let them pass. You should have seen Chapman's sneer (perfectly in character) as he turned to look them over before silently stepping aside.
However: As a theater experience, seeing this Duchess can best be likened to going to an Italian opera without the benefit of a libretto. For those accustomed to the pleasures of being able to follow a plot or understand a character's motivations, this may prove a lengthy, challenging play to enjoy. On the other hand, it's also an evening of huge emotions, visceral violence (at one point an actor stops to push the blood off the front lip of the stage with a mop) and gloomy sensations. Moreover, it's stuffed with stunning theatrical moments crafted by director Christopher Merino, his technical team and talented cast. This darkness is contrasted wonderfully by Rachel Spniewski's radiant, candy-colored costumes for Malfi's trendy royal court. Overall, Duchess is commendable both for its technical achievements and Trap Door's confidence to produce such a difficult, risky work in the first place.
Do this first: This seems a no-brainer due to its proximity to Trap Door and status as a beloved neighborhood gem, but if you're looking for dinner first, Jane's is the place. It is popular and fairly small though, so reservations are a must. I would also recommend some cursory online reading about the plot of The Duchess of Malfi in advance since Trap Door's program won't be of much assistance.
Do this after: You'll likely have a lot to discuss with your companion, so head across the street for post-show drinks at Bucktown Pub, a vintage corner tavern where they stock complimentary popcorn and allow entrance to dogs. 
Running Time: 150 minutes (including one 10-minute intermission)
At Trap Door Theatre 1655 W. Cortland
Playwright: John Webster
Director: Christopher Marino
Thursdays-Saturdays at 8:00pm
Thru February 20.
Tickets: $20-25.
Buy tickets at Trap Door's site. 
Photo by: Michal Janicki