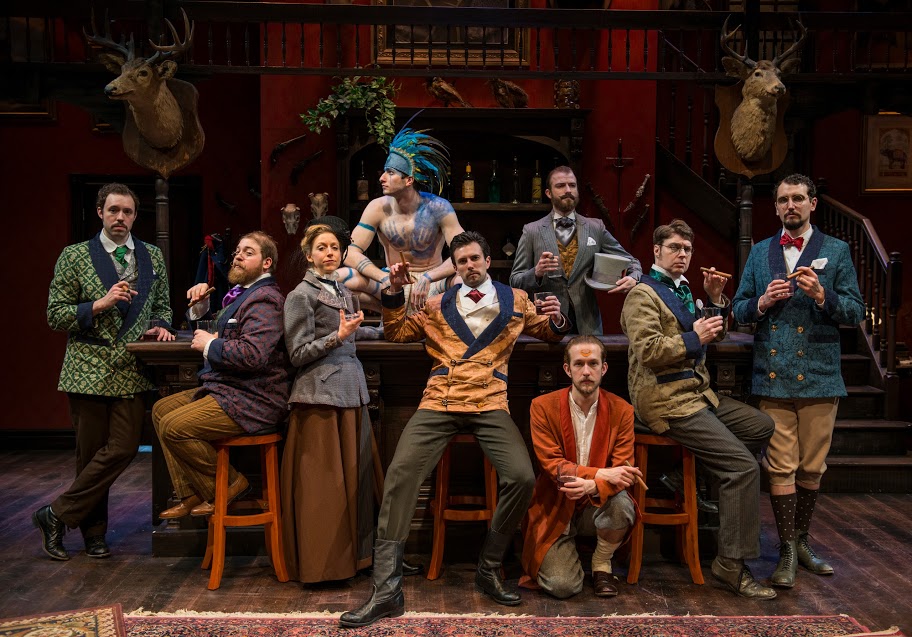 Windy City Playhouse presents the Chicago Premiere of THE EXPLORERS CLUB.
In Victorian England, gentlemen have formed a boys club. They each pursue different scientific projects in various areas: botany, anthropology, geography. When they return from their adventures, they regale their escapades over brandy and cigars at the club. Although the gents want to best their National Geographic nemeses, their 'discoveries' are riddled with mishaps and inaccuracies. When a successful young lady explorer wants club membership, the guys aren't having it. When she introduces her newfound savage into their civilized world, they are forced to consider the changing times.   
Throughout this show, I kept waiting for the big dance numbers. I imagined the conquering-the-East-Pole tale would segue into a bright, saucy song with a soft shoe leading into a flimflam spectacle. It doesn't.  Except for a harmonious quartet intro, this is basically a musical without the music.  Playwright Nell Benjamin has written a light and frothy romp. The shtick is fun and cute but predictable. Here's one set-up: a savage, a snake, and a guinea pig are being presented to Queen Victoria. The comedy outcome is inevitable. There isn't much intellectual stimulation in this droll play. And the brand of humor doesn't incite riotous laughter. The simple story is smile-worthy.  It's the kind of winsome stuff that blockbuster musicals are built on. 
Under the direction of David H. Bell, this ensemble does entertain.  A love triangle is at the core of the story.  The earnest yet reserved Alex Goodrich (Lucius) is smitten by the clever Cristina Panfilo (Phyllida). Goodrich's awkward flirtations pale in comparison to the dashing Ryan Imhoff (Percy).  Imhoff delivers his buffoonery hilariously.  Whether he's talking nonsensically about the East Pole or hitting on 'the girl', he does it in perfect deadpan. The rivalry is sweet rom-com antics.
Even though I'm not explaining the endings to either of these set-ups, most people will conclude correctly what will happen. We see where Benjamin's characters and stories are going fairly immediate. The only real surprises are in Act 2 when Wesley Daniel (Luigi) slings drinks at the ensemble.  Literally, he quickly slides glasses across the bar and each person must catch his drink. The feat is impressive.  Daniel appears reckless but the timing is dead on.  No glass was dropped at my performance. Although the white Daniel seems an odd choice for a 'jungle savage,' his physicality adds a layer of interest to the show. He flips backwards and forwards over the bar seemingly effortlessly.                          
I liked THE EXPLORERS CLUB. It's cute and frothy! The last Windy City show SECOND CHAPTER was also a frothy rom-com. The problem is a theatre, especially a new theatre, can't sustain itself on cute and frothy offerings.  I'm cheering for Windy City Playhouse to establish itself as a solid addition to the Chicago theatre community. Their slick, stylish, swivel chairs provide the most comfortable theatre seating in town. Windy City Playhouse needs to match unique shows to their unique chairs.           
Running Time: Two hours includes an intermission
At Windy City Playhouse, 3014 W. Irving Park
Written by Nell Benjamin
Directed by David H. Bell
Wednesdays,Thursdays at 7:30pm
Fridays, Saturdays at 8pm
Sundays – consult website
Reserve tickets at www.windycityplayhouse.com
For more information and reviews on Chicago theatre, visit Theater in Chicago.