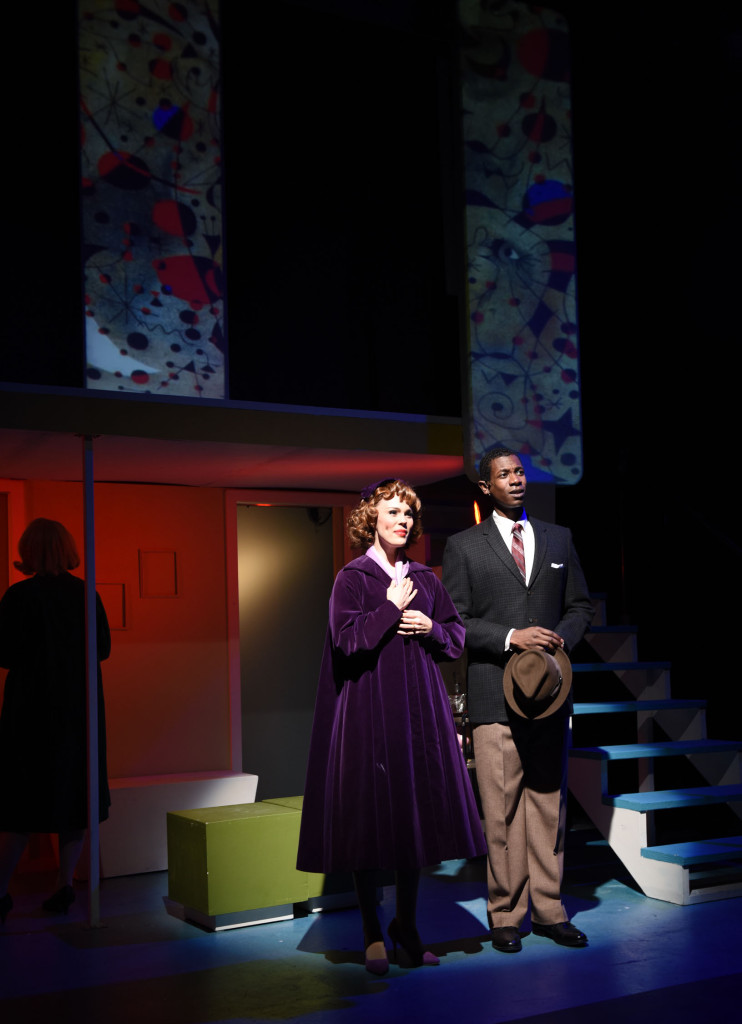 Porchlight Music Theatre presents the Chicago Premiere of FAR FROM HEAVEN.
Summer Naomi Smart (Cathy) captivates from lights up.  In a stylish mid-century wardrobe by 
Costume Designer Bill Morey, Smart is absolutely a picture-perfect-housewife.  The stage serves as a pseudo 1950s runway as Smart continually sweeps in with a variety of swing coats, matching hats and full-skirted frocks. In a Christmas scene, she twirls into the room wearing a red frock trimmed with white fur topped with a holiday apron. Smart looks and sounds like the ideal wife, mother and hostess. Morey's fabulous vintage wardrobe establishes Smart's surreal existence in Barbie's 1950s Dreamhouse world.  Despite the stunning facade of her neatly honed life, Smart is forced to deal or not deal with unexpected ugliness.
The movie FAR FROM HEAVEN written and directed by Todd Haynes has been transformed into a musical by the creative team of Richard Greenberg (book), Scott Frankel (music), and Michael Korie (lyrics). The story is about a closeted husband whose wife finds companionship with their black gardener. What I remember most about the movie was the lovely Julianne Moore, her dazzling wardrobe and the sexual tension between her and the sexy Dennis Haybert. 
Whereas the movie was more about a taboo love affair, this musical has more substance.  Director Rob Lindley puts up the lace curtains but keeps opening them to reveal the nasty side of life. Although his talented ensemble dress sophisticatedly, their 1950s prejudices are crude.  The contrast between how they look and how they act is engaging.  Brandon Springman (Frank) tells people how ugly his wife is without make-up.  Bri Sudia (Eleanor) pledges her devotion with the song Cathy, I'm your friend and then shuns Smart for being friends with a black man.  At a cocktail party, a white guest says, 'There are no negroes in Connecticut.'  This statement is made perfectly in sync with a black servant moving past him. Lindley keeps the play cringe-worthy. These well-groomed people are awful.          
To balance out the harsh look back at senseless racism and homophobia, FAR FROM HEAVEN inserts plenty of comedy.  The ladies-that-lunch drink daiquiris and husband-slam. The charming Nate Becker (David) cracks the audience up with his well-placed, 'what do you say pops?' A gallery scene has people amusingly talking and singing about contemporary art.  
The songs also bring a lighter take on the dark reality.  Music Director Chuck Larkin flanks the audience in surround-sound with the orchestra in both side balconies. The music wraps the theatre in the emotion of the moment.   To keep their world from falling apart, Smart and Springman sing a searing Secrets.  Springman solos with a poignant If it hadn't been. Smart and Evan Tyrone Martin (Raymond) duet an inspirational The Only One.  There is a genuine sweetness between Smart and Martin's sharing experiences of being outcasts in their own communities.  Instead of a torrid, steamy affair, they have this intellectual connection of two soulmates.
Although songs and points are repeated making it a tad longer than necessary, FAR FROM HEAVEN is beautifully bittersweet.  It looks fashionable.  It sounds harmonious. It feels like a powerful life lesson from the past.                
Running Time: Two hours and thirty minutes includes an intermission
At Stage 773, 1225 W. Belmont
Based on the Focus Features/Vulcan Productions motion picture written and directed by Todd Haynes 
Book by Richard Greenberg
Music direction by Chuck Larkin