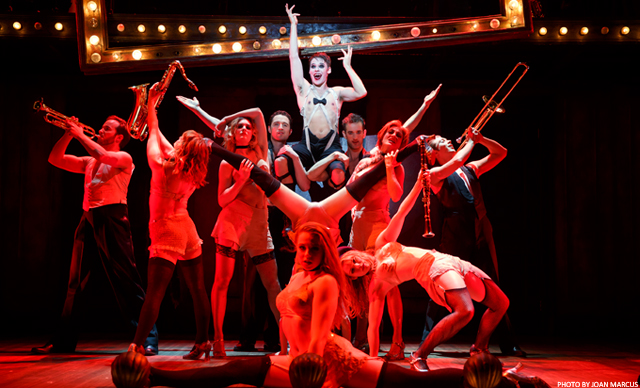 Broadway in Chicago presents Roundabout Theatre Company's Tony Award-Winning CABARET.
Even before the show starts, several actors and musicians, wearing satin and harnesses, are strutting on the stage. It feels like closing time at a kinky bar. Everyone is openly undressing each other with seductive looks. People are looking for a good time!! And if you are too, you'll find it in this touring production of CABARET.
Leave your troubles outside!
So – life is disappointing? Forget it!
We have no troubles here! Here life is beautiful…
The girls are beautiful…
Even the orchestra is beautiful!
You see? I told you the orchestra is beautiful!
Randy Harrison (Emcee) sets the tone for this risqué musical. The talented Harrison plays the emcee of Berlin's infamous Kit Kat Club. He looks like a sexier, younger Matt Damon with a disturbing side of Heath Ledger's Joker. Harrison plays instigator to the debauchery in a playful, creepy way. He is either smack-dab in the middle of the bawdy mischief or looming on the fringes of the two level stage. He opens and ends the show with startling panache.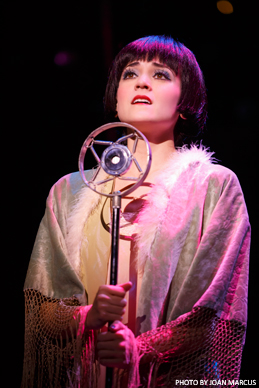 Lee Aaron Rosen (Clifford) plays the American traveler surrounded by an unfamiliar nighttime allure.   We are introduced to 1931 Berlin as he is. Early on, he is charmed by the irresistible Andrea Goss (Sally) and we are too. Goss is a gin-swilling flapper-type. She gloms onto Rosen for lodging. They play house until Rosen decides they must leave Berlin. Rosen believes danger is inevitable but Goss refuses to consider that the party is over. She just wants another drink. Although Goss' moxie is attention-grabbing, her solos are hauntingly unforgettable. She sings Maybe this Time with a hopeful hardness. And her Cabaret is a tear-stained rant. Her distinct delivery is heart-gripping.   
Under the direction of BT McNicholl, the talented ensemble bring edgy entertainment. Harrison and Goss lead the Kit Kat girls in getting funk-ed up. They crawl. They hump. They suck on cigars. The stage is oozing uninhibited sexual expression. Even the band gets into the naughty burlesque. The orchestra is onstage in scanty or leather-clad costumes. And honestly, the orchestra IS beautiful. This is not your granddad's trombone section. Each of these musicians is young and hot.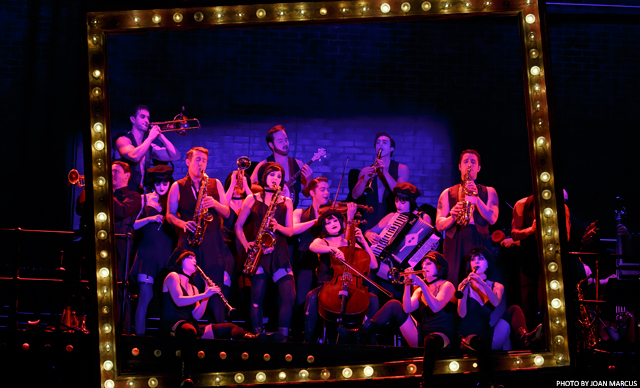 Underneath the sexual romp, CABARET is a thought-provoking musical. We see the Nazis interrupt Berlin's playful escapades. With the benefit of hindsight, we know this is the origin story of a historical atrocity. We observe anti-Jewish propaganda being infiltrated. People pick sides for survival. Neighbors and lovers separate. Yet, the enduring music hints of resilience through bad times.
What good is sitting alone in your room?
Come hear the music play
Life is a cabaret, old chum
Come to the cabaret
But move quick, the CABARET is only in town through February 21st.
Running Time: Two hours and forty-five minutes includes an intermission
At The PrivateBank Theatre, 18 W. Monroe
Based on the play by John Van Druten and stories by Christopher Isherwood
Book by Joe Masteroff
Music by John Kander
Lyrics by Fred Ebb
Directed by BT McNicholl
Music supervision/vocal arrangements by Patrick Vaccariello
Associate choreographer and choreography recreated by Cynthia Onrubia
Originally co-directed and choreographed by Rob Marshall
Originally directed by Sam Mendes
Thru February 21st
Buy tickets at http://broadwayinchicago.com/
For more information and reviews on Chicago theatre, visit Theater in Chicago.