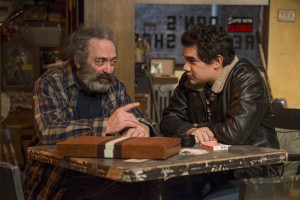 Mary Arrchie Theatre presents its final production AMERICAN BUFFALO.
Mary Arrchie ends its thirty year run with Artistic Director and Co-founder Richard Cotovsky (Donny) front and center.  The choice of AMERICAN BUFFALO feels sentimental as it pairs up Cotovsky with company member Rudy Galvan (Bobby).  Cotovsky is a seasoned junk dealer.  Galvan is a young street kid.  Their chemistry is genuine as an earnest Galvan wants to bask in Cotovsky's life experience. 
Playwright David Mamet drops us into a resale shop for the day.  We hear about last night's poker game. We are privy to the neighborhood gossip. And then, we realize we've stumbled into a con in progress.  Mamet's dialogue is crisp.  The characters converse with short-cut familiarity. The heist planning is all gangsta lingo. It's a poor man's "Ocean's Eleven".        
Under the skillful direction of Carlo Lorenzo Garcia, the drama unfolds with dark humor. Cotovsky plays it understated. His crusty exterior belies his paternal affection for Galvin. When Stephen Walker (Teach) challenges Galvin's loyalty, I'm transfixed watching Cotovsky's subtle but distinct reaction.  The honor-among-thieves code is at the core of the play.  A loud Walker questions Galvin's acquisition of a buffalo nickel. The interrogation gets intense.  And I'm riveted trying to determine if a noteworthy Galvin is being honestly simple or deviously clever.
AMERICA BUFFALO is the perfect finale for Mary Arrchie to complete its storefront theatre  reign.  It's Mamet's Chicago.  And it also showcases a solid company collaboration with the trifecta of Cotovsky, Galvin and Garcia. Well done, gentlemen!       
Thank you, Mary Archie Theatre, for entertaining Chicago for three decades.
Running Time: Two hours includes an intermission
At Mary Arrchie Theatre, 735 W. Sheridan
Written by David Mamet
Directed by Carlo Lorenzo Garcia
Thursdays, Fridays, Saturdays at 8pm
Sundays at 7pm
EXTENDED Thru April 17th
Reserve tickets at www.maryarrchie.com
For more information and reviews on Chicago theatre, visit Theater in Chicago.