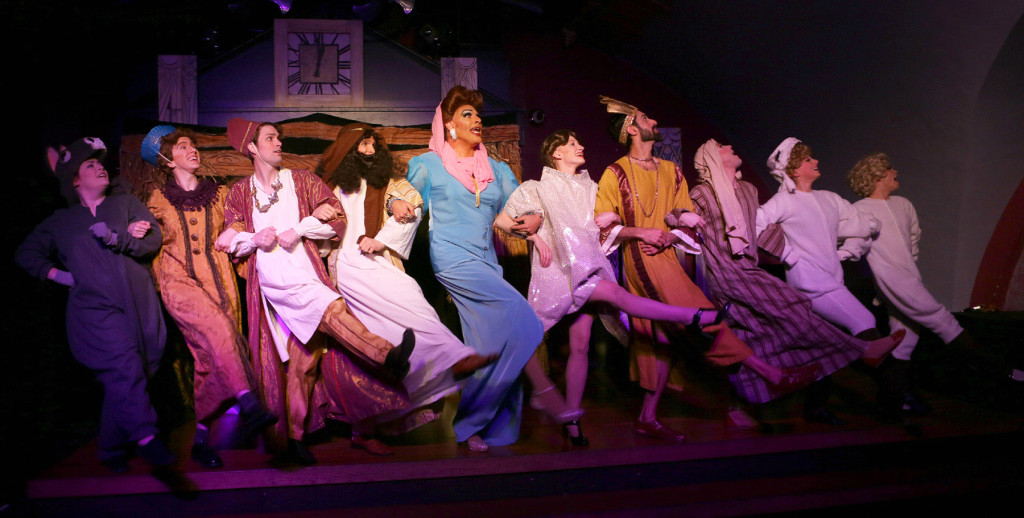 Hell in a Handbag presents CHRISTMAS DEAREST.
Tired of the same old annual Christmas shows being dusted off and remounted across Chicago?  Hell in a Handbag knows the remedy to too much tradition.  They are ready to deck your hall, trim your tree and stuff your stocking with bright gaudy lampoon. The twisted genius of David Cerda (book, music, star) gives the "Christmas Carol" a Hollywood makeover. Cerda's alter ego Joan Crawford is starring in the musical "It's Mary!" Crawford aka Cerda is playing the Virgin Mary in a movie about the nativity. With a dress slit up to her immaculate conception, Cerda is every bit the boozy diva.  She bullies the director, the ensemble and her assistant Carol Ann (played by the always hysterical Ed Jones). She also insists everyone work on Christmas. Cerda is a bah humbug bitch!  Cue the spirits of Christmas past, present and future.   
There is a lot to love and laugh at in this irreverent holiday spectacle.  Director and choreographer Steve Love paces this tight with break-out musical numbers and flying puppetry.  In the very first scene, Baby Jesus gets tossed aside …literally… and by his mother. Shepherds, sheep, kings, a donkey and an ass (Cerda) high kick it to this peppy tribute to Mary. As always, Handbag has 'gone there' and the crowd responds with riotous laughter.  And that's just the beginning…
Undoubtedly, Charles Dickens is rolling over in his grave at Cerda's wacky reinvention of his classic.  Cerda's Ghost of Xmas Past is a sassy flapper named Olive LaLake (played by the effervescent Kristopher Bottrall).  The sloshed Bottrall takes Cerda on a stumble down memory lane.  Later, the Ghost of Xmas Future is Crawford's chum and nemesis Bette Davis (played with distinction by Caitlin Jackson).  Jackson dressed like Baby Jane needles Cerda about winning an Oscar for a film they will both star in in the future.  Bette Davis, as the future, is a clever addition to Cerda's movie star's life reflection. One of my favorite moments in the show is the duo singing "Two Old Broads."  Cerda and Jackson are perfectly nostalgic and sarcastic.   
This holiday showcase is bursting with Handbag's signature camp.  Among the talented ensemble, newcomer Frankie Leo Bennett (Young Christina/Teeny Teena) steals many scenes.  Bennett plays dual roles. As the Young Christina, he is this surly Cerda mini me.  He also plays Teeny Teena, the adoring, yet absurdly disabled, daughter of Jones.  Adding to the laughter, Cerda calls Teeny Teena the wrong name throughout the show.      
CHRISTMAS DEAREST ends with an all-ensemble musical extravaganza in "Merry Christmas Everyone (Except Christina)."  Although it has all the infectious sentimentality of a holiday show ending, it also has Cerda continuously injecting 'except Christina' as the ultimate Crawford zinger.  LMAO! 
I missed out on this show's premiere last year.  There wasn't a seat left in Mary's Attic on the night of my performance. This year I was determined to see it.  I saw a preview and the Attic was full.  I highly recommend seeing CHRISTMAS DEAREST, purchasing tickets soon, and arriving fifteen minutes early to secure seats.  Merry Christmas Everyone (Especially Cerda)!      
Running Time: One hour and forty-five minutes
At Mary's Attic, 5400 N. Clark St.
Book and lyrics by David Cerda
Directed by Steve Love
Thursday, Fridays and Saturdays at 7:30 pm
Sundays at 6:30 pm 
Added performances on Wednesday, December 16th and 23rd at 7:30 pm
No performances on December 6th, 10th, 24th, 25th and 26th.
EXTENDED Thru January 2nd 
Tickets: Previews: $16. Regular run: $22 in advance (Wednesday and Thursdays); $27 in advance (Fridays, Saturdays & Sundays); $30 at the door. Limited VIP reserved seating with drink $40- $100. Tickets are available at www.handbagproductions.org.
Photo by Rick Aguilar Studios
For more reviews and information on Chicago theatre, visit Theatre in Chicago.