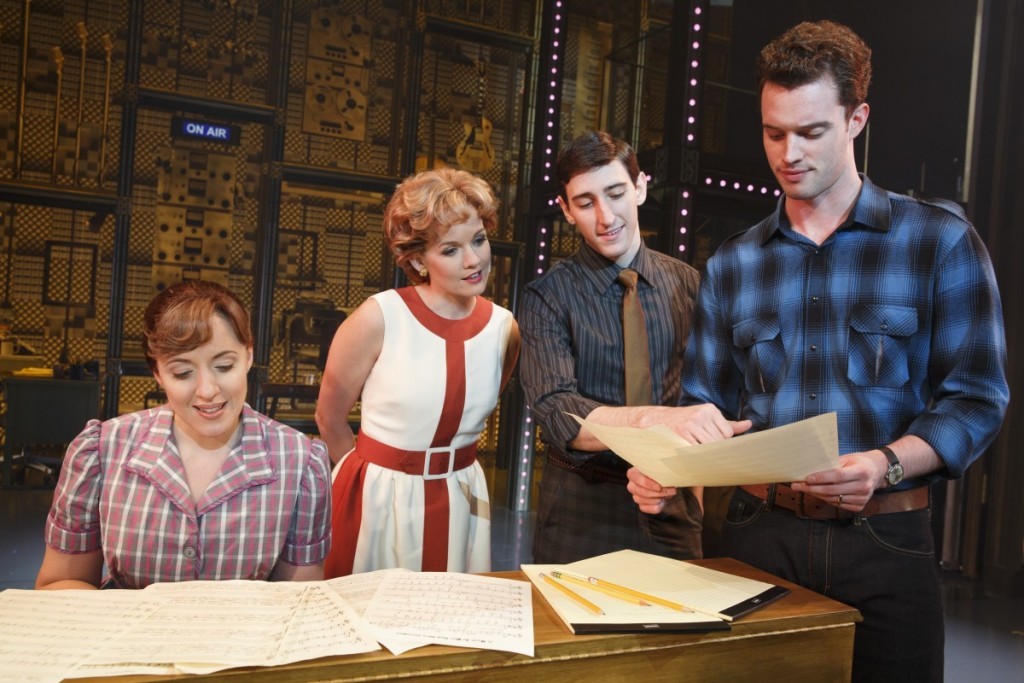 Broadway in Chicago, along with Paul Blake and Sony/ATV Music Publishing present BEAUTIFUL The Carole King Musical.
I grew up on Carole King songs.  Until I saw this show, I didn't realize the depth of that statement.  Long before Carole sang her own haunting melodies like "So far away" and "You make me feel like a natural woman," she was a songwriter for others.  This musical not only showcases Carole's rise to super stardom, it tells the origin stories of so many well known songs from the 60s. This is a story from the songwriters' perspective. We see the passion and drive behind the music.  We learn the context that resulted in "Will you love me tomorrow," "Up on the roof" and many more.  We get unlimited jukebox access to golden oldies.  All the songs have been written by the songwriting teams of Gerry Goffin & Carole King and Barry Mann & Cynthia Weil.  And the show is about them being legendary music-makers
Chicago's own Abby Mueller (Carole) is the star in every way.  Mueller transforms on stage from idealistic fifteen year old to suburban housewife to pillar of strength. In a sweet happenstance way, Mueller shows Carole seemingly stumbling into her success.  The amicable Mueller is almost muted next to the charismatic Liam Tobin (Gerry). She is fairly ordinary except when she is playing the piano and singing.  When her life dramatically changes, Mueller steps solidly and confidently into the spotlight.  She brings the house down when she belts out "Beautiful."
There is so much to love about this show.  The book by Douglas McGrath impressively weaves the songwriters' stories around their songs.  The competition between Gerry Goffin & Carole King and Barry Mann & Cynthia Weil brings plenty of humor.  The spunky Becky Gulsvig (Cynthia) and endearing Ben Fankhauser (Barry) engages us in their career and relationship hopes.  And Gulsvig rocks a chic wardrobe by Costume Designer Alejo Vietti.  Her stylish attire is a perfect contrast to Mueller's drab look.  The natural camaraderie between Mueller, Gulsvig, Fankhauser and Curt Bouril (Don) leads into a a heartfelt and humorous rendition of "You've got a Friend." 
The talented ensemble support the principals with outstanding pop-up performances as the Drifters, The Shirelles, The Righteous Brothers and even Little Eva doing "The Locomotion."  The singing, the moves (choreographer Josh Prince) and the costumes (Vietti) make this show a dynamic musical tribute to songwriters.   
I loved BEAUTIFUL The Carole King Musical. It's an inspirational tale of reinvention. But be warned since seeing the show, I can't stop singing to Carole King's "Tapestry" album on YouTube.  (I'm certain my neighbors don't think my singing is beautiful.) Still, Mueller and the entire cast do sing BEAUTIFUL.  Buy a ticket before "It's too late, baby now it's too late. Though we really did try to make it."     
Running Time: Two hours  and thirty minutes with one intermission
At Ford Oriental Theatre, 24 W. Randolph
Book by Douglas McGrath
Words and music by Gerry Goffin & Carole King, Barry Mann & Cynthia Weil
Choreographed by Josh Prince
Directed by Marc Bruni
Thru February 21st
For tickets, visit www.broadwayinchicago.com
For more reviews and information on Chicago theatre, visit Theatre in Chicago.