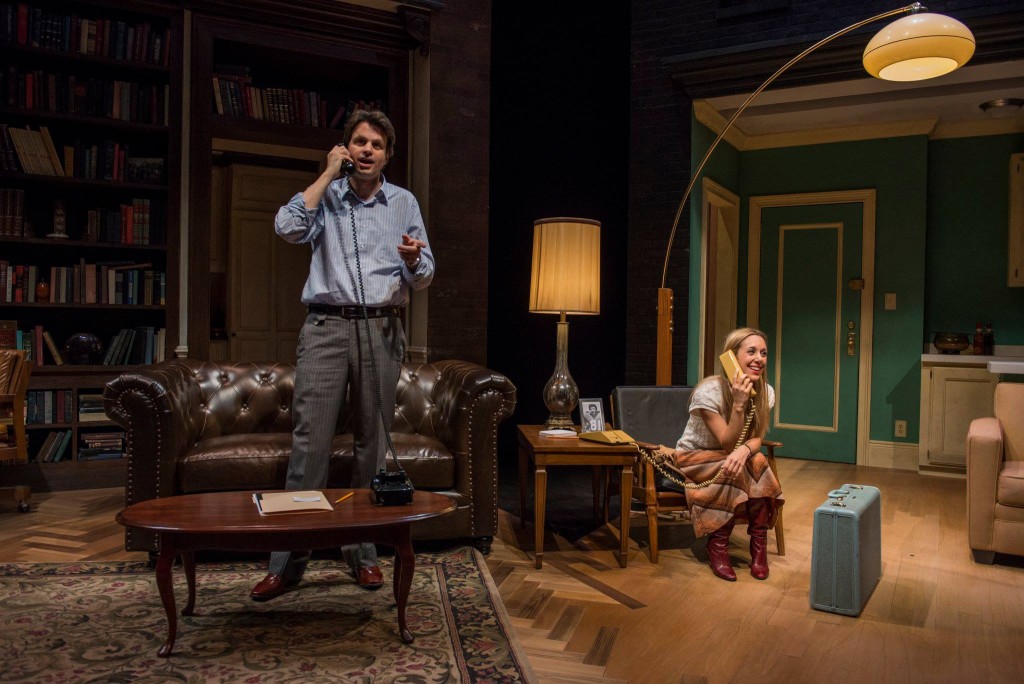 Windy City Playhouse presents CHAPTER TWO.
CHAPTER TWO premiered in 1977. It was Playwright Neil Simon's tribute to his second wife Marsha Mason.  The semi-autobiographical play focuses on a widower's struggle between his dead wife and his new love.  Throw in a meddling brother and a sexually-frustrated friend and the set-up is pure frothy rom-com.  The nearly forty year old play gets a dusting off as Windy City Playhouse's current offering. 
Upon arrival, we are greeted by two impressive houses designed by Scott Davis.  The stage is split into his and her's.  A leather and wooden furnished brownstone nestles up next to the colorful mid-century modern condo.  Costume Designer Melissa Torchia fills those rooms with groovy vintage flair.  Torchia helps establish the 1970s era and the characters' personalities.  The cardigan-wearing Brian McCaskill (George) and maxi-attired Amy Rubenstein (Jennie) have that sweet, wholesome look.  Torchia then contrasts their homespun attire by making Peter DeFaria (Leo) and Amy J. Carle (Faye) flashy.  DeFaria has the leisure suits to match his player swagger.  And Carle struts several loud, colorful outfits. 
For a 1970s comedy to work with a contemporary audience, the ensemble has to be 'all in.'  Under the skillful direction of Jessica Thebus, we definitely get into the heads of some of the 1970s throwbacks.  The outstanding DeFaria is a complete guy guy.  His brotherly concern for McCaskill is hidden under wise cracks.  DeFaria hilariously tries to coax a bookish McCaskill to hook-up.  Later when McCaskill's one-night-stand goes awry, DeFaria delves out his lay-'em-leave-'em advice.  DeFaria continuously zings the moment for comedy gold.  His interactions with an amusingly neurotic Carle are some of the best in the show.
The main romance is between McCaskill and Rubenstein.  Although McCaskill delivers the hot mess of a guy torn between wives, a confident Rubenstein doesn't quite capture the essences of Jennie.  Since Jennie is based on Marsha Mason, the part needs to be played by a Marsha Mason-type for the comedy to work. The frenzy of emotion is missing.  We need to witness the dramatics of a high-strung soap opera actress that flees to Cleveland to hide from her ex-husband. We need to observe the raging annoyance turned into demure interest during a series of phone calls. Rubenstein plays Jennie more secure and even keel.  Although that choice may be more satisfying from a feminist position, the contemporary translation isn't funny.                
Still, CHAPTER TWO is a light-hearted trip back in time.  There is a comfort factor in the simplicity of this romance.  And at this time of year with all the holiday stress, CHAPTER TWO offers an easy escape from reality.   
Running Time: Two hours and thirty minutes with an intermission
At Windy City Playhouse, 3014 W. Irving Park
Written by Neil Simon
Directed by Jessica Thebus
Wednesdays and Thursdays at 7:30pm
Fridays and Saturdays at 8pm
Sundays at 3pm
Thru December 20th
For tickets, visit http://windycityplayhouse.com/
For more reviews and information on Chicago theatre, visit Theatre in Chicago.