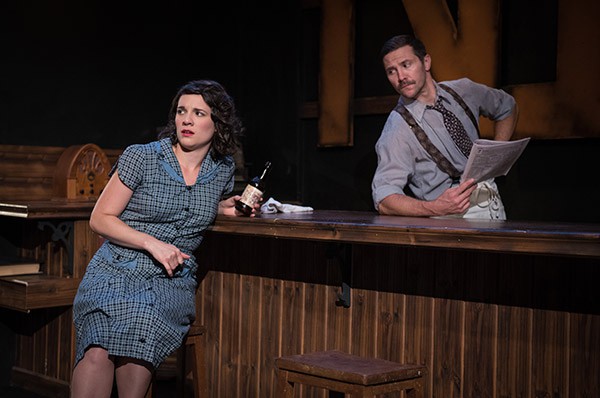 The Artistic Home presents THE TIME OF YOUR LIFE.
It's 1939.  People are unemployed, hungry and desperate.  A mysterious man named Joe (played by Scott Westerman) holds court at Nick's Tavern.  Although the world around him is uncertain, he finds solace and beauty in his established routine of unpredictability.  As various drunks, hookers, and seedy officials wander in and out of Nick's, the steadfast Westerman sips his champagne.  He is tranquil in his bubble of bliss. He may opt to buy several newspapers, chew 16 pieces of gum or change a troubled person's life forever. He is both a spectator and a participant in this examination of life.
Playwright William Saroyan won both the Pulitzer Prize for Drama and the Drama Critics Circle Award for this balanced tale of hope and despair.  Saroyan lets dreams manifest within the confines of a honky-tonk bar.  A tough-looking Josh Odor (Nick) protects the string of misfits frequenting his bar for a beer, a job or a gawk.  Saroyan showcases the best and the worst in people in this ever-revolving spectacle of humanity.
Director Kathy Scambiatterra paces these ongoing life lessons naturally.  As Westerman  is having a heartfelt discussion with the distraught Kathryn Acosta (Kitty) in the forefront, Scambiatterra ensures plenty of life commotion in the background.  An energetic Andy Monsoon (Harry) makeshifts a dance routine.  An earnest Jerome Riley (Wesley) plays soothing piano melodies.  And in the far, far back, the enthusiastic Joey Swift (Willie) manipulates the pinball machine. Their movements aren't just visual noise to create a vibrant scene. Each is working on an individual dream.  Saroyan gives us multiple lives in progress.  And under Scambiatterra skillful direction, we experience every savory morsel. 
Westerman anchors the show as the eccentric barfly.  He has a mystical presence that transforms lives.  Horse races are won. Jobs are secured.  Love is found.  In this pre-war, depression era, people are lost and sad.  They want to find love.  Throughout this play, people fall in love instantly.  And it's not the last-call-bar-love or the happily ever after variety.  It's much more simple and complicated than that.  Jae K. Renfrow (Tom) crushes on Acosta immediately. The sweetly obtuse Renfrow vows to take care of Acosta forever.  A lovesick Julian Hester (Dudley) is a hot mess trying to call his girlfriend.  A wrong number gives him a new love connection. His affections easily shift.  At one point, a depressed Annie Hogan (Mary L) and Westerman share life stories and love pledges.  Before she departs, Hogan asks Westerman if his new love for her will make him depressed when she leaves.  He affirms it will.  And that makes her happy. 
Love is weaved throughout this show.  The delightful Andrea Crisp surprises Odor with a visit.  Their loving embrace is deeply touching especially with Odor being such a stern dude.  And he has to be that way because life on the waterfront can be cruel.  Saroyan looks at life from all sides. He shows us surprising beauty from a tarnished person. And sometimes, he shows the ugly depth of a character.  David Vogel (Blick) plays a smarmy, sharp-dressed villain.  In one disturbing scene with Acosta, Vogel made my skin crawl. He wears his badness like a badge of honor which makes Shannon Parr (Krupp) all the more disconcerting.  In one scene, a sensitive Parr is empathetic to the hardships of the waterfront folks.  Later, he's a complete brute. 
THE TIME OF YOUR LIFE is a perfect combination of hope and despair, dreams and realism, drama and comedy.  And some of the best comedy is delivered by an outstanding Frank Nall. He plays an old coot spinning big yarns of hilarity.  His ongoing storytelling cadence sets up his last tale for pure comedy gold. 
There are several reasons this show extended; Saroyan, Scambiatterra and a huge powerhouse ensemble. Declan Collins (newsboy) even gives us a stirring "Danny Boy" rendition.  This show is solid!  This is THE TIME OF YOUR LIFE to get to this play before it ends on November 15th!        
Running Time:  Two hours and thirty minutes includes an intermission
At The Artistic Home, 1376 W. Grand
Written by William Saroyan
Directed by Kathy Scambiatterra
Thursdays at 7:30pm
Fridays and Saturdays at 8pm
Sundays at 3pm
EXTENDED Thru November 15th
For tickets, visit www.theartistichome.org