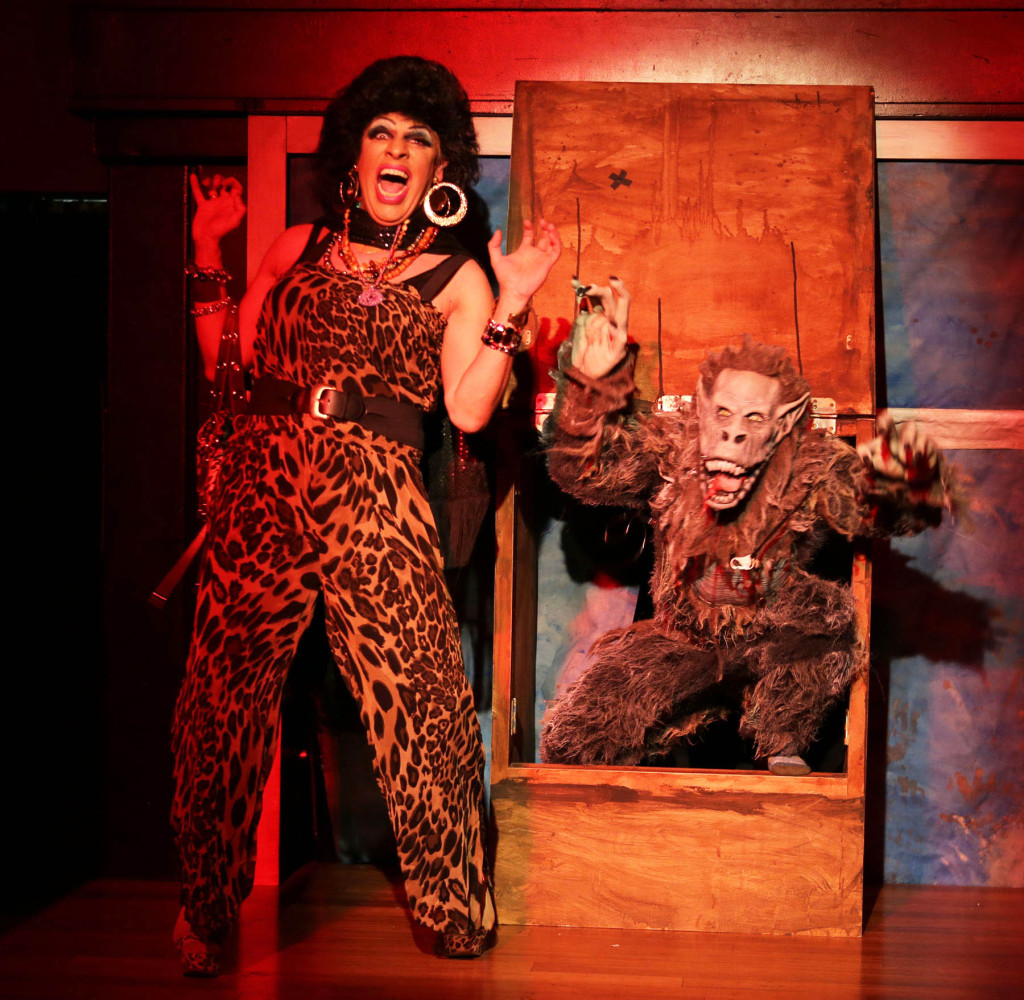 Hell in a Handbag Productions presents the World Premiere of SCREAM QUEEN SCREAM.
In his newest endeavor, Playwright David Cerda is serving up a frightening treat for the Halloween season.  SCREAM QUEEN SCREAM is three plays in one:  "Taco Tuesday," "The Box" and "Shut Up and Die, Maggie!"  This isn't your kid's worst nightmare.  It's yours!  As always, Cerda focuses his campy humor for the grown-ups.  This time, it's all about the adult fear factor.  Since Cerda understands the true horrors of daily life, he effectively uses them to scare us.  Forget childish ghosts and goblins!  Cerda has an office temp, a drunken shrew, and a diabolical sibling.  And of course, some of these terrors are also drag queens.  It's definitely a Handbag full of tricks and treats!
"Taco Tuesday" kicks off the triple play.  And I was immediately afraid.  The office setting boasted 90s fashions.  Big, frizzy hair and shoulder pads! Kate Setzer Kamphausen (Costume Designer) and Karen Kawa (Wig Designer) know how to stir up a troubling flashback.  The story revolves around the clash between office diva Kristopher Bottrall (Candy with C) and new temp Rachel Hadlock (Mary).  Hadlock swoops in.  Bottrall freaks out.  And the copier gets some unusual attention.  The office absurdity gets fatally comical.  Although I was amused by the large gaggle of gals and in particular trying to pick out the drag queens, the excessive amount of characters made the timing sluggish.  Some of the humor gets lost with everyone trying to be 'the funny one.'  Cerda passes around the jokes like a coach ensuring everyone gets to play. The main exchange is between the animated pushy Bottrall and the big-eyed creepy Hadlock.  Less bodies in the way might tighten the flow and heighten the humor.
"The Box" is about uncovering a disturbance in a box.  Although that discovery is its own attention grabber, David Cerda (Betty) is the Queen of this story.  I've seen Cerda in many parts over the year.  This time he is playing a loud, rude, disrespectful drunk.  Every time he is on stage, I laughed-my-ass-off.  His comments are horrific.  He is the worst kind of monster to his husband (played by Chad).  The height difference between a heeled Cerda and Chad make the shtick an even bigger hoot.
"Shut UP and Die, Maggie" features one of my favorite Handbaggers, Ed Jones.  What's better than Jones having a part in a play?  Jones having TWO parts in a play.  In this one, Jones plays twins.  Throughout the show, Director Wm. Bullion cleverly uses a body double and Jones' voice when the twins are onstage together.  But in the best scene, an impressive Jones is in bed playing both twins.  With razor sharp timing, Jones flips to one side and changes personality completely.  It's mesmerizing and hilarious.
All the short stories are strung together by Countess Dragula (played by the long-legged John Cardone).  Acting as Mistress of Ceremonies, Cardone entertains with his struggles as a 130 year old vampire. Cardone assists the cast in their transitions by playfully going into various bits.  At one point, he even torches that evil Kentucky witch Kim Davis.  Later, he takes his attack local with a gasp-worthy slam against a theatre company.   Cardone delivers his icy cold barbs with deadly or should I say un-deadly accuracy.
SCREAM QUEEN SCREAM is a good one for the Halloween season.  I enjoyed myself.  With some additional Cerda magic, it could be a great one and become an annual Halloween tradition.
Running Time: One hundred and five minutes with no intermission
At Mary's Attic, 5400 N. Clark St., Chicago
Written by David Cerda
Directed by Wm. Bullion
Creative Consultant: Shade Murray
Thursday, Fridays and Saturdays at 7:30 pm
Sundays at 6:30 pm
Please note: there will be an added performance on Wednesday, Oct. 14 at 7 pm and Saturday, Oct. 31 at 3:30 pm; there will not be a performance on Sunday, October 4 or Sunday, October 18.
Thru October 31st
Tickets: Previews: $16. Regular run: $22 in advance (Wednesday and Thursdays); $27 in advance (Fridays, Saturdays & Sundays); $30 at the door. Limited VIP reserved seating with drink $40. Tickets are currently on sale at www.handbagproductions.org.
Photo by Rick Aguilar Studios.
For more reviews and information on Chicago theatre, visit Theatre in Chicago.