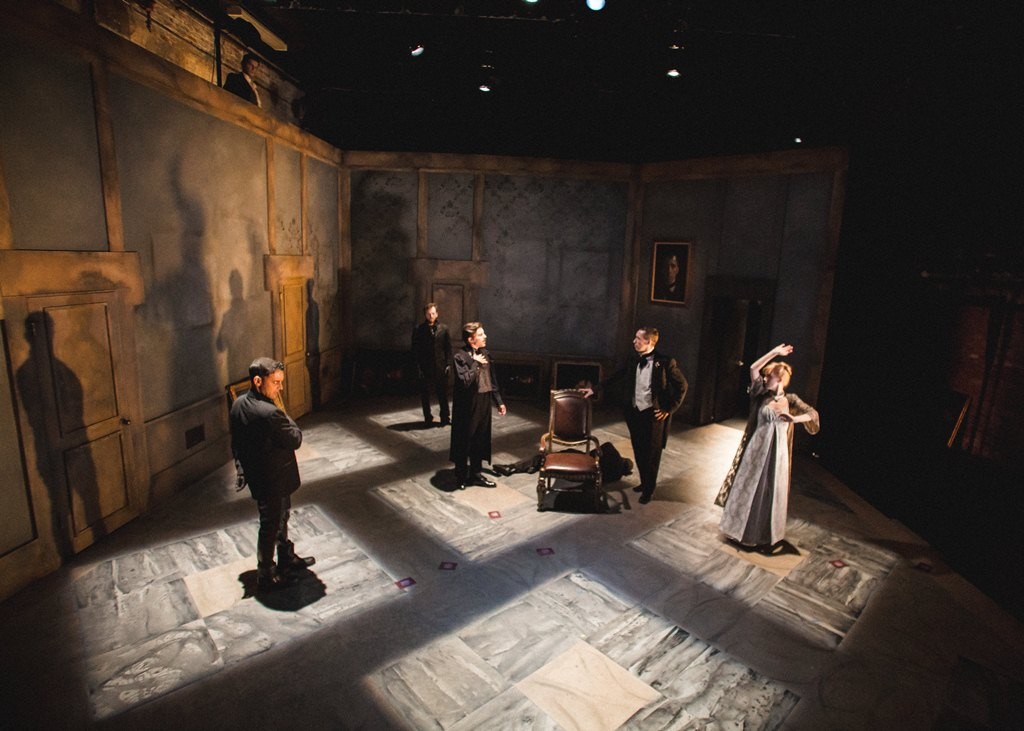 Oracle Theatre, in conjunction with the Department of Cultural Affairs and Special Events (DCASE), presents NO BEAST SO FIERCE. 
Adapter and Director Max Truax reimagines Shakespeare's "Richard III" in his newest Oracle production. The first major difference in his innovation is casting Katherine Keberlein in the lead.  Although Keberlein is Richard III, she is also a woman.  Truax doesn't pretend it's a woman playing a man.  His Richard is a female.  Keberlein is the Duchess of Gloucester.  And just like Shakespeare's Richard, this lady wants to be King!
Keberlein impressively manipulates her way to the throne through Truax's maze of duplicity.  Truax stages this with dark pageantry.  It starts with John Arthur Lewis' (King Edward) race to the crown.  The ensemble moves like ninjas in slow motion as they thwart anyone trying to interfere with Lewis' ascent.  Movement is a big part of this show.  Truax, along with Movement Director Lyndsay Rose Kane, add layers of intrigue especially with repeated hand gestures.  At one point, a silent Mike Steele stands behind Erica Bittner as she is speaking.  Steele pulls imaginary strings to show Bittner is a puppet at court.  Later, Bittner does the same thing to Keberlein. 
In his swirling production, Truax brilliantly shows the cyclical nature of power corruption.  Truax uses the DCASE theatre effectively to illustrate courtly eavesdropping.  He has ensemble members perched above the stage listening.  His secret conversations take place just off stage in the shadowy corridor.  This terrific ensemble could do a fine radio version of this play but listeners would miss 50% of this very visual story.  There are subtle sly looks, hesitant steps backward and projected race horses (Jeremy Clark) to pump more collusion into this royal blood bath. Truax also has his actors visibly acting.  They aren't just playing in a role.  They are performing as a character that is also acting in conspiracy to win the crown. They lie to build alliances.  They gain trust. And then they kill their enemies and their friends. 
In Truax's NO BEAST SO FIERCE, the political intrigue smacks of contemporary elections.  The ensemble shifts and bends to align themselves to the true candidate.  It's scary real.  NO BEAST SO FIERCE is pretty fierce.
And as with all Oracle productions, this show is FREE.  The mission of this public access theatre is to bring theatrical experiences to the masses without charging for it.  There is an opportunity to make a donation onsite or online to help Oracle to continue to operate as an Award-winning free theatre.
Running Time: One hundred minutes with no intermission
At DCASE Storefront Theatre, 66 E. Randolph
Based on "Richard III" by William Shakespeare
Adapted and directed by Max Truax
Original music composed by Jonathan Guillen
Thursday, Fridays, Saturdays at 7:30pm
Sundays at 2pm
Thru November 8th
For reservations, visit http://publicaccesstheatre.org/
Photography by Joe Mazza, Brave Lux.
For more reviews and information on Chicago theatre, visit Theatre in Chicago.