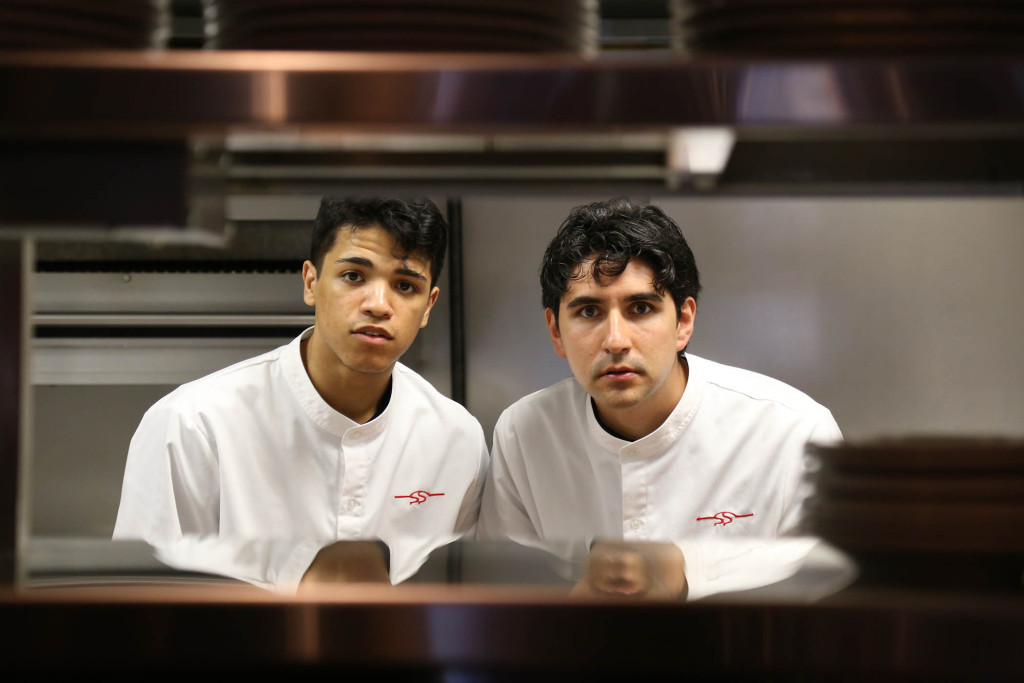 Teatro Vista presents My Mañana Comes.
As someone who has served, I was riveted by this authentic portrayal of life and lives in a restaurant. Playwright Elizabeth Irwin neatly peppers the dialogue with jargon; 'eyes on 16,' 'taking the cut,' and 'shift pay'. Irwin uses random dinner shifts over a three month period to introduce us to the hopes and realities of four bussers in New York.
I didn't really see these guys as bussers. I would argue their duties and drive definitely warranted them a promotion to back servers.  This believability factor won't be a problem for anyone in the audience but Chicago restaurant industry folks.  The story is still solid.  The scraps of life found in between dinner service have a unique flavor.  It's a hearty mix of cultures, seasoning and priorities.
Cameron Knight (Peter) and Víctor Maraña (Jorge) have worked together for four years. They perform their jobs with respect for fine dining and each other.  Although they are both working hard to support families, they do it differently. The amicable Knight balances his work with spending time with his daughter.  He finds a sub to cover a busy shift so he can take her to camp.  The steadfast Maraña hasn't seen his wife, son and daughter for a couple years.  He is saving every cent to build their new home in Mexico.  His life consists of work and sleep.  Dennis Garcia (Whalid) has a Latino heritage but full-on Brooklyn attitude. The smooth-talking Garcia goes on about women and his newest job focus.  Recent Mexican transplant, Johnathan Nieves (Pepe) is enamored with American living. The adorable Nieves chats and sings about his brother coming to NYC. We get to know each of these guys and their dreams.  And we care about all of them individually and collectively… and that's just what Irwin and Director Sandra Márquez want.
Márquez navigates us through swinging doors, cutting lemons and talking smack.  She gets us comfortable with the different levels of restaurant urgency.  Initially, it's the swirling anxiety of feeding a restaurant of demanding and hungry diners. The guys hand-off plates and bread baskets in an impressive synchronized frenzy. There are plenty of scenes that require this well-rehearsed dinner dance. This level of coordination nicely showcases the necessary camaraderie between the fellas. Later, the restaurant's newest protocol puts all the bussers in jeopardy. A wage dispute becomes the ultimate friendship test. Márquez turns up the heat in this kitchen.  And tempers go from simmering to boiling over. This bro-fest turns ugly, real ugly. In particular, Knight's face at black-out was a solid punch to the heart.
My Mañana Comes is a tight cautionary tale of cultural clashes over money.  It'll make you curious about what's going on at the restaurant you're eating at.  And you'll wonder about your busser's homelife and savings plan.
Running Time: Ninety minutes with no intermission
At Victory Gardens Biograph Theater, 2433 N. Lincoln Ave
Written by Elizabeth Irwin
Directed by Sandra Márquez
Thursday, Fridays, Saturdays at 7:30pm
Sundays at 3pm
Thru November 8th
For tickets, visit www.teatrovista.org.
Production photo by Alex Gutiérrez
For more reviews and information on Chicago theatre, visit Theatre in Chicago.