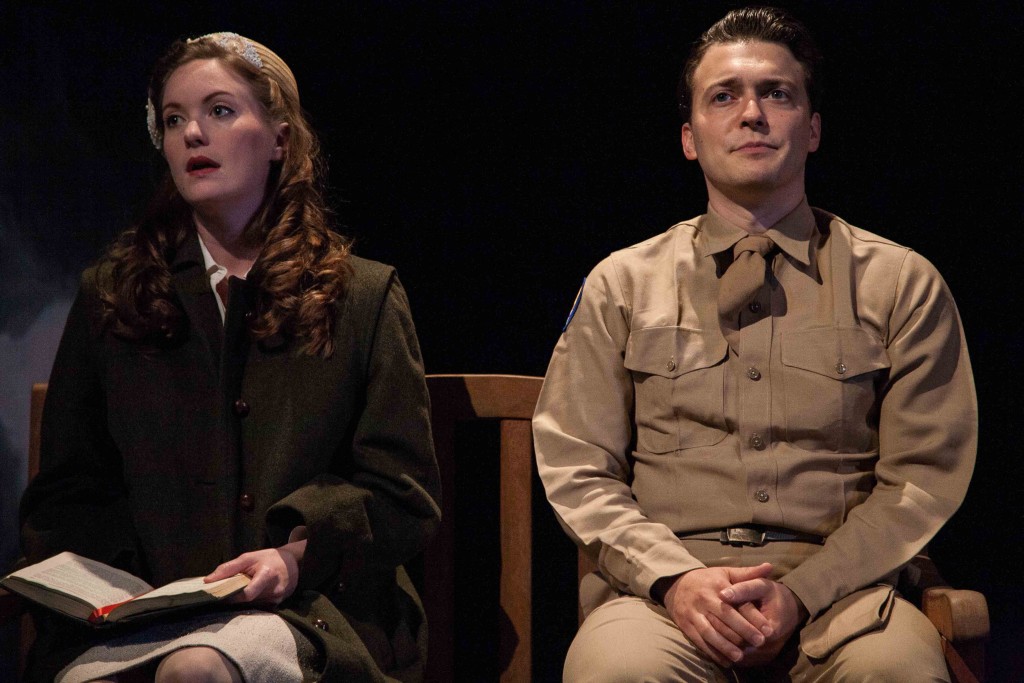 Haven Theatre presents the Chicago premiere of LAST TRAIN TO NIBROC.
This play reminded me of the movie "Before Sunrise".  Two people meet on a train.  Their first encounter has the hesitation of strangers deciding to become familiar.  The conversation is awkward and riddled with possibility.  We are seeing the very beginning of a relationship.  It's the exact opposite of speed dating.
Playwright Arlene Hutton sets her subtle romance in 1940.  A train leaving California carries the bodies of American literary greats; F. Scott Fitzgerald and Nathaniel West.  Also on board are bible-thumping May (played by Amanda Drinkall) and recently discharged from the military Raleigh (played by Mike Tepeli).  Hutton nudges the relationship along in three scenes covering three years.  We witness the formal courtship of two people communicating without really communicating.  They talk about what is going on in the world but not necessarily what's going on in their heads and hearts.  Drinkall, in particular, mistakes Tepeli's condition. And because they don't discuss anything too personal, the lack of clarity leads to a major yet cute misunderstanding.
Director Jason Gerace doesn't rush it.  He skillfully lets Drinkall and Tepeli bumble and stumble along in a very natural way.  Initially, Drinkall gives the charming Tepeli a chilly reception.  Over their conversations and the years, we see her visibly melt.  Drinkall begins to radiate a warmth.  Drinkall and Tepeli definitely have chemistry.  It's not the dramatic passion of war-torn lovers.  Instead, it is an honest and pure love rooted in simpler time.   
LAST TRAIN TO NIBROC is a quaint love story.  It's like a good beach read,  satisfyingly engaging without being too serious or heavy-handed.     
Running Time:  Ninety minutes with no intermission
At Theater Wit, 1229 W. Belmont
Written by Arlene Hutton
Directed by Jason Gerace
Thursdays, Fridays and Saturdays at 8pm
Sundays at 3pm
Thru September 6th
Buy Tickets at www.haventheatrechicago.com
For more reviews and information on Chicago theatre, visit Theatre in Chicago.