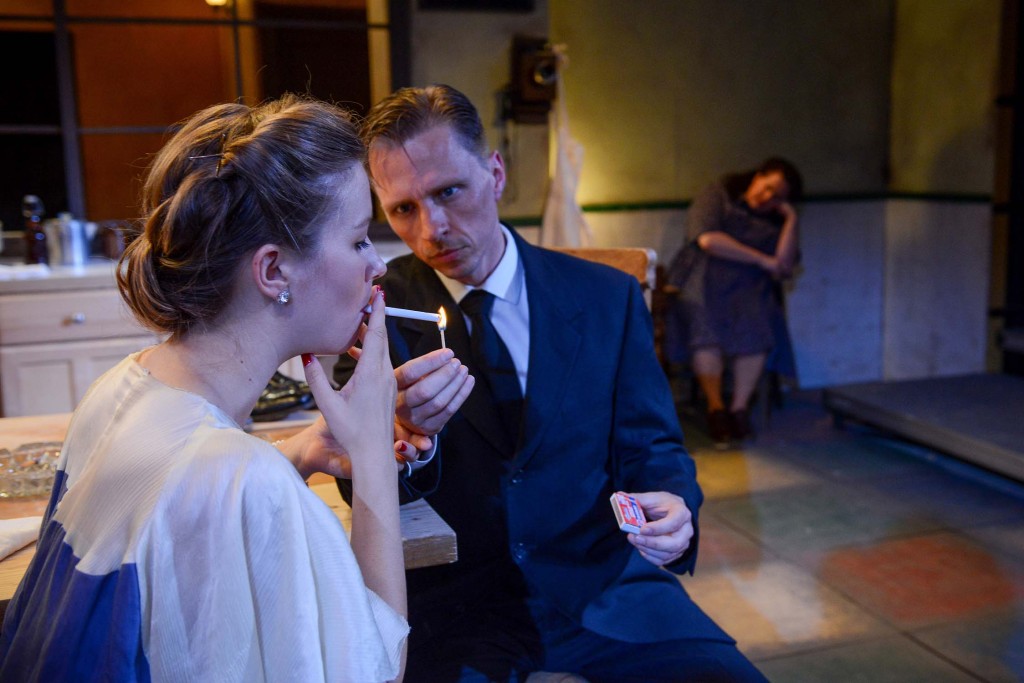 Strawdog Theatre presents AFTER MISS JULIE.
The 1945 election results are in. England's Labour Party has had a landslide victory over Winston Churchill's Conservative Party.  Workers unite in revelry.  And out on her father's country estate, Miss Julie (played by Maggie Scrantom) wants to join the merriment.  As the country is positioning for change, Scrantom attempts to incite it immediately, locally and personally.  She forces herself like a third wheel onto her chauffeur (played by John Henry Roberts) and her cook's (played by Anita Deely) tandem bike.       
This play is all about balancing.  The shift in power continually changes the dynamic between the sexes and the classes.  Playwright Patrick Marber starts his game-playing with mundane teeter-tottering and then moves it into a highly competitive tug-of-war.   From lights up, Deely is stirring the pot on the stove.  She is in no hurry.  Her resignation is apparent.  When an animated Roberts arrives, Deely's mood shifts only slightly.  She waits on Roberts with a stoicism of her station and their relationship. He continues his storytelling with minimal acknowledgement of her presence or her needs.  Their routine is established.  Their life course set.  Enter the dazzling Scrantom.     
Elly Green's masterful direction is at the crux of this play.  Green paces it with a deliberate sluggishness for scenes especially involving Deely.  Green showcases the tedium of the cook's life circumstances as Deely takes momentary comfort in smoking a cigarette or napping in a chair.  These scenes dramatically contrast to the tumultuous interactions between Scrantom and Roberts. Their banter is riddled with equal parts of flirtation and disdain.  Green creates this fury of tension.  The pair are continually competing in this high stakes ping pong game.  The back and forth struggle for power over the other is riveting.  Scrantom's sadomasochistic spirit is unnerving.  And the commanding Roberts responds to her demands with some of his own.  The seduction is toxic.  And watching the pair get tangled up in desire and contempt becomes my guilty pleasure.   
The battle of the sexes and the classes takes place on Mike Mroch's remarkable set.  Mroch transforms Strawdog's stage into a multi-dimensional country estate kitchen.   Windows look out onto the corridor to the servants' quarters.  Just past the stove is the stairway to the family's rooms.  And on the other side of the kitchen, the door to the outside opens onto a gravel path.  The authentic look has an ordinariness that provides the perfect backdrop for drama to unfold.  And it does!  AFTER MISS JULIE pulls me into the provocative madness.  And keeps me guessing what will happen next… right through the blackout.          
Running Time: Ninety minutes with no intermission
At Strawdog Theatre, 3829 N. Broadway
Based on August Strindberg's "Miss Julie"
Written by Patrick Marber
Directed by Elly Green 
Thursdays, Fridays, Saturdays at 8pm
Sundays at 4pm
EXTENDED Thru October 3rd  
Buy Tickets at www.strawdog.org
Photo by Chris Ocken, Ocken Photography
For more reviews and information on Chicago theatre, visit Theatre in Chicago.