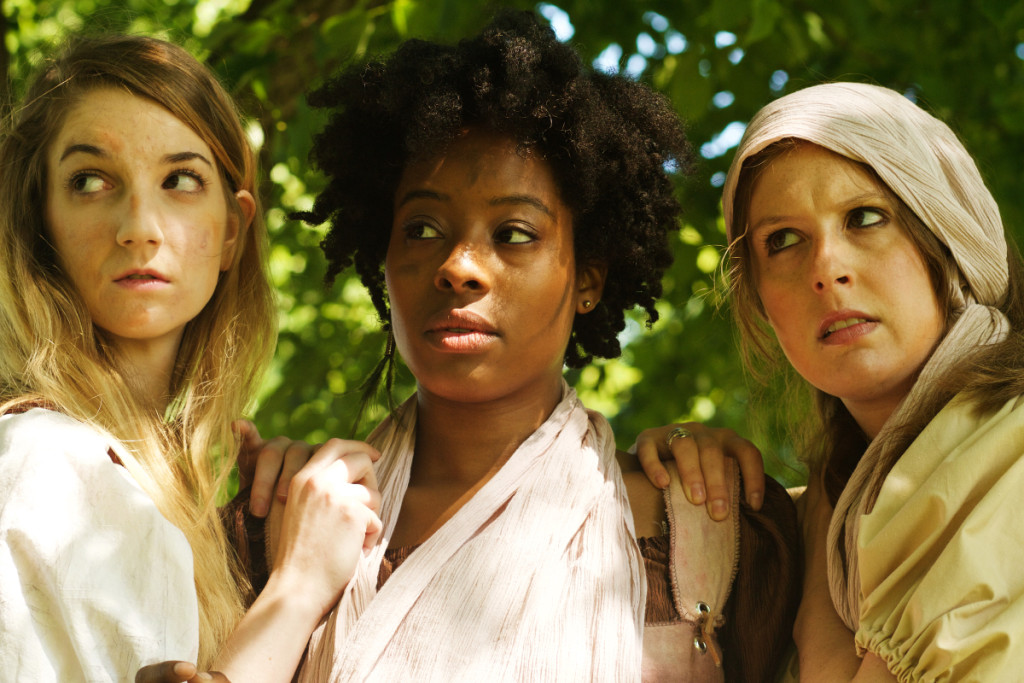 Reviewed by Tom Lawler
Set the scene: Midsommer Flight's mission is to bring high-quality outdoor Shakespeare productions to the people. This summer they've brought the Bard's Macbeth to four Chicago parks free of charge.
What's it all about: As you may know, Shakespeare's shortest (and darkest) tragedy is about a Scottish general, Macbeth, who has the misfortune of hearing a prophecy that he will be king. Consumed by this need for power and egged on by his ruthless wife, the Macbeths can't quite stop murdering everyone who stands in their way. Think Game of Thrones without the dragons and nudity.
Stand-out performance: This entire ensemble (of 18!) cast is terrific from the leads to the supporting roles (Cristina Renee Jones as the Porter, for example, knew just where to inject some humor into this dark tale.) The Macbeths (a palpably conflicted Colin Wasmund and an ice-cold Maureen Yasko) brought fresh life to a production I've seen and read many times previously.
Also, check out: Sumptuous costumes and some thrilling sword fighting courtesy of "violence designers" Matt Singleton and Chris Smith.
More of this, please: At the performance I saw at Gross Park, the cast at times had to fight the sound of overhead planes making their final western approach to O'Hare. At one point, Maureen Yasko's Macbeth puts a pause on her monologue for us to notice a passing jet and then gives us a very apropos line from Shakespeare's text: "The raven himself is hoarse."  While I doubt this was completely spontaneous, it's still a pretty slick way to acknowledge and embrace your outdoor surroundings. 
Closing thoughts: Midsommer Flight has brought us a fresh, vivid look at a Shakespeare classic with energy and conviction to spare. The lingering image I have of this production is the cast and crew repeatedly sprinting to the front stage to rearrange the set pieces and begin each scene.
Do this first: You're going to a park – let's do this right. Bring friends, some good things to eat and if you're going to enjoy an adult beverage, find a way to do this discreetly. Since this production doesn't use a traditional stage, I recommend getting there early and staking out a good spot while enjoying our remaining summer outside. Also, you'll be glad you brought a folding chair of some kind. Note that live music will be presented 30 minutes before each performance.
Do this after: Clean up after yourself and leave your area of the park just as tidy as you found it. 
Running Time: 90 minutes (no intermission)
Midsommer Flight
Written by William Shakespeare
Directed by Beth Wolf
Remaining Performances (all in Lincoln Park – 2045 N. Lincoln Park West):
Sat August 22, 6pm
Sun August 23, 2pm
Sun August 30, 2pm
Note: All performances free and open to the public.
For more information:  http://midsommerflight.com/current-flight/
Photo courtesy of Midsommer Flight.