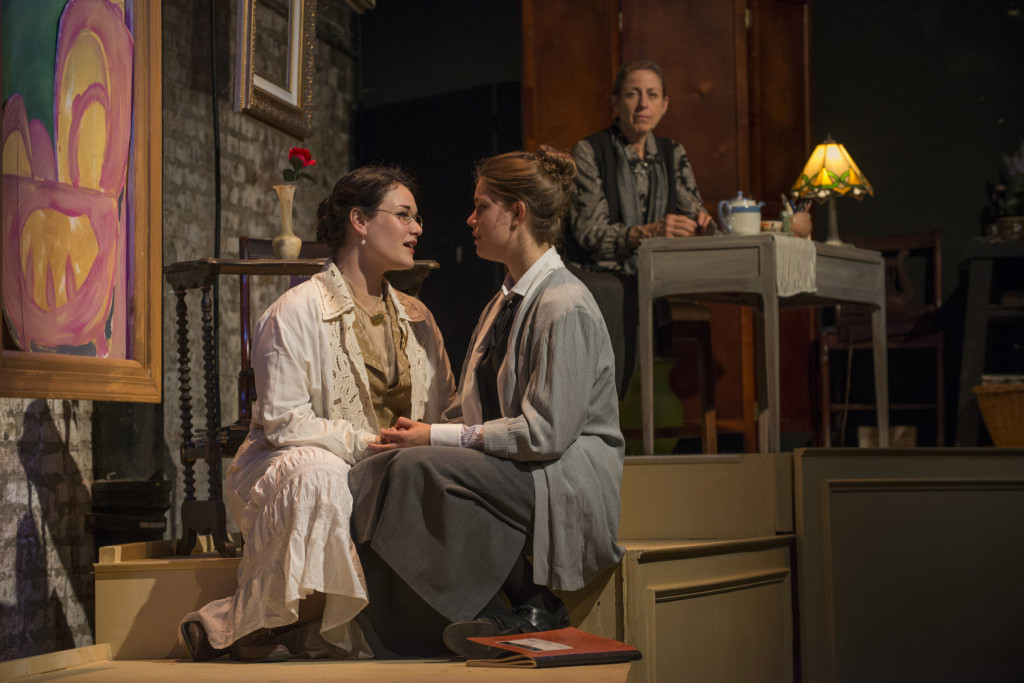 Kokandy Productions presents LOVING REPEATING.
I have mixed feelings about this play like I have mixed feelings about Gertrude Stein.  I respect Gertrude for her contribution to history.  She had a strong and influential voice in an era when women didn't.  She was passionate about modern art and influenced the artists in creating the new genre.  She openly loved Alice B. Toklas and called her 'wife' long before gay marriage was socially acceptable.  Stein was an inspirational maverick.  Unfortunately, I'm not a huge fan of her as a writer. I've never been able to finish one of her books.  In "The Autobiography of Alice B. Toklas", that Stein penned, she described herself -in third person- as a genius.  She indicated Stein would entertain guests into the late evening and then write until morning.  That description stuck with me because I feel her writing is wordy and rambling and often repeats itself.    
In the play "Loving Repeating," Stein's life is the premise. Stein's words are the lyrics and often the dialogue.  Caron Buinis (Stein) acts as narrator looking back on the writer's life.  Buinis is perched above the action in Scenic Designer Ashley Ann Woods' linear and ascending stage.  The set looks like a makeshift staircase to Stein's library nook at the top.  Along the backdrop are paintings including famous portraits of Stein.  Buinis embodies Stein's confidence and arrogance as she reflects on the artistry of words.  As Buinis tells us of her literary journey, Amanda Giles (young Gertrude) shows us.  Giles, Emily Goldberg (Alice) and the terrific ensemble engage us in their beautiful vocal stylings.  The songs are meaningfully sung although they aren't meaningful songs.  
This is my third experience with the relatively new Kokandy Productions.  They are quickly establishing themselves as a musical powerhouse under the music direction of Kory Danielson.  I've been stirred by some amazing harmonies.  Danielson has the magical touch in pulling the audience into emotional experiences.  In this particular production, that feat is even tougher because the lyrics are Stein's. 
The words sound very Seussical.  One song talks about a wife and a cow. And the number even goes vaudeville as the male chorus members yuck it up.  And then it's repeated by the female chorus.  The talented ensemble harmonize perfectly.  It's just what they're singing is superfluous.  In another sequence, a play within a play features a husband and wife at home.  Stein's lyrics are supposed to be a meaningful dissection of a relationship.  But I find it irritatingly repetitive and nonsensical.             
The only song I kind of liked was the love song about a bee.  It is sung with such passion by Giles and Goldberg.  The ladies smolder in their old-fashioned courtship.  The radiant Goldberg has a look on her face of quiet admiration.  This is how I imagine Alice to be… a pillar of tender strength.  Goldberg resembles a behind-every-great-woman-is-a-great-woman stance.  Giles, on the other hand, delivers this all-knowing performance.  She has the moxie of a literary genius.  Yet, she noticeably softens around Goldberg.  We feel the lust, the affection, the mating-for-life selection.  And a wistful Buinis watches her relationship from a future position.  The repeating I did enjoy was observing Giles and Buinis using the same gestures.  They were subtle, like a tilting of the head or an amused raised eyebrow, but it helped in seeing them as one person.
That's my dilemma.  Although I loved the acting and the singing about the author's life, I didn't care for Gertrude Stein's actual writing used as lyrics to tell her story.  It's unfair but true.  I feel her writing is wordy and rambling and often repeats itself.    
"A rose is a rose is a rose." – Gertrude Stein
Running Time:  Seventy minutes with no intermission
At Theater Wit, 1229 W. Belmont
Adapted by Frank Galati
Lyrics by Gertrude Stein
Music by Stephen Flaherty
Music direction by Kory Danielson
Directed by Allison Hendrix
Thursday, Fridays at 8pm
Saturdays at 3pm and 8pm
Sundays at 3pm
Thru August 30th
Buy Tickets at www.kokandyproductions.com 
Photo by Michael Brosilow
For more reviews and information on Chicago theatre, visit Theatre in Chicago.