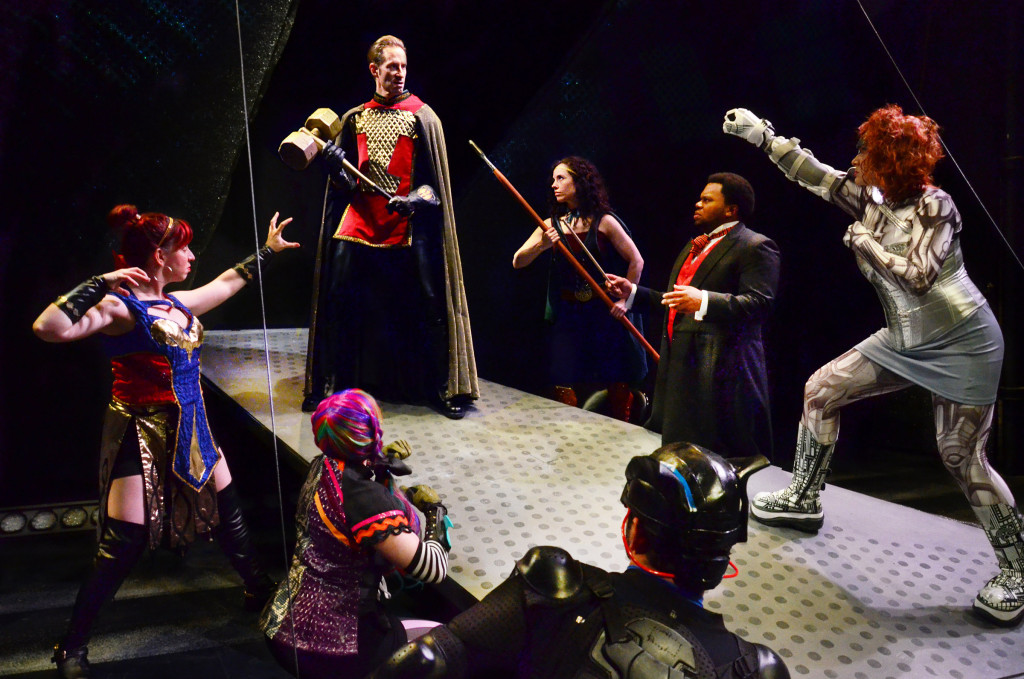 Lifeline Theatre presents the World Premiere Musical Adaptation, SOON I WILL BE INVINCIBLE.
The phrase rolling through my head since seeing this show is 'commercial appeal.'  I can easily see this innovative musical mounted on Broadway and becoming a family tourism destination.  It has super heroes battling a super villain while struggling with their super identities.  There's comedy, drama, and singing. It's "The Incredibles" meets "X-Men" with a "Wicked"-esque soundtrack. 
The show starts with the Champions, a band of super heroes, saving the world. The super ensemble arrive on stage in perfect harmony.  They are clad in distinct and ingenious costumes (Designer Aly Renee Amidei).  The colorful spectacle pops on Scenic Designer Alan Donahue's slick, industrial backdrop.  I'm already so engaged with these Champions a character's selfless act during "The Prologue" number makes me go 'awwww.'
Adapter Christopher Walsh (no relation) writes like he acts zinging the one liner.  Walsh keeps the book tight with plenty of comedy.  And Director Paul S. Holmquist paces it for optimal action and laughs. The deliciously diabolical Phil Timberlake (Dr. Impossible) especially nails the humor.  Timberlake steals many scenes with his over-the-top evil shenanigans.  At one point, during his dastardly plans, he hilariously takes time out to discuss his costume choices.  The entire ensemble gets Walsh's humor and their energetic spirit is playful. Leading the good guys with confident moxie, Corrbette Pasko (Damsel) often drops the public super hero facade for the comedic barb. When annoyed, Pasko rips on her ex by referring to him by his real name and not his super hero alias.
This show is funny! It's also heartfelt.  Christopher Kriz (music and lyrics) has composed a powerful score with inspirational lyrics befitting a super hero existentialist crisis.  The outstanding Christina Hall (Fatale) perfectly sings her cyborg heart out.  Hall earnestly questions her origin story and her Champion membership.  The "What I was" duet, with the mysterious Justine C. Turner (Lily), is a beautiful and soulful introspection.  Kriz also penned a haunting song called 'Lily.'  Initially, Timberlake sings it with unexpected tenderness for a bad dude.  Later, Turner captivates by reprising it. Kris mixes these ballad moments in with we-are-going-to-kick-some-ass anthems.  The combination is dynamic! There is a lot to love about this show and Kris' music is #1.                
What I appreciate about Lifeline is the element of surprise.  They don't just stay with what they do best (for me, I love their classic adaptations).  They step out of their familiar offerings.  They've done action-oriented plays.  And they've done musicals.  Now, they are doing an action-packed musical.  SOON I WILL BE INVINCIBLE is invincible! I want to see it again!      
Running Time:  Two hours and ten minutes includes an intermission
At Lifeline Theatre, 6912 N. Glenwood
Based on the novel by Austin Grossman
Adapted by Christopher Walsh
Music and lyrics by Christopher Kriz
Directed by Paul S. Holmquist
Thursdays, Fridays at 7:30pm
Saturdays at 4pm and 8pm
Sundays at 4pm
Thru July 19th
Buy Tickets at www.lifelinetheatre.com
Photo by Suzanne Plunkett
For more reviews and information on Chicago theatre, visit Theatre in Chicago.