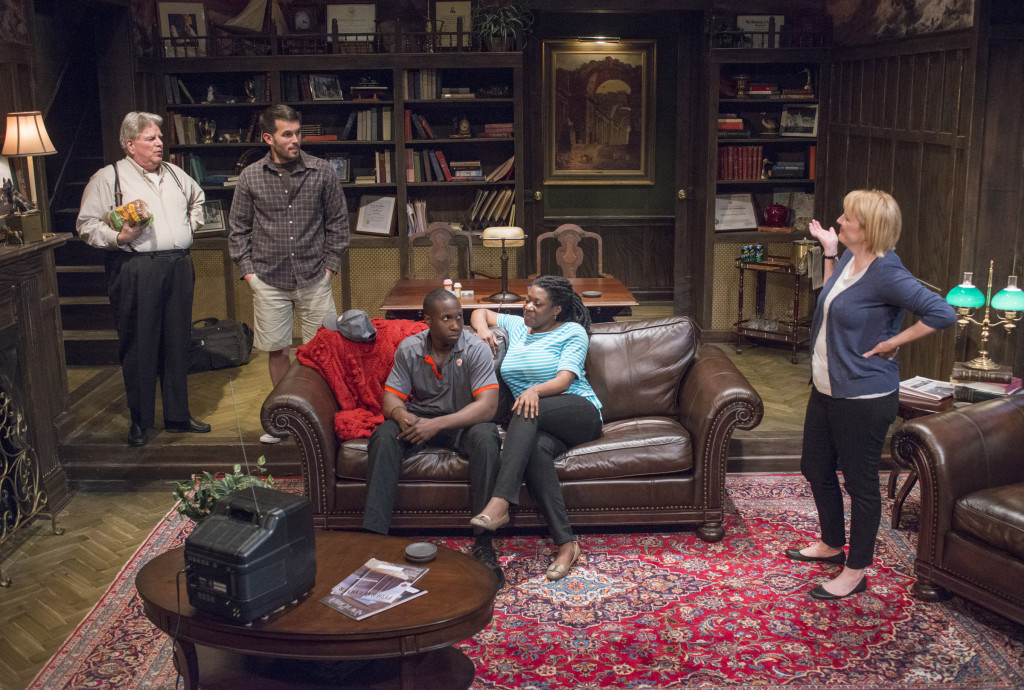 Haven Theatre presents DON'T GO GENTLE.
"Charity begins at home" is a phrase Sister Gerald Francis pounded into her students' heads.  When I was a kid, I didn't get it.  It sounded fairly selfish for a nun's mantra. How could I make a difference in the world at home? As I made my way out into life and met people and heard their stories, I started to understand this childhood riddle.  It was complicated and simple at the same time.  And now, as an adult, I get it even when I don't want to. 
Playwright Stephen Belber introduces us to Judge Lawrence Driver's world.  The retired judge is facing his own mortality.  He wants his legacy to be more than his success on the bench.  He wants to be remembered for being a good person.  So, he's decided to help a struggling family while ignoring his own struggling family.  Belber's story is complicated and simple at the same time.  And under Cody Estle's skillful direction, the sublime ensemble pull us into the Judge's world. 
Set Designer Jeff Kmiec has mirrored the stately, conservative persona of the judge perfectly.  The room is lined with book shelves and accented by beveled glass.  The walls curve into the ceiling for this regal courthouse-look.  And off to the side, a wooden staircase leads to another level.  From the start, Norm Woodel (Judge) looks at home.  He is perched on his leather chair advising Echaka Agba (Tanya).  Agba is suspicious as the curmudgeon Woodel coaxes her to take his help.  The cautious Agba and wily Andrew Muwonge (Rasheed) are initially resistive to Woodel's offer.  We eventually see their crusty facades flake away as they settle into a new lifestyle.  The mother-son relationship between Agba and Muwonge is genuinely tender.  The wonderfully grounded Agba wants the best for her son.  And Muwonge is fiercely protective of his mom.      
This is the extreme opposite of Woodel and his adult children.  Despite Woodel's attempts to rewrite his familial memories, the sharp-tongued Robyn Coffin (Amelia) calls him on it.  She cuts through his sh#t with a gut-busting or gut-wrenching statement.  The wine-swilling Coffin carries herself with the exhausted demeanor of the thankless.  We easily see her role in the family dysfunction.  The object of his father's disdain, Benjamin Sprunger (Ben) is a hot mess.  Sprunger goes heart-wrenchingly from earnest to asshole.  He is helpless and mean, sometimes within seconds.  And we watch him effectively unravel before our eyes. The long-standing love-hate between Sprunger and Woodel is searingly illustrated during a fight scene.  It's awful and beautiful at the same time.
DON'T GO GENTLE plays out like the trial of Judge Lawrence Driver's life.  We hear all the sides.  We see the infractions against humanity.  We witness the guilty parties.  And we worry and hope people get what they deserve.  DON'T GO GENTLE is the whole tasty enchilada; writing, directing, acting, designing. The morning after, I'm still perplexed with entitlement issues.  DON'T GO GENTLE is complicated and simple. 
Running Time:  Ninety minutes with no intermission
At Theater Wit, 1229 W. Belmont
Written by Stephen Belber
Directed by Cody Estle
Thursdays, Fridays and Saturdays at 8pm
Sundays at 3pm
Thru July 12th
Buy Tickets at www.haventheatrechicago.com
Photo by Dean La Prairie
For more reviews and information on Chicago theatre, visit Theatre in Chicago.