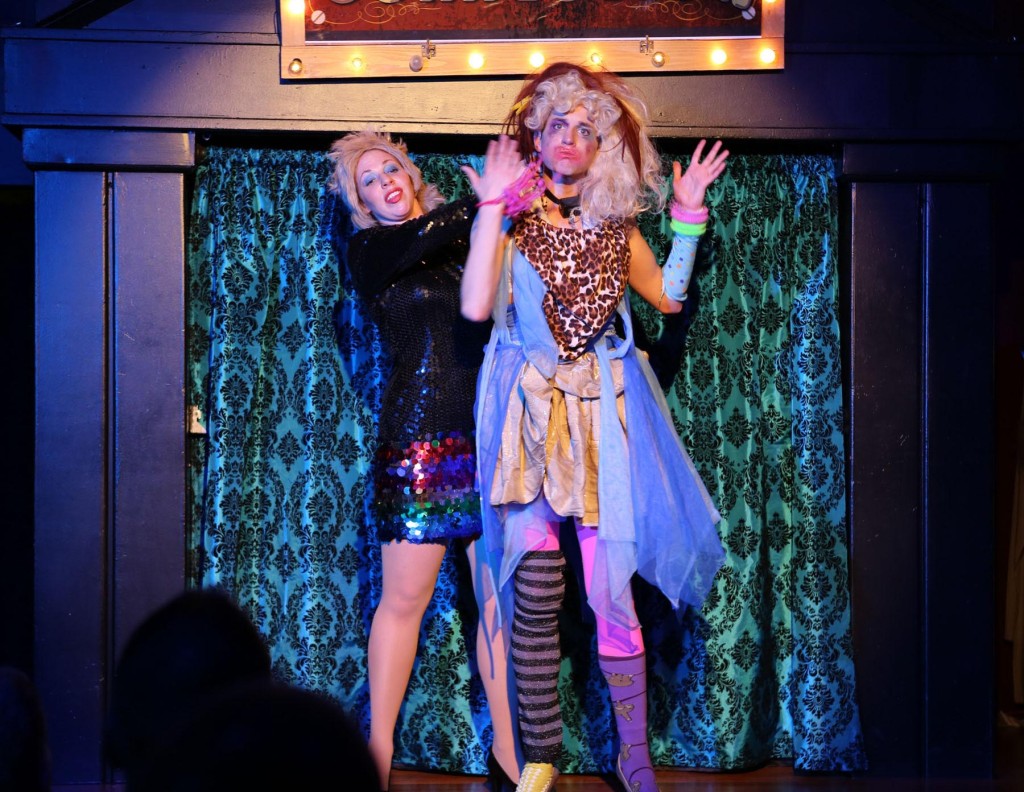 Hell in a Handbag Productions presents the Midwest Premiere of MIRACLE!
Playwright Dan Savage has penned a drag parody of "The Miracle Worker."  If Savage's premise sounds irreverent, tacky and completely politically incorrect, it's because it is.  And if you never thought you should-could-would laugh at a blind and deaf person, you're about to prove yourself wrong.  The laughs come easy and often in this dirty, dark MIRACLE.  Under the skillful direction of Derek Van Barham, the Handbag ensemble showcases why they are the masters of camp.
The always entertaining David Cerda (Crystal) is the drag queen in charge.  Cerda commands a stage with his Joan Crawford presence and delicious sneering side quips.  This time, Cerda is the nightclub owner and the parent to Steve Love (Helen).  The outstanding Love plays the spoiled, young, blind and deaf drag queen.  Love looks and acts the hot mess as he pillages the dressing room and flails epically on stage.  Cue the miracle worker!
The passionate and tireless Elizabeth Lesinski (Annie) teaches the energetic Love. Their dynamic is over-the-top, under-the-gun hilarious. Imagine if you were trying to teach an over active baby deer to dance on two legs within a specific timeframe, that's Lesinski and Love.  The ever-moving Love has this magnificent blank stare on his radiant face.  He really looks like he can't see a thing but he just keeps trying to dance.  The earnest Lesinski is right there spelling into his hand and helping him shake it to the music.  SPOILER ALERT:  Lesinski teaches Love to comprehend and dance.  And here's where we get to see the softer side of these handbag diehards.  The new and improved Love recognizes the loving efforts of Lesinski, Cerda and even Ed Jones (Gloria).  And for a rarity at a Handbag show, I get teary-eyed over these tender-hearted drag queens.
Although Lesinski and Love are the primary story, there is a whole lot more going on on this stage.  Over at Cerda's club, Jones, Jamie Smith and Kristopher Bottrall are the bitchy queens.  They comically bicker through pre-show about panty chasers and dick tucks.  And then they put on their wigs, go on stage and put on a purely professional drag queen number.  Each of the trio's flawless acts contrast brilliantly with Love's horrible one.  And the drag queens aren't the only ones showing off their talents.  Over at Caitlin Jackson's (Barb/Hershey) lesbian club, the forceful Sydney Genco and demure Rachel Hadlock have their own amusing stage shtick.  Off both stages, Jackson with ongoing zingers and Laura Coleman (Janet) in quiet awkwardness support the colorful antics from the wings.                     
MIRACLE! is a show of shows. This would-could-should be your only opportunity to laugh your ass off at a blind and deaf drag queen.  I highly recommend joining in the raunchy merriment.  Move over Baton, there's been a MIRACLE!  And these queens have legs, wigs and heart!
Running Time:  Two hours includes one intermission
At Mary's Attic, 5400 N. Clark
Written by Dan Savage
Directed by Derek Van Barham
Thursdays, Fridays, Saturdays at 7:30pm
Sundays at 3:30pm
Thru July 10th
Buy Tickets at www.handbagproductions.org 
For more reviews and information on Chicago theatre, visit Theatre in Chicago.