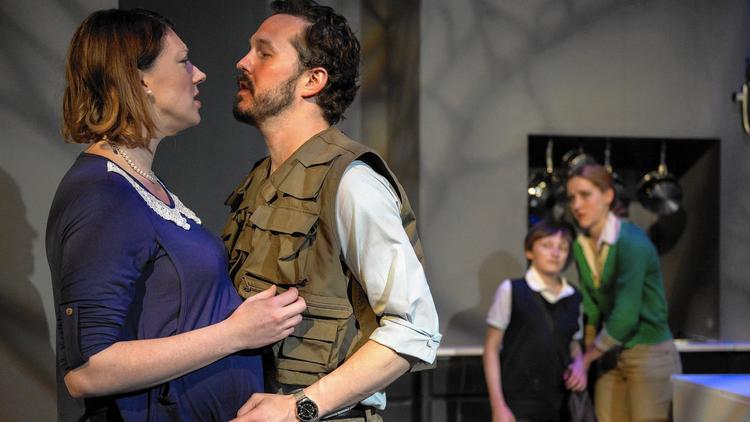 Reviewed by Tom Lawler
Profiles Theatre presents the Midwest premiere of OUR NEW GIRL.
Playwright Nancy Harris may hail from the UK, but the scenario in her Our New Girl is all too recognizable for a certain echelon of the striving upper class on our own shores. Hazel (a magnificent Sarah Chalcroft) and Richard (Layne Manzer) may live in a swank London home with their young son, Daniel (Killian Hughes), but they are struggling. Not in the financial sense, clearly, he's a plastic surgeon and she just quit her lucrative accounting job to help raise their son while starting an olive oil import business. Let's call it a poverty of fulfillment.
But while Richard may lack satisfaction in his marriage and treating the cosmetic needs of his rich clientele, he gains fulfillment from frequent extended humanitarian missions to disaster zones that are often accompanied by media attention and gala dinners.
For Hazel, she's stuck at home, flailing in the role of an often single mother raising a difficult child while trying to step into the sandals of Alessandra, her business partner in her would-be olive oil business. Hazel and Richard had met Alessandra on a romantic vacation in Sicily and Hazel was indelibly inspired by this Italian Goddess who could gracefully inhabit the roles of Lover, Mother and Entrepreneur all at once. Instead Chalcroft (in her native British accent) ably shows us how Hazel feels: unattractive, alone and overmatched. When her son wants to touch her belly, she recoils – feeling fat. 
Enter Annie (a pitch-perfect Miriam Canfield), a young, attractive and inscrutably friendly nanny who arrives one morning on Hazel's doorstep. Hazel didn't hire a nanny, there must be a mistake! But no, Richard (pulling strings from Haiti) ordered this demented Ms. Poppins in response to one of his wife's desperate voicemail messages asking him to return home to help her.
In this extended scene, playwright Baker keeps escalating the tension in this power struggle (This is one tense play!). Hazel has no intention of outsourcing her motherhood duties to this stranger, and Annie has no desire at all to leave this posh London perch back to her home up north in bleak Sligo. They argue over who has proper hiring/firing authority and the semantic differences between a misunderstanding and a mix-up. As this scene draws to a close, Hazel firmly tells Annie that she's sorry, but she'll have to return back home.
Jump to two weeks later and, of course, Annie is on the job and playing in integral role in running the house which by all appearances, seems to be flowing much smoother.  In the first hint of the one upmanship in store for Hazel, Annie even has a closer rapport with sad, spooky Daniel.  (Hint to all mothers: If you have a son who seems to be on the scary, creepy side of the spectrum, perhaps a tarantula isn't the best choice for a pet.)
Complications further ensue when Richard returns and Hazel starts to find herself battling both her husband and Annie on key decisions regarding Daniel. Annie's intense helpfulness begins to harden into competition and judgment against Hazel and some illicit kisses in the kitchen threaten to take Our New Girl into The Hand That Rocks the Cradle territory – a horror film about a nanny who wants to take over the life of her pregnant employer.
What we get instead in this riveting two hours of theater is tremendous, soul-baring acting from Chalcroft and Canfield (although a moment in which Chalcroft screams into a dishtowel is one of the most casually horrific things I've seen on a Chicago stage in years). In service of Harris' carefully-honed script, director Joe Jahraus patiently paces these performances and builds these resentments and conflicts to their ultimate explosions.
When Hazel picks up the pieces again, she has much less then when we first met her. She also seems happy again, and when her son clings to her and she doesn't recoil. Baker marks this as progress for Hazel. It's not the grandest of gestures, but it's a good start and most importantly, Hazel is now only trying to be the best version of herself.
Photo credit: Michael Brosilow
Running Time: Two hours minutes with one ten-minute intermission.
At Profiles Theatre, The Main Stage, 4139 N. Broadway Ave.
Written by Nancy Harris
Directed by Joe Jahraus
Thursdays-Fridays at 8:00pm; Saturdays at 5:00, 8:00pm
Sundays at 7:00pm
Through June 28, 2015
Buy tickets at http://www.profilestheatre.org or call 773.549.1815.