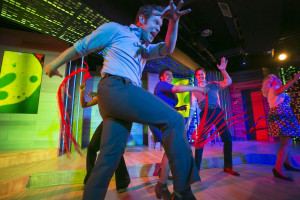 Reviewed by Tom Lawler
Second City e.t.c., presents its 39th Revue, SOUL BROTHER, WHERE ART THOU?
Second City e.t.c's latest revue, Soul Brother, Where art Thou? still has my head buzzing trying to process the heady heights this superb cast and crew have scaled. Both a biting look at social issues we should be talking about but usually avoid (as dramatized by two Disney World mascots hilariously struggling to squeeze in a post-Ferguson conversation about race between their inane park duties), and a sophisticated night of theater forcing us to confront our modern world, this show dazzles, provokes – and at times, damn near moved me to tears.
Let's start with two sketches. In the first, an iPhone owner (Tim Ryder) attempts to shut his device down for the evening. His smart phone is embodied though by  a HAL-like Eddie Mujica who will not gentle into the good night – tempting his owner with an assault of Pavlovian Facebook and email chimes that hit us viscerally. (Kudos to Music Director Alex Kliner for the spot-on sound design that's essential to this sketch.)
Later, in another piece, we're reminded of the inverse reality that accompanies this "always-on" connectivity. Just as smart phones have never made it easier to stay in touch with loved ones, we're speaking on these devices less and less. We see this dramatized in a stunning pantomime sequence that is as virtuosic as it is poignant. As brilliantly staged by director Anthony LeBlanc, a couple gives birth to a son (Mujica) who then advances through key stages of his life, including meeting his first love and attending his first college kegger – all supported by Alex Kliner's swelling musical score. Repeatedly, the young man's parents try to call him, but he never picks up even though the phone is literally at his fingertips. As he later marries and has his own child, he calls his parents one day. It's now too late for that though. Damn. In the words of J.K. Simmons, call your parents.
In this, the most "emo" Second City production I can ever recall, another standout piece features Carisa Barreca and Lisa Beasley as two roommates splitting up as Beasley's character is moving out to live with her fiancée. As they say their final goodbyes, we are gifted with a tender, funny duet with some adorable patty-cake choreography that speaks to the deep, indelible bonds we develop with our roommates. Between the witty, wistful lyrics and beautiful, emotive singing of Carisa Barreca especially, it's not hard to imagine this song and these performances being transported to a Broadway stage. It's that good.
This well-paced, unusually cohesive revue makes you look at our modern world in ways that aren't always comfortable. Later in the evening, we learn this in chilling fashion after a hilarious bit of improv the cast has with some audience members in the front row. What this crack Second City's crew is then able to quickly do with this information via the Internet for a satirical song about stalking is truly frightening. I will say no more, but it is quite the magic trick that will undoubtedly linger with you.    
This superb cast and crew have honed this tight group of sketches and songs to a sharp, glimmering must-see night of comedy and theater and have delivered a stunning reminder of what Second City represents to Chicago comedy and theater. The very best. 
Running Time: 2 hours with intermission
At Second City e.t.c. Theater, 1608 N. Wells St. 2nd Floor
Written and performed by: Carisa Barreca, Eddie Mujica, Tim Ryder, Lisa Beasley, Scott Morehead and Rashawn Nadine Scott.
Directed by Anthony LeBlanc
Musical Director and Composer: Alex Kliner
Tuesday-Thursday: 8pm
Fridays and Saturdays at 8pm and 11pm
Sundays at 7pm
Buy Tickets at http://www.secondcity.com or call 312-337-3992.
Photo by Todd Rosenberg
For more reviews and information on Chicago theatre, visit Theatre in Chicago.