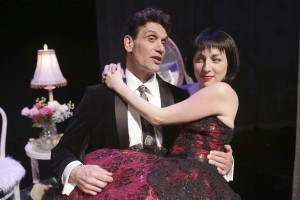 Reviewed by Jennifer Benoit-Bryan
The Chicago premier of "Louis & Keely 'Live' at the Sahara" provides viewers with an excellent evening of entertainment, interspersing foot-tapping musical numbers through a poignant look back at the highs and lows of love.  This play focuses on the real life husband-and-wife couple, Louis & Keely, who had one of the most famous Vegas acts of the 1950s.  Over a dozen of their hit songs are included in the production, touted as a "play with music," including familiar standards like "That Ol' Black Magic," "Hey Boy, Hey Girl," and "What Is This Thing Called Love."
Anthony Crivello plays Louis Prima with consummate skill, showing both the frenetic showmanship of Prima on stage as well as the regret at the end of the night when real life doesn't match the glamour of the spotlight.  Vanessa Stewart, a relative newcomer to the stage, stars as Keely Smith and provides a nuanced portrait of vulnerability, love, and eventually, a peek behind the mask of heartbreak.  The chemistry and energy these actors bring to the stage keeps the audience hoping for a different ending despite the foreshadowing of the writers.
The scenic design by Hershey Felder was uneven, the use of photographs and videos project on stage were useful in immersing the audience in the time.  However, the set of The Sahara where much of the plays action took place was underwhelming and chintzy, it drew attention away from the action on stage.
The quality of the music onstage from both the supporting band and the singing by Crivello and Stewart was phenomenal.  The audience was dancing along in their seats, enjoying the choreography and sound of each number.  The way the writers wove the songs in with the narrative worked well, because the story was about musicians, it was easy to slip in to music without using the sung-narrative techniques of full-blown musicals which can be awkward. 
But the show provides more than just an evening of fun, it successfully navigates more complex questions such as what do we choose to spend our energy on in life.  The show is framed as a retrospective, with Louis Prima in a coma reliving the best days of his life, those he spent with Keely Smith.  At multiple crossroads in the show, Prima chooses the audience and the stage over the hard work of building a family with a partner.  The show closes with the clever idea that he'll relive it all again tomorrow, and perhaps it will turn out differently next time. 
Running Time:  One hundred minutes with no intermission
At Royal George Theatre, 1641 N. Halsted St.
Written by Vanessa Claire Stewart, Taylor Hackford and Jake Broder
Directed by Taylor Hackford, Musical Direction by Paul Litteral
Tickets: $65 at 312-988-9000 or theroyalgeorgetheatre.com