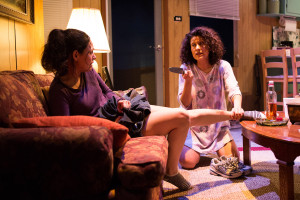 Teatro Vista presents the World Premiere of BETWEEN YOU, ME AND THE LAMPSHADE. 
The title of this world premiere is misleading.  "Between you, me and the lampshade" suggests light-hearted, madcap, hi-jinx.  It's not.  From the start, the rifle-toting Sandra Marquez (Jesse) sets the tone for drama.  The fierce Marquez threatens trembling Ayssette Munoz (Amparo).  Munoz pleads for her life in rapid Spanish hysteria.  I don't know what she is saying but I can see she is scared, hurt and desperate.  And I also can see this play isn't going to be the wacky frolic I imagined.
Playwright Raúl Castillo delves into the illegal immigration of Mexicans into the United States.  He tackles it from the inside-out.  He chooses Amparo, a young, wounded senorita to build his story around.  His other characters are forced to confront their own issues in aiding her.  The perspective is interesting.  And Munoz captivates in her victim vulnerability.  It's just that much like the title, the story is confusing.
Castillo writes some engaging scenes.  And Director Ricardo Gutierrez facilitates the audience connecting to them.  The Marquez-Munoz interrogation is instantly riveting.  Then, Tommy Rivera-Vega (Woody) arrives home.  Not only does Marquez frantically keep him from seeing Munoz, she also puts him under maternal scrutiny.  He resists telling her anything.  They are both keeping secrets but why?  I'm curious and confused.  The interaction feels like forced intrigue.  And then the next scene is a wild shift from that intensity.  Rivera-Vega and Bryce Gangel (Kristen) pop up playing video games. It becomes apparent they are strangers connecting as online war buddies.  The effervescent Gangel flirts like a marine on shore leave. Their exchange is funny and adorable and oddly out of place.
Castillo has a powerful message but his story doesn't flow easily.  Scenes don't always transition understandably.  When Munoz hallucinates, she speaks perfect English.  Although Munoz cracks a joke about her bilingual delirium, the choice makes her scenes with Steve Casillas (Meme) seem silly instead of sexy and stirring.  When Gangel arrives on Rivera-Vega's doorstep, I'm glad because she is a hoot but why is she there?  Her impromptu trip, including a flight, two busses, and cab, to meet a stranger seems unlikely.  And then, she is able to push Rivera-Vega into doing something he opposes.  Buy why?  He's hot for her?  Or he's protecting Munoz?  Or he's upset because he just found a disturbing letter in a box of clothes?
There were parts and performances in this show I enjoyed.  Other pieces weren't as cohesive.  Conflict seemed easily avoidable.  Secrets seemed contrived for dramatic effect.  Between you, me and the lampshade, Castillo's play is a work in progress.
Running Time:  One hour and forty-five minutes with no intermission.
At The Victory Gardens Biograph Theater, 2433 N. Lincoln
Written by Raúl Castillo
Directed by Ricardo Gutierrez
Thursdays, Fridays, Saturdays at 7:30 pm
Sundays at 3 pm
Thru May 10th
Tickets may be purchased at the Victory Gardens box office at 773.871.3000 or by visiting www.victorygardens.org.
For more information, visit www.teatrovista.org.
Production Photo by Joel Maisonet
For more reviews and information on Chicago theatre, visit Theatre in Chicago