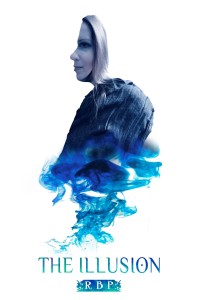 The Right Brain Project presents THE ILLUSION.
The illusions start early and continue to the finale.  Upon arrival, the audience is sat on benches lining the wall.  Set Designer Katie-Bell Springmann has wrapped the intimate theatre in scripted parchment.  Stacks of books create a cave-like arch on the stage.  The room is dark except for a single lit candle.  The reverence of the space makes people silence their phones and themselves.  We wait in silence anticipating something mystical to happen.
The stillness is broken by Nate White (Pridamant) bellowing his 'hello.'  His boisterous  inquiries disturb the hallowed ground.  He is in search of the sorceress Alcandre (played by Liz Goodson). White pleads with Goodson to show him how his estranged son is doing.  Goodson conjures up three visions of White's son's life.  The triple glimpses give him momentary comfort followed by guilt and regret.
Playwright Tony Kushner penned stories within a story. And Director Nathan Robbel delicately weaves the parallel dimensions together while keeping them distinctly apart.  White, Goodson, and Rush Marler (The Amanuensis) interact in the storytelling realm along the fringe of the theatre.  We almost forget about them until White tries to interrupt the vision with questions or pompous remarks. The son (played by the dashing Joseph Ramski) and his cohorts play out three love scenarios.  In each scene, they are the same character but with different names and positions.  Each scenario shows the progression of Ramski's relationship with the spunky Stevie Chaddock.
This is a dark rom-com about human nature. Kushner's story in the hands of Robbel bewitch us into caring about certain characters only to have them unexpectedly disappoint.  The twists keep the stories riveting.  And along the way, the talented cast hit the drama and the humor with equal intensity.  The haughty Goodson delivers her lines and magic with abrupt mockery.  Going into the intermission, her magical bit is hilarious. Elizabeth Bagby and Jared McDaris showcase the farcical in their supporting roles.  Bagby is the perfect wisecracking sidekick.  And McDaris is this deliciously melodramatic doofus.  And as much as I believe this is a comedy first, the final moments of the third vision made me gasp with a heart-wrenching pang. 
THE ILLUSION is clever.  I got caught up into all of them and the ultimate one.  There are plenty of yarns spinning until Goodson nonchalantly pulls all the strings tightly together in a captivating conclusion.   To succumb completely to THE ILLUSION, going into it in the dark is key to becoming spellbound.              
Running Time:  Two hours includes an intermission
At The Right Brain Project, 4001 N. Ravenswood
Based on "L'illusion Comique" written by Pierre Corneill
Adapted by Tony Kushner
Directed by Nathan Robbel
Thursdays, Fridays and Saturdays at 8pm
Industry night on Monday, April 6th
Thru April 11th
More information at www.TheRBP.org
For more reviews and information on Chicago theatre, visit Theatre in Chicago.