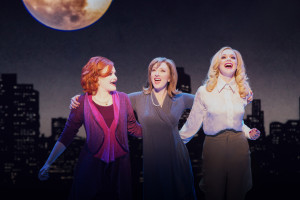 Broadway in Chicago presents a new Broadway-bound musical, FIRST WIVES CLUB the Musical.
I love "First Wives Club" the movie.  I've watched it more than a dozen times.  I like FIRST WIVES CLUB The MUSICAL.  I saw it last night.  It was cute!  It was predictable.  Many of my favorite jokes from the movie made it to the staged version.  Even though the witticisms didn't make me laugh out loud, they certainly made me smile and remember with affection the pioneering women of 90s movies.  Glenn Close may have scared the bejeebies out of cheating husbands but Bette Midler, Goldie Hawn and Diane Keaton's chutzpah showed us that wallets are much dearer than rabbits.
"First Wives Club" isn't about surviving a divorce.  It's about thriving from a divorce through female reinvention.  Even though the notion was new –maybe even profound- in the 90s, the idea is now familiar.  Marriages don't have the same permanency anymore.  And today's relationships aren't mired in traditional framework.  FIRST WIVES CLUB the Musical may not work as a cutting-edge conversation starter, yet it still is comforting.  But instead of slipping under a cozy quilt with a pint of Ben & Jerry and watching someone else's failed relationship on television, this show gives women a destination for sisterhood united.
At the heart and soul of the show are the talented trio, Faith Prince (Brenda), Carmen Cusack (Annie) and Christine Sherrill (Elise).  The ladies give it their all in this tribute to the power of friendship.  Prince, Cusack, and Sherrill cackle with a normalcy befitting BFFs.  They are quick to point out each other's faults and equally swift at forgiving a friend's flaws.  Their camaraderie is as harmonizing as their singing.  During an auction scene, the spirited "Payback's a Bitch" is a rowdy rendition.  Following that collective triumph of their scheme, each of the ladies meets with her ex for a final farewell.
These ending scenes start like a spunky coup with plenty of 'gotcha' comedy.  Then, each lady goes into a heartfelt solo of "Old Me New Me."  This song sung in each of the scenes is the significant takeoff from the movie.  They don't just stick it to their exes.  They take back their lives and start living.  Although the target audience is definitely divorced women, anyone who has ever let a guy squash their spirit will find solidarity in these final anthems of empowerment.
FIRST WIVES CLUB the Musical is a fun evening out.  At the opening, I saw plenty of gaggles of gals dressed in their best he-can-eat-his-heart-out outfit.  The heels, champagne and laughter looked to be every bit a celebration of women. The ultimate ladies' night!
Running Time:  Two hours and forty-five minutes includes an intermission
At the Oriental Theatre, 24 W. Randolph
Music and lyrics by Brian Holland, Lamont Dozier, and Eddie Holland
Book by Linda Bloodworth Thomason
Based on the Paramount Picture Corporation Motion Picture and Original Novel by Olivia Goldsmith
Adapted from the book by Rupert Holmes with additional materials by Simon Phillips
Directed by Simon Phillips
Buy Tickets at www.broadwayinchicago.com
For more reviews and information on Chicago theatre, visit Theatre in Chicago.