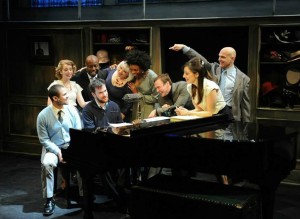 Porchlight Music Theatre presents the Chicago Premiere of SONDHEIM ON SONDHEIM.
Composer Stephen Sondheim handwrites his award-winning pieces on legal pads in pencil.  He does it sipping a shot of whiskey while reclining on a couch.  How do I know?  He told me.
In this intimate musical documentary, Sondheim himself narrates us through his 50 year career.  Snippets of filmed interviews are projected in-between live performances of his works.  He shares a startling story about his mother that leads into his "Children will listen" piece from Into the Woods.  This show is a rare opportunity to see the song in the makings from inspiration to production. We learn the two working versions that eventually would birth "Being Alive" from Company.  And Sondheim modestly shares his success as almost happenstance.  When asked in an interview did he ever dream "Send in the Clowns" from A Little Night Music would be such a blockbuster, he responds with a fervent "NO!"  The segment transitions into a montage of mega celebrities that have performed that song.  It's an impressive who's who on his unassuming number.  Luckily too for the audience, the song reappears in the second act sung with passionate tenderness by Rebecca Finnegan and James Earl Jones II.
In this revue meets history lesson, Director Nick Bowling masterfully balances emotional moments with visual stunners.  Spliced with Sondheim describing Sweeney Todd's breaking point, Jones sings excerpts of pure anguish and disturbing threats.  Later in the final piece in Act I, "Sunday" from Sunday in the Park with George is sung beautifully by the talented ensemble. And as the projections on the backdrop create the landscape of the famous Seurat painting, the ensemble pose as portrait figures.  The multi-dimensional performance art epitomizes Sondheim and James Lapine's clever idea to marry art and music forever and ever.    
Serving as musical director, pianist and ensemble member, Austin Cook spiritedly leads  Finnegan, Jones, Emily Berman, Matthew Keffer, Adrienne Walker, Stephen Rader, Amelia Hefferon, and Yando Lopez through the many phases of Sondheim.  I've seen and heard Cook in many shows and I'm always transfixed by his embodiment of the music.  He plays the piano with gusto. Sondheim would be pleased to hear and watch Cook enjoy his work with such dedication perfection.
SONDHEIM ON SONDHEIM is a musical biography of Stephen Sondheim.  His career has spanned 5 decades and is still going.  This salute to Sondheim does not have the warhorses like "Somewhere," "Not while I'm around" and I was waiting for one of my faves "The Ladies that Lunch." Still, the collection becomes more personal and meaningful because it's the composer's top hits.  This is his career songbook.  And it's a keepsake to be shared.       
Running Time:  Two hours and fifteen minutes includes an intermission
At Stage 773, 1225 W. Belmont
Music and lyrics by Stephen Sondheim
Conceived by James Lapine
Music direction by Austin Cook
Directed by Nick Bowling
Thursdays at 7:30pm (no performance Feb 12 or Mar 12)
Fridays at 8pm
Saturdays at 4pm and 8pm
Sundays at 2pm
Thru March 15th
Buy Tickets at http://porchlightmusictheatre.org/
Photo by PMT Artistic Associate, Brandon Dahlquist
For more reviews and information on Chicago theatre, visit Theatre in Chicago.