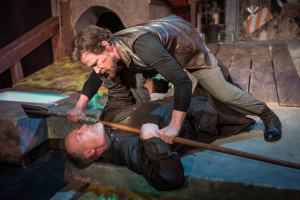 The Artistic Home presents MACBETH.
This is Shakespeare like I've never experienced before.  The classic gets a futuristic twist under the imaginative direction of Scott Westerman.  Instead of Scotland in the 1500s, the drama unfolds in an American metropolis in 2100s.  The city is what remains after The Great Water Riots of 2089.  Water is scarce.  The person controlling the water distribution is king.  And Macbeth wants to be king!
The Artistic Home's intimate theatre is a disaster area.  Scenic and Lighting Designer Jake Bray has created a post-apocalyptic haven.  Bray has mounds of eclectic rubbish from floor to ceiling and sunken pools of water below the stage boards.  A green glow adds a noxious flare.  Upon arrival, the look has creepy intrigue.  Throughout the show, Westerman uses the space effectively.  The witches appear and disappear from these hidden caverns.  The contaminated water has turned them into some kind of creatures-from-the-black-lagoon.  Clad in matching unitards, Brookelyn Hebert, Jill Oliver, Skye Shrum have a slithering, otherworld presence.  Instead of coming from mystical sources, their prophesying powers seem to be the result of falling in to a vat of toxic waste.  This witches' reinvention establishes a tone that works well for this doom-laden setting.  They spur John Mossman (Macbeth) into a murder spree to be King!  But King of what?
Westerman's ambitious undertaking lacks the majesty that I associate with Macbeth.  This show is much more a sci-fi action thriller than a timeless classic about the evil corrosion of humanity from greed.  The tone is seedy from the get-go.  There isn't a progression into the darkness.  They all live there.  A post-apocalyptic world is about survivors.  They are the people who likely committed questionable actions to live.  And water is a necessity.  The stakes aren't the same in this version. It's the difference between want and need.  The traditional Macbeth wants to be King of Scotland.  Westerman's Macbeth needs regular access to water.  He isn't power-hungry.  He's thirsty!
The urgency in this waterless world doesn't lend itself to Shakespearean prose.  They need water to live.  There isn't time for words.  They need to act.  Mossman, along with Frank Nall (Macduff) and Will Casey (Duncan), are these commanding figures that seem ever ready to rage war without too much justification.  This strange world seems fueled by testosterone.   And the emotionality of important moments get lost in these guys' take-no-prisoners quest.   Even Lady Macbeth's (played by Maria Stephens) guilt-ridden lunacy is almost completely swallowed up by the male agenda.
Westerman's MACBETH is unique.  It could even get young boys interested in Shakespeare.  I do recommend reading the director's notes in the program before the show.  In it, Westerman introduces his vision and his futuristic world.  Without the tutorial, a person could get confused quickly.
Running Time:  Two hours and fifteen minutes includes an intermission
At The Artistic Home, 1376 W. Grand
Written by William Shakespeare
Directed by Scott Westerman
Thursdays at 7:30pm
Fridays and Saturdays at 8pm
Sundays at 3pm
Thru April 4th
Buy Tickets at www.theartistichome.org
Production photos by Tim Knight
For more reviews and information on Chicago theatre, visit Theatre in Chicago