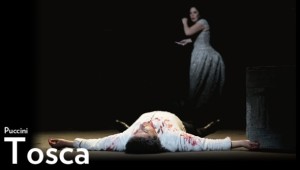 Lyric Opera of Chicago presents TOSCA. The Lyric is presenting this Puccini favorite in an extended run featuring two different casts.  I reviewed the principals for the January 24th- February 5th performances. 
TOSCA is being mounted with a new production co-produced by the Lyric and Houston Grand Opera.  Scenic and Costume Designer Bunny Christie introduces each of the three acts with a different painted silk curtain.  The variation in color on the fabric mirrors the action as the red is overpowered by the blackness. In the first few moments of each act, the curtain is whisked away with a billowing flourish.  The delicate satin contrasts Christie's massive fortress framework that serves as the shell for a church, apartment, and roof.  Although the interior is filled or emptied of content depending on the location, the point of focus in all three acts is this gaping hole in the ceiling.  In the final act, the gaping hole takes on a disquieting function.  The startling visual caused the woman behind me to start babbling nervously until she was shushed. 
Although the set adds to the aesthetic, this lush Puccini's opera could be sung in someone's basement and still be equally evocative.  Under the skillful baton of Dmitri Jurowski, the love story of a painter and an opera singer against corruption is magnificently actualized.  From the start, the dashing Brian Jagde (Mario) steals the audience's hearts with his soulful aria reflection, Recondita armonia.  Jagde and Tatiana Serjan (Tosca) perfectly illustrate artists and lovers. When Jagde paints another woman's image as the Madonna, Serjan teasingly and forcefully tells him to correct it.  They have the familiarity and playfulness of an established relationship.  And still their sensuality fills the stage with passion.  Their duet, Amaro sol per te m'era morire, has the sweet me-and-you-against-the-world innocence. The ending is unforgettable. 
The beautiful Serjan is an opera star in life playing an opera star in life in an opera.  She has delicious fits of jealousy and unrealistic expectations of what even a diva can control.  She musters up a wide range of emotion in her interactions with the ruthless Evgeny Nikitin (Scarpia). Serjan and Nikitin dangerously manipulate the other to get control.  Nikitin is rewarded at the curtain call with applause and boos for his villainous tyranny.  This sublime ensemble delivers the fervor for love and lust to coexist with hate and torture.  
"When we fall in love, we hear Puccini in our heads" – the movie Mirror has Two Faces
Puccini's timeless compositions make us fall in love.  Sometimes, it's with another person. Always, it's with him.  In particular TOSCA boasts one of my favorite Puccini arias, Recondita armonia.  And Jagde's rendition is swoon-worthy.  There is a reason TOSCA is a Puccini favorite. And the Lyric is giving you an extended opportunity to experience it.  Lyric's TOSCA is your winter destination! 
Running Time:  Two hours and forty-five minutes includes two intermissions
At Lyric Opera, 20 N. Wacker
Composed by Giacomo Puccini
Libretto by Giuseppe Giacosa and Luigi Illica
Based on Victorien Sardou's play "La Tosca"
Three Act Opera sung in Italian   
Projected English titles by Colin Ure
Conducted by Dmitri Jurowski
Directed by John Caird
Current cast
At 7:30pm: January 27th, February 2nd
At 2pm: January 30th, February 5th 
New cast
At 7:30pm:  January 27th, March 3rd, 14th
At 2pm: March 8th, 11th
Buy Tickets a www.lyricopera.org
For other reviews and information on Chicago theatre, visit Theatre in Chicago.