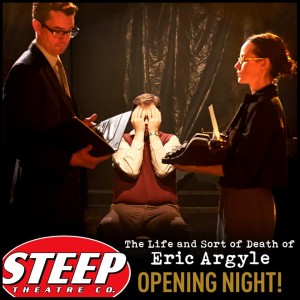 Steep Theatre presents the Midwest Premiere of THE LIFE AND SORT OF DEATH OF ERIC ARGYLE.
In their current Irish charmer, Steep invites us to fall down the rabbit hole.  But instead of Alice, we're following Eric into this wonderland focused on time and quirky characters.  Playwright Russ Dungan pens an examination of a life.  Dungan uses a variety of storytellers to chronicle the happenings in the present and the past.  In the present, a variety of distinct and separate scenarios are in progress; a cellist with a baby, 2 guys in a cemetery, and an aunt and niece.  These scenes are spliced with a trial of the recently departed Eric Argyle (played by Jeff Duhigg).  Argyle is forced to watch and defend five past scenes of his life.  The premise is fascinating.  And Dungan's clever script captivates as death determines which fragments of Eric's life will continue without his presence.
Director Jonathan Berry skillfully navigates a play with multiple moving elements and fourteen actors on Steep's small stage.  There is a natural intimacy as the action takes place in close proximity. During the trial scene, Alex Gillmor (Roger) addresses the audience directly and fields questions from actors behind the audience.  A surreal vibe comes from being drafted on to this afterlife council.  Not only am I uncomfortable forming judgment on something I'm observing, I'm not completely understanding the shards of life. The mission of the death jury also seems borderline witch hunt.
The scenes within scenes play out with flourish.  Drama and comedy mix with life and death.  The trio of Lucy Carapetyan (Gillian), Pat Whalen (Eric the younger) and Brett Schneider (Craig) have both playfulness and tenderness.   Within making a mockery of wedding picture poses, Schneider hugs Whalen and whispers in his ear.  Even before we know what he said, we know what he said.  The show is rippled with these subtle, stirring connections of humanity through happenstance.  In another exchange, Carapetyan and Whalen are making future plans.  And then Carapetyan pours Whalen gin with lime and sugar.  And both of their lives flip in a different direction. Dungan's story of random decisions that alter lives kept me riveted.
The whole time, I'm trying to put the pieces together for puzzle completion.  At some point, a veil lifts and each part's purpose becomes clear.  Everything comes together in many heart-warming conclusions.   Steep has a tradition for engrossing storytelling usually of the English angst variety.  This time they went Irish.  It's not their first time to go Irish but it's the first time I noticed an inconsistency among the cast with the lilt.  Some like Melissa Riemer sustained it the entire time.  Some dropped it on occasion.  Some never had it.  And on opening night, there were a few actors stumbling over lines that broke some of the enchantment of the story.
Still, I very much enjoyed THE LIFE AND SORT OF DEATH OF ERIC ARGYLE!   It had an "It's a Wonderful Life" whimsy.  Plus, the idea of a writer being hit by a truck and dying at 58 was an unnerving wake-up call.
 Running Time:  One hour and forty-five minutes without an intermission
At Steep Theatre, 1115 W. Berwyn
Written by Russ Dungan
Directed by Jonathan Berry
Thursdays, Fridays, Saturdays at 8pm
3pm on February 1st, 8th, 15th, and 22nd
EXTENDED Thru March 14th
Buy Tickets at www.steeptheatre.com
For more reviews and information on Chicago theatre, visit Theatre in Chicago.