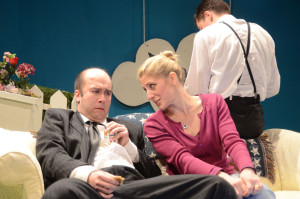 Trap Door Theatre presents the World Premiere of COOKIE PLAY.
Stepping into Trap Door is to fall down the rabbit hole.  This time, Set Designer Mike Mroch has created a domestic feel.  Mroch has a blue backdrop with cut-out clouds suspended from strings.  A sloping picket fence lines a row of hedges.  The contrived look has a surreal quality. It feels like forced pleasantness. The interior of the house has a guy on the couch eating Cheese-its watching television.  And in the other room, a woman restlessly arranges and rearranges the bedcovers.  Outside another guy gingerly teeters along the hedges.  The homey familiarity is interrupted by the presence of two men dressed in black and wearing sunglasses. Their formal dress belies their slinking around and impromptu dancing. Before the show even starts, my curiosity is peaked.        
Playwright Ken Prestininzi has penned an edgy satire.  Chris Popio (Jim) and Lyndsay Rose Kane (Harriet) are under investigation for suspected treasonous crimes by their son Tommy (played by Gage Wallace).  Mike Steele (Frank 1) and Carl Wisniewski (Frank 2) are the assigned authorities to the case.  Prestininzi doesn't hint at unscrupulous tactics of our government on its own citizens.  He clobbers us with it.    
Under the skillful direction of Kate Hendrickson, tension builds.  Popio and Kane effectively pull us into their parental and personal nightmare.  In particular, the persevering Kane is relentless as the protective mother.  Kane fully invests in her grueling emotional performance.  And within her palpable hysterics, she continually shifts into hostess by offering cookies to Steele and Wisniewski. Later, her interaction with Wallace is heartbreakingly tender. 
Prestininzi does a fine job of ensuring his drama has bursts of playfulness.  And the comedic absurdity is primarily produced by Steele and Wisniewski.  The duo contrast their military thug personas with unexpected goofiness.  The two infrequently and impressively break into dance sequences.  At one point, one even raps.  It's these unexpected slapstick moments that lighten the very heavy subject matter.  Unfortunately, some of the shtick gets stale. When Kane brings out yet another plate of homemade goodies, I want to shout 'no more cookies!' I think the play could easily skip a couple batches to tighten the show overall.      
Still, Prestininzi conveys the probable truth in how our government conducts inquiries.  And he delivers it with cookies to make the notion easier to swallow.  The COOKIE PLAY is "Men in Black" meets "The Bourne Identity" with a side of "Mama's Boy."  This reality is disconcerting whimsy.            
Running Time:  One hundred and ten minutes with no intermission
At Trap Door Theatre, 1655 W. Cortland
Written by Ken Prestininzi
Directed by Kate Hendrickson
Thursdays, Fridays, Saturdays at 8pm
Sundays at 3pm
EXTENDED Thru February 21st 
Buy Tickets at www.trapdoortheatre.com
Photo by Michal Janicki
For more reviews and information on Chicago theatre, visit Theatre in Chicago.