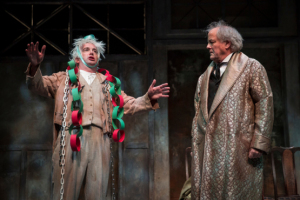 Goodman Theater, in conjunction with The Second City, presents TWIST YOUR DICKENS, OR SCROOGE YOU!
This was my third installment of The Second City's local collaborative spectacles.  Previously, The Second City had partnered with Lyric Opera of Chicago and the Hubbard Street Dance Company.  "The Second City Guide to the Opera" and "The Art of Falling" cleverly infused very opposite Chicago entertainment icons.  And the combos were tasty swirls of artistic ingenuity.  This time The Second City is partnering with the Goodman Theatre.  Currently in its 37th annual production of "Christmas Carol," the Goodman basically owns Scrooge in this town.  So, why not use the smaller intimate Owen Theatre to mock the main stage's show?  This show is like the Goodman's Christmas party as they make merry and playfully takes jabs at themselves.  At one point Francis Guinan (Scrooge in the Owen) mutters, "I bet Larry Yando (Scrooge on the mainstage) doesn't have to put up with this sh#t!"
Guinan is responding to Frank Caeti's ongoing interruptions about the show's inconsistencies to the time period.  Scrooge is visited by a Girl Scout, a nun, George Bailey and an eclectic group of orphans.  Crachitt has a Bluetooth. Ghost of Christmas Past arrives on a skateboard.   This spirited and often irreverent dissection of Charles Dickens' classic is LMAO funny!  Writers Peter Gwinn and Bobby Mort packed plenty of wallop into this seasonal treat.  They follow the basic framework of the miser being haunted by yuletide poltergeists. Yet, they also splice in other holiday hoopla under the well-paced direction of Matt Hovde. The three wise men argue over giving a stable family gold.  A boozy lounge singer sings about Jeff's nuts roasting.  And we finally experience the lost finale of  "A Charlie Brown Christmas."  Hilarious!
Except for Guinan, the ensemble are all Second City performers.  And they work the room with the improvisation shtick.  Before entering the theatre, audience members are asked to write a past misdeed on a slip of paper.  The strips become the chains of regret that Gwinn (Marley) is bogged down with.  He reads a few out loud and he and Guinan riff on them.  Hats off to Guinan, a well-established dramatic actor, who impressively improvs like he has been touring with this troupe (Caeti, Gwinn, Sayjal Joshi, Beth Melewski, Robyn Scott, Tim Stoltenberg).  This crew plays well together.  And we are their ongoing laugh soundtrack.
TWIST YOUR DICKENS, OR SCROOGE YOU! is the perfect holiday stress reliever because laughs are a guarantee!   There is no way to stop chuckles from bursting out.  Every time, Joshi (Tiny Tim) crutches her way across the stage I giggled uncontrollably… and inappropriately! But what the scrooge?  I couldn't help myself. TWIST YOUR DICKENS is so f#cking funny!
Running Time:  Two hours includes an intermission
At Goodman Theatre, 170 N. Dearborn
Written by Peter Gwinn and Bobby Mort
Directed by Matt Hovde
Tuesdays, Wednesdays, Thursdays at 7:30pm
Fridays at 8pm
Saturdays at 4pm and 8pm
Sundays at 3pm and 7pm
Thru January 3rd
Buy Tickets at www.goodmantheatre.org
For more reviews and information on Chicago theatre, visit Theatre in Chicago.