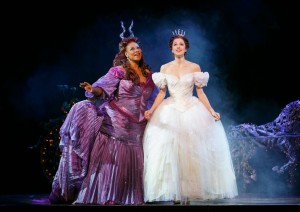 Broadway in Chicago presents Rodgers and Hammerstein's CINDERELLA.
The 2013 Tony Award-winning production of "Cinderella" is touring the country.  And the beloved fairytale has gotten a contemporary makeover.  The vital story elements are still present.  Glass slipper, check! Pumpkin carriage, check!  Kingdom corruption, ch— wait!  What?  Under the new book by Douglas Carter Beane, Cinderella is a social activist.  She doesn't just want the Prince.  She wants the Prince to reform.  Cinderella educates Prince Topher about his impoverished subjects.  The additional storyline adds a modern sensibility to our favorite rags-to-riches heroine.  It's a subtle and positive message to young ladies in the audience dreaming of their own prince charming. But don't worry about the underlying politics. This show is still all about the impossible becoming possible.
And for Tuesday's Chicago opening, the magical transformation began immediately.   Due to illness, Paige Faure (Cinderella) was replaced by her understudy Audrey Cardwell starting at the top of the number "The Prince is Giving A Ball."  The transition was seamless and the change went unnoticed by most until the intermission announcement.  Cardwell enchanted!  She flawlessly stepped into this glass slipper.  Her "Impossible" duet with Kecia Lewis (Marie) is transformative.  Not only do the ladies magically replace gowns onstage (cool special effects by Costume Designer William Ivey Long), they also change from hopeful to confident.  Lewis serves as an exuberant cheerleader.  She belts out a soulful and motivational "There's Music in You" anthem.                       
Cardwell and the swoon-worthy Andy Jones (Topher) deliver multiple romantic interludes.  Their "Ten Minutes Ago" and "Do I love you because you're beautiful?" duets could melt any cynical icy heart. I was awash in the simplicity and sweetness of my Rodger and Hammerstein's childhood memories.  When it comes to wooing with unforgettable melodies, R&H are the experts. 
Beane adds more comedic moments in his adaptation of the original book by Oscar Hammerstein II.  The wicked stepfamily, Beth Glover (Madame), Ashley Park (Gabrielle) and Aymee Garcia (Charlotte) deliver laughs with their special interests.  Garcia, in particular, is filled with moxie as she leads the bitch-fest in "Stepsister's Lament."  Even though Glover cackles with delicious wickedness, her most unforgettable moment is apologizing to the slipper-wearing Cardwell.  The confident Cardwell responds, "I have three words for you: I forgive you!"  Another Beane twist!  And a significant one at that.
In this production, Cinderella becomes a real role model for the young and old.  She's no longer the poster child to 'marry well.'  She also teaches lessons of social justice, kindness and compassion.  This IS a fairy tale for the ages! Well done, CINDERELLA!              
Running Time:  Two hours and twenty minutes includes an intermission
At Cadillac Palace Theatre, 151 W. Randolph
Music by Richard Rodgers
Lyrics by Oscar Hammerstein II
New book by Douglas Carter Beane
Original book by Oscar Hammerstein II
Directed by Mark Brokaw
At 7pm on December 23rd, 26th, 27th, 30th, 31st, January 2nd, 3rd
At 2pm on December 23rd, 24th, 26th, 27th, 28th, 31st and January 1st, 3rd, 4th
Thru January 4th
Buy Tickets at www.broadwayinchicago.com
For more reviews and information on Chicago theatre, visit Theatre in Chicago.