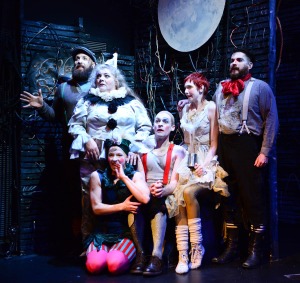 The Ruffians present BURNING BLUEBEARD.
December 30th will mark the 111th anniversary of the Iroquois Theatre fire.  On that tragic day during the 3pm matinee, a fire killed 600 people.  If that doesn't sound like the premise to a hit holiday show, you've never experienced The Ruffians before. This was my second time reliving their historical interpretation of an event that was coincidentally survived by my great grandmother. 
Playwright Jay Torrence wrote the play as a collection of narratives, pantomime and acrobatics.  Torrence, also serving in the role of the stage manager, penned the tale from his and five performers' perspectives. Most of the original cast (Torrence, Anthony Courser, Molly Plunk, Leah Urzendowski, Ryan Walters) join newcomer Pam Chermansky in re-imagining the real life theatrical drama within that staged theatrical drama on December 30, 1903.       
Under the masterful direction of Halena Kays, this talented ensemble is tight.  They perfectly walk the line between drama and comedy, actual time and memory, funny and sad. From their surprising entrances to their ongoing flawlessly synchronized sequences, we are transfixed in this Iroquois tribute. The performers coax the audience into their clown play with their frolicking.  And then when we are being dazzled by their playful pretend, they pull out the proverbial rug knocking us on our back and leaving us breathless. The tragedy is always present but contained in prettily wrapped parcels. 
One of the more haunting examples is a fantasy fire drill that quickly escalates into towering inferno pandemonium.  The crew describes the in-case-of-fire-exit-routes: the maze of corridors, the overcrowded theatre, no exit signs, doors that open in, doors chained on the outside, heavy drapery disguising doors, rafters overstuffed with flammable scenery.  Their shtick starts out flippant and plummets to panic as the ensemble physically showcases the many dead ends in escaping.  Their increasing alarm makes me a little nervous from my high perch in Theater Wit.  Is this life imitating art imitating life?  Where is the closest exit? 
This is theatrics at its best.  A hilariously creepy Chermansky continues to remind us of the importance of gripping tension.  In her formal thespian delivery, Chermansky describes disturbing realities as thrilling dramatics.  The harshness of the truth regularly gets an effective whimsical whitewash. When the performers reenact the fireball scorching the balcony, their death dance is heart-pounding but beautifully orchestrated.  Throughout the show whenever the actuality of the catastrophe gets overwhelming, Plunk (faerie queen) shows up to bring back the make-believe.  The limber and lovely Plunk brings ongoing comedic relief.  Without uttering any audible words, the wide-eyed Plunk transports us back to the fantastical. 
BURNING BLUEBEARD is a historical spectacle!  It memorializes the facts within a sublimely choreographed production.  I said it before and I saw it again… BURNING BLUEBEARD is a big fireball of entertainment.  You'll only get burned if you don't see it!                                 
My 2011 review of BURNING BLUEBEARD. 
Running Time:  One hundred minutes with no intermission
At Theater Wit, 1229 W. Belmont
Written by Jay Torrence
Directed by Halena Kays
Thursdays, Fridays, Saturdays at 8pm
Sundays at 3pm and 7pm
Additional performances at 3pm on December 27th and January 3rd
Additional performances on December 29th at 8pm, 30th at 3pm and 8pm and 31st at 7pm
Thru January 4th
Buy Tickets at www.theaterwit.org
For more reviews and information on Chicago theatre, visit Theatre in Chicago.