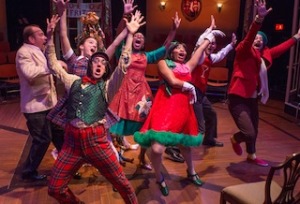 The House Theatre of Chicago presents NUTCRACKER.
This was my fourth time seeing The House's holiday show in the last five years.  And despite my repeated viewing, I still wept. The play has both joy and agony.  The audience moves from one end of the spectrum to the other… in the first ten minutes.  The emotional whirlwind is an amazing feat.  With most holiday shows focusing on the happy aspects of Christmas, NUTCRACKER sheds a little darkness on reality.  Death and tragedy keep people from drinking in holiday cheer.  And this NUTCRACKER is a how-to-guide for lighting up the house with Christmas spirit.
Playwrights Jake Minton and Phillip Klapperich cleverly take E.T.A. Hoffman's tale and modernize it.  Hoffman's mice, sugar plums, and the mysterious nutcracker giver are all in Minton and Klapperich's story too. They just twist these elements for dark humor.  Their mice (high-spirited and hilarious Ericka Ratcliff and Paul Fagen) have British accents and are focused on shutting down Christmas.  The sugar plums are the key ingredient in the merry yet messy "Let's Make Cookies" musical number.  And the nutcracker is given to the precocious Jaclyn Hennell (Clara) by her oddball uncle (played by the zany Karl Potthoff).  Minton and Klapperich add in their own whimsy with talking toys, falling snow and animated puppetry.
Under Tommy Rapley's direction, the 2014 production continues The House's tradition of a holiday treat. If you haven't seen it, go.  If you have seen it, go again!  I do always worry that the mourning aspect of NUTCRACKER may make it too dark for kids.  At my Sunday performance, I was captivated by a six year old little gal who was transfixed.  Her face was lit up in wonder for the entire show.  She clapped when it snowed.  She helped point out mice during the chase scene.  And for the scary entrance of the Rat King, she covered her face.  The adult emotional darkness wasn't her burden.  Her laughing delight was apparent.  And her enjoyment was my amusement.                  
Running Time:  Two hours includes an intermission
At Chopin Theatre, 1543 W. Division
Based on the story by E.T.A. Hoffman
Book by Jake Minton and Phillip Klapperich
Lyrics by Jake Minton
Music by Kevin O'Donnell
Directed and choreography by Tommy Rapley
Buy Tickets at www.thehousetheatre.com