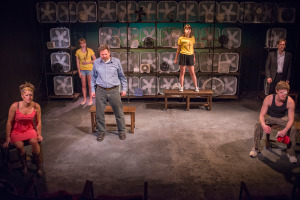 Haven Theatre Company presents the Chicago premiere of HOT GEORGIA SUNDAY.
This show is all about masterful storytelling.  Playwright Catherine Trieschmann tells her story from the distinct perspective of six characters.  Trieschmann intertwines a series of monologues to build individual personas within a church-based community.    From the stories her characters are telling, we begin to understand the dysfunctional reality of mixing love, lust and liquor. 
Director Marti Lyons combines Trieschmann's narratives and a talented six-member ensemble to produce sharp imagery.  The first act starts with the captivating Emily Woods (Jenny) describing her crush on a young boy in her youth group. Her account of his leg brushing up against hers at a restaurant is adorable and relatable.  Throughout the show, the details relayed in Trieschmann's monologues are perfectly dramatized by this stellar cast.  We become enthralled by the drama and humor of each situation.  The colorful HB Ward (Glenn) unforgettably describes how to get out of paying a tow fee.  Despite Ward's booze-soaked, sketchy tales, he is likable… even lovable.  When Wood describes sitting next to Ward at church, we see him differently from her perspective.  He isn't the rebel rouser.  He's her patriarchal touchstone. It's the relational ties between characters that make us see beyond their flaws to their essences. 
A character's concern for another anchors the show in heart-felt humanity.  A confident, wisecracking Julie Schroll (Flora) impulsively reacts to her boyfriend's brutality.  Their toxicity is palpable.  In the first act, Schroll chronicles their latest spats.  Her words give us a mental snapshot of him.  And in the second act, we see the carnal version of our imagination in the rascally Rob Fenton (Robby).  Fenton, Kay Kron (Tara), and Ed Dzialo (Pastor) are all introduced in the first act in various stories.  And they literally come to life in the second act. And they are how we imagined them:  loser, slut, wimp respectfully.  But then as we hear their version of the life stories, we see them differently.  It's a clever mind game to experience characters from various angles.  Even more amazing are the supporting characters that play critical roles in various stories. We never actually see Randy, Tre', Lewis, Shelia, and Lisa with our own eyes.  Yet, we do see them through the eyes of the powerful storytellers.             
HOT GEORGIA SUNDAY is a solid story.  The writing, directing and acting is sublime.  Don't miss an opportunity to experience a sizzling HOT GEORGIA SUNDAY.      
Running Time:  Two hours and twenty minutes includes an intermission
At The Den Theatre, 1333 N. Milwaukee
Written by Catherine Trieschmann
Directed by Marti Lyons
Thursdays, Fridays, Saturdays at 7:30pm
Sundays at 3pm
Thru December 21st
Buy Tickets at www.haventheatrechicago.com
Production photo by Dean LaPrairie
For more reviews and information on Chicago theatre, visit Theatre in Chicago.