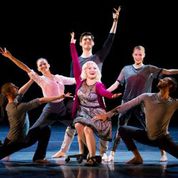 Hubbard Street and The Second City present THE ART OF FALLING.
This show made me think of H.B. Reese's a-ha moment; chocolate and peanut butter equals brilliant.  It's 'two great tastes that taste great together.' Hubbard Street and The Second City are two of Chicago's beloved and famous cultural institutions.  Who would have thought to put them together on the stage?  Dance and comedy equals brilliant. 
THE ART OF FALLING perfectly combines the elegance of movement and the humor of the ordinary.  Director Bill Bungeroth gives us the ideal theatrical twofer as he mingles contemporary dance with stellar comedic timing.  The show is a series of bits and pieces around the notion of falling… in love, in lust or just down.  In Second City style, set-ups are repeated in ongoing 'call-back' hilarity.  In Hubbard Street style, the physicality of the performers is always stunning and this time it's often amusing.   Together, the combo is killer. 
One of my favorite pieces was "White Office Swan" choreographed by Terence Marling.  The dance is done on rolling office chairs.  Although Second City ensemble member Carisa Barreca looks a little daunted but delighted by the clever synchronization, the Hubbard crew skillfully glide across the stage.  It's like these athletic dancers just found a new bodily appendage.  The chair moves with each of them in marveling grace.      
A typical office setting is an ongoing backdrop for antics.  The mundane normalcy lends itself to unexpected laughs and wonder.  Dancers become inanimate objects, like; a messenger bag, a staircase and even a desk chatkey.  Choreographer Alejandro Cerrudo even transforms his crew into a typewriter.  The perky, deliberate head popping, shoulder swaying, and body jerking is transfixing.  In another office, Jason Hortin is using Alicia Delgadillo as his fantasy doll.  The choreography by Robin Mineko Williams is cheeky and hilarious.   Delgadillo remains impressively rigid as Hortin gets his kinky dance on.  
Bunger incorporates humor in the dance and dance in the humor.  An ongoing airplane bit has Tim Mason and Rashawn Scott hilariously yucking it up as the passengers behind them dance with dramatic intention.  Don't worry Hubbard does get to showcase there more signature serious side.  The opening of Act 2 is breathtakingly gorgeous.  Still, they are performing with The Second City so we see their playfulness.  In one number, they go through the only 15 movements' in the Hubbard Street portfolio, including the one called 'constipation' and another referred to as 'someone farted.'  
Besides bringing dance and comedy together, Bunger also uses film alongside his live action.  The inclusion provides additional depth to the show.  In a couple sequences, we see dancers and actors filmed lying down while we watch the projections as if they are standing up.  People roll over the floor and it seems like they're falling from the sky. The look is amazingly cool.  In addition, the beginning film sequence entertainingly gives the background of the project.  Hubbard Street Artistic Director Glenn Edgerton is featured prominently in the video clip and then steps out of the film to kick off the show dancing.  Later,  he returns to the stage in a comical and classy way.  The beginning and ends to the Acts are slick and fun.
The only problem with THE ART OF FALLING is it only has three more performances.  Stop reading!  You must act now!  Click or call to get a ticket!  "You can't just eat one Reese."  I want to see THE ART OF FALLING again.  It's brilliant!              
Running Time:  Two hours and twenty minutes includes an intermission
At Harris Theatre, 205 E. Randolph
Written by Tim Mason with Carisa Barreca, T.J. Jagodowski, Kate James, Chris Redd and the casts of The Second City
Directed by Billy Bungeroth
Choreographed by Alejandro Cerrudo, Lucas Crandall, Jonathan Fredrickson, Terrence Marling, Robyn Mineko Williams
• Friday October 17 at 8 pm
• Saturday October 18 at 8 pm
• Sunday October 19 at 3 pm
Buy Tickets at at hubbardstreetdance.com/fall or by phone at 312-850-9744.
Production photo by Todd Rosenberg
For more reviews and information on Chicago theatre, please visit Theatre in Chicago.