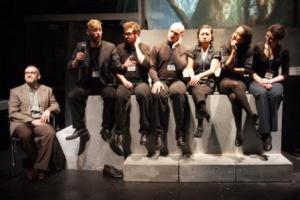 Red Tape Theatre, in association with Chicago Department of Cultural Affairs and Special Events, presents MNEMONIC. 
My initial text thought last night to a friend, "No clue what I'll say about that show. Yikes."
Undoubtedly, Red Tape is one of the more avant-garde theatre companies in Chicago.  Their shows are an 'experience.' This current production showcases some of that familiar innovation.  A perfect example of the Red Tape ingenuity is an oddly placed press conference.  The scene illustrates the lunacy of the media. The panting reporters do a nicely choreographed pile-on as they attempt to get answers.  The cast perform it with frenzied synchronization. 
Even though the scene is both memorable and cool, it gets lost in the multiple story fragments.  It is an 'oddly placed' scene.  Some might say 'unnecessary.'  The show rambles on in that fashion.  Muddled memories! And it's not so much about trying to remember after the fact but to focus during all the hoopla to get the facts. 
The show starts off like a "Ted Talk" about memory.  Director Brandon Ray uses a microphone to welcome the audience.  The show has started ten minutes late so Ray using a microphone to make a litany of announcements already feels tiresome.  He stumbles over a sponsorship acknowledgement.  (In hindsight, I believe his fumble is a memory schtick.)  Ray makes the 'no cell phone' announcement but than starts in on a lecture on memory.  He tells a cab story.  He does chair slapstick.  He takes the audience through a leaf assessment.  It feels like a lecture that wants  to be stand-up comedy.  All the elements of his monologue will have a callback during the show.  It's just a bumpy and flat first leg on a long journey. 
The gist of the play is three prong.  A guy gets dumped.  A gal goes on a quest to find the father who abandoned her.  A man, believed to be many centuries old, is discovered in a block of ice.  The stories collide and separate as the audience tries to focus on the important elements of this three person ping-pong match.  The back and forth gets cumbersome.  The ice man storyline gets the most play as he travels from country to country and scientist to scientist.  The talented cast, under the aid of Dialect Coach Lindsay Bartlett, go British, Italian, German, Russian, Austrian, French.  Although the array of geographic diction is marveling, the globe trotting lengthens the show without impacting it. 
Another pop-up scene features the bulk of the cast sporting various accents as a panel of experts.  Again, it's clever and funny.  It just weirdly contrasts with the non-iceman scenes. The guy losing his girlfriend and the girl searching for her father are touching with almost poetic verse.  Ray uses projections (Designer Liviu Pasare) and a shadow box (Designer Emily Guthrie) to conjure up a provocative response.  The poignant desperation gets buried under some of the ice man buffoonery.                     
If I remember right from the press release, MNEMONIC was to call me to question who I am and where I came from.  Instead, it made me question the real purpose of this play and the choices in devising it.  I will remember some of the very well executed pieces by the talented ensemble but I won't remember what MNEMONIC was about.  And it won't be because I forgot.  It'll be because I never really knew.     
Running Time:  Two hours without an intermission
At DCASE Storefront Theatre, 66 E. Randolph
By Complicite
Originally conceived and directed by Simon McBurney
Devised by the Company
Directed by Brandon Ray
Thursdays, Fridays, Saturdays at 7:30pm
Sundays at 2pm
Thru October 5th
Buy Tickets at www.redtapetheatre.org 
Photos by Austin D. Oie
For more information and reviews on Chicago theatre, visit Theatre in Chicago.