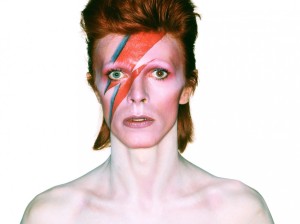 Reviewed by Samantha Owens
'David Bowie Is…' a reflection on identity
Whatever you do, do not refer to DAVID BOWIE IS as a retrospective. Though the exhibition is comprised of archival footage, posters, outfits, journal entries, etc., that represent each point of David Bowie's illustrious career, these items are part of a greater story, they are not the story in and of themselves.
DAVID BOWIE IS combines over 400 objects (arranged chronologically), an ongoing narration by David Bowie himself (through spliced together interviews given throughout his career), videos of live performances, and archival footage of music videos and art house projects done by Bowie. Despite this 'archival' setting, the exhibition never feels kitschy or overly nostalgic. The objects and footage in the exhibition, instead, serve as the artistic medium for an exploration of the concept of identity.
The objects and interviews at the beginning of the exhibition, collected from Bowie's incredibly 'ordinary,' suburban childhood, paint a picture of an absolutely unexceptional beginning. David Bowie, born as David Jones, was born into an unexceptional family, grew up in an average neighborhood, and went to a 'regular' school. Yet, from all of this, he became one of the most creative figures of the 20th century. The beginning of the exhibition serves to pose a question; 'How did David Bowie come from this?'
As you move through the exhibition to the early part of Bowie's career, you can see how he has curated himself, turned himself into a work of art. Everything he has done has been deliberate. In one of the featured interviews, he tells a story about how he listened to experimental jazz at the beginning of his career, not because he liked it, but because he liked having the image of someone who listened to experimental jazz. It becomes obvious that Bowie (Jones) is naturally a master of piecing together bits of popular culture, art, music, and his own vision to create something and someone else that can capture the attention and imagination of the public. He knows 'what the people want' and knows how to give it to them. Thus, though David Bowie came from David Jones, Jones has always regarded the two as separate entities. As Bowie/Jones has said, "I always found it easier to be somebody else."
As the exhibition continues, David Jones becomes completely overshadowed by David Bowie. In a video entitled 'The Mask of a Mime,' from 1969, David Bowie acts out the story of a man who achieves stardom wearing a mask. Everyone comes to know and love him as he is when he is wearing the mask. During one performance, the man tries to take off the mask only to find that it is now permanently attached to his face. This video is the perfect representation of Bowie vs. Jones. Jones created Bowie as a fame-hunting alter ego, a separate identity with which to achieve fame. However, as the years have gone on, Jones has been all but completely lost to Bowie.
This exhibition is an incredibly powerful comment on what our identities mean and the way in which we all curate our own identities. Though Jones' curation of Bowie is an extreme, standout example, to some extent we all create an outer self that is somehow different than our inner self. Through Bowie's artistic journey, we see the fluidity of what it means to "be someone" play out, and the ways in which different identities serve an artistic, social, or experimental purpose. So, again, whatever you do, do not call DAVID BOWIE IS a retrospective- as it is so, so much more.
At the Museum of Contemporary Art (MCA) Chicago 220 E. Chicago Ave.
Originally curated by Victoria Broackes and Geoffrey Marsh at the Victoria and Albert Museum in London, UK
Curated in Chicago by Michael Darling at the MCA
Runs from September 23, 2014 –  January 4, 2014
Tickets are $25.00